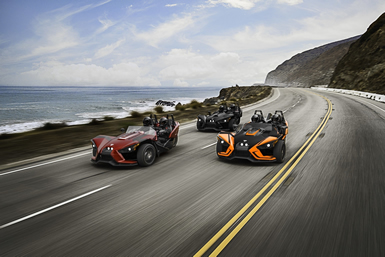 The 2018 Polaris Slingshot Review: When the traffic light turns green, I mash the gas pedal, let out the light-as-a-feather clutch, then feel a single rear wheel fighting to grip the pavement as the engine winds up to an ear-splitting wail just inches in front of my knees. From that first moment, it was clear I'd be spending the week driving something special, and hard to define. This alien-looking, three-wheeled contraption is one of the most thrilling and unusual vehicles I've ever driven, offering a hint of supercar styling and excitement but lacking some things I've come to expect in even the cheapest cars, including doors, a roof and basic safety equipment. It's called the Slingshot.
What's it like to drive? And just as important, how are regulators dealing with an oddball vehicle that delightfully blurs the line between cars and motorcycles?
The basic operation feels similar to driving a car, albeit an insanely fast one. Just like a proper sports car, it has three pedals: clutch, brake and gas, and a five-speed manual transmission. Adjustable Bilstein shocks help the driver feel intimate with the pavement.
Handling is fascinating in the Slingshot because of its tricycle layout.
It rides just 5 inches off the ground with an extremely low center of gravity, so you can fling it around corners with mind-bending quickness. But because of that lone rear wheel, the back-end traction will always be your limiting factor, whether accelerating from a dead stop, or carving corners on a racetrack.
Despite its traction deficit, the rear end doesn't have much of a tendency to swing out because so much of the Slingshot's weight, including the engine, rests on its front axle. A nicely tuned traction control system keeps it pointed in the right direction too.
The Slingshot's four-cylinder, 173-horsepower engine is sourced from General Motors, and I think it's a great fit for several reasons. One, the power-to-weight ratio is spot-on perfect. It's borderline over powered for a vehicle that weighs just 1,749 pounds, exactly how I like it. It also sounds spectacular. The visceral sensations of driving something so fast, loud and windy can stir the soul.
And because it's a well-known engine from an American car company, finding shops to service it shouldn't be a problem, even in rural areas. It's tried and true.
From a regulatory standpoint, though, this vehicle is anything but that.
States are having to figure out what the rules should be for a machine that doesn't fall into traditional columns. A growing majority of states, currently 43, require only a valid driver's license to drive the Slingshot, meaning no special training is required beyond that of driving a car.
The Slingshot is built under federal motorcycle rules, though, so there are no airbags, side impact protection or collapsible steering columns required. As such, both Polaris and common sense say you should wear a helmet at all times. Depending on where you live, you may also be required by law to wear one.

Pricing starts at $19,999 for the basic Slingshot S and ranges up to $30,999 for the SLR LE trim I tested, including its impressive, weatherproof touchscreen, backup camera and powerful sound system.
What was tested? The 2018 Polaris Slingshot SLR LE with a base price of $30,999. Options on the test vehicle: None. The total MSRP price as tested came to: $30,999.
Wheelbase: 105 in.
Ground clearance: 5 in.
Weight: 1,749 lbs
Length: 149.6 in.
Width: 77.9 in.
Height: 51.9 in.
Engine: 2.4-liter four cylinder (173 hp, 168 ft-lbs)
Transmission: Five-speed manual
Fuel economy: Not rated
By Derek Price © AutoWire.Net - San Francisco
The 2018 Polaris Slingshot Bottom Line Review provided by: Tony Leopardo © AutoWire.Net
The Bottom Line: The 2018 Polaris Slingshot is not quite a car, and not quite a motorcycle. The Slingshot occupies the gray space in between. Its maker, Polaris, says it's an "autocycle," a fitting term from a company known for its snowmobiles, ATVs and motorcycles sold under the Indian and Victory brands.
A weatherproof touchscreen is the centerpiece of the Ride Command system, an optional technology package that offers navigation, vehicle data and a bluetooth connection to your smartphone.
The Polaris Slingshot is an exciting, exotic-looking vehicle that is both fast and terrifying at the same time, and brilliantly blurs the line between cars and motorcycles. So why buy it?
It offers many of the same high speed and one-with-the-world sensations as a motorcycle, but with the added convenience and comfort of a two seat, car like layout.
And maybe, just for those reasons alone, you should "Drive one, Buy one, Today ©".
This Bottom Line Review is provided by: Tony Leopardo © AutoWire.Net
"Tony the Car Guy" is an automotive writer, editor and publisher in the San Francisco Bay Area. If you have a question or comment for Tony send it to TonyLeo@pacbell.net or visit AutoWire.Net at www.autowire.net - And remember: "You Are What You Drive ©"

Column Name: Slingshot 'Autocycle' Thrills
Topic: The 2018 Polaris Slingshot
Word Count: 865
Photo Caption: The 2018 Polaris Slingshot
Photo Credits: Polaris Internet Media
Series #: 2018 - 29
Download the Microsoft Word version here: 2018 Polaris Slingshot
Download the Original Image File here: 2018 Polaris Slingshot