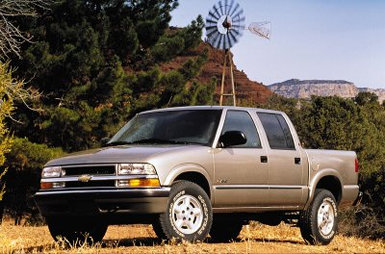 SAN FRANCISCO: Today's truck market is more fragmented than a crystal chandelier that took the quick way down from the Empire State Building. Few trucks demonstrate this fact better than the 2001 Chevrolet S-10 Crew Cab 4x4. There was a time when, if you wanted a pickup, your only choices were "furrd" or "chebby".
Of course, if you were shopping for such a vehicle, you were undoubtedly a farmer, a laborer or a tow truck company owner. For you an "array of options" consisted of whether or not you chose to pay extra for a rear bumper, a spare tire or a radio.
Today the two best selling vehicles in the United States are both trucks. There is a truck for every need, a configuration for every whim. Whereas once a pickup was an engine compartment, a two-door cab and a bed with the absolute minimum number of frills, it has recently metamorphosed into a vehicle with so many variations that it defies description.
"Active Lifestyle" is the latest buzzword to come from Detroit. Various manufacturers, from Nissan to Ford to, and in this case, Chevy, are trying to target the needs of this ambiguous group by offering "crossover" versions of their various products. What this usually means is they make a vehicle that's half pickup and half sport utility, but one that does neither job particularly well.
In the case of the S-10 Crew Cab, it does an admirable job of satisfying both halves of its personality, but it suffers from concessions made in the melding of the two. Case in point: the rear seating area and the cargo bed.
Though all four of the Chevy's doors open in the conventional fashion, the rear doors open just enough to squeeze into the rear seat, making entry difficult for anyone who is not featured in a Calvin Klein ad. And unless the front bucket seats are being occupied by Lilliputians, rear bench seat legroom is almost nonexistent.
Looking at this vehicle from the outside makes it clear that the Crew Cab was added by slightly lengthening the cabin and shortening the cargo bed. For those of you out there who are big fans of hauling standard sheets of plywood, I'm afraid you'll be disappointed. But for you "Active Lifestylers" out there (whoever you are) the Crew Cab will happily swallow as many Power Bars and spandex shorts that you'd care to cram back there within its standard bedliner's walls.
I suppose it's not fair to fault the Crew Cab for these shortcomings. After all, this truck was not aimed at construction workers or longshoremen. In fact, it is my impression that the rear seat is not meant for people at all, but to offer a warm and dry place for active people to put their active stuff in.
With that in mind, don't let it's small stature fool you, for this truck is packed to the gunnels with standard features and has the goods to pound pavement or travel trails with equal aplomb.
The Crew Cab's sole engine is a Vortec 4300 V-6. Its 190 bhp allows the truck to tow a respectable 5,200 lbs., while returning a class-average 15 mpg city/18 mpg highway. Thanks to the small size of the S-10 platform, this engine produces some sprightly performance throughout the rev range, never leaving the driver wishing for more oomph.
Helping to put that power to the pavement is a standard 4-speed automatic overdrive transmission coupled to Chevy's shift-on-the-fly Insta-Trac 4x4 system. Seamless in its operation, the system allows you to enter four-wheel-drive without stopping and getting your hands dirty. Also standard on the Crew Cab is the Z85 Increased Capacity Suspension package that, though it does harshen the Crew Cab's ride on pavement, helps the truck to handle corners and cargo with ease.
Chevy has equipped its Crew Cabs with so many standard features, in fact our Space Blue test truck had just about every option Chevy offers, but added only $682 to the price. For that money we got a locking differential on the rear axle, fog lamps, a "premium" stereo with AM/FM/Cassette/CD, digital clock with speed compensated volume, and a leather-wrapped steering wheel. Just about the only option not on this truck is an available Cold Climate Package, but this being California, it's not really necessary.
Standard equipment on the Crew Cab includes fabric upholstery, air conditioning, four-wheel ABS, dual front airbags and two packages that are optional on its other S-10s: The Power Convenience Group, which includes power door locks, power windows, power remote exterior heated mirrors and remote keyless entry; and the Comfort Convenience Group, which includes Tilt-Wheel™ steering column and cruise control.
On the outside, the Crew Cab boasts standard color-keyed/chrome front and rear bumpers, a body-color grille with chrome center bar, body-side molding and five-spoke cast-aluminum wheels with P235/70R15 tires, all of which add up to a sharp-looking vehicle with just the right combination of off-road toughness and boulevard-cruising slickness.
Overall the Crew Cab is an easy vehicle to live with. Provided you do not need to haul a great number of people or anything larger than a La-Z-Boy, the Chevy can handle any task you can throw at it. Driving the pickup over long distances is no problem as its cabin is well appointed and well laid out. There are several "power points" throughout the interior into which you can plug your electronic equipment, and cubbyholes and cup holders abound.
Chevrolet is calling the S-10 Crew Cab a "limited-availability" vehicle. With an MSRP beginning at $25,494 and our almost fully loaded test price of $26,051, that's not surprising. With prices like that, I'm sure sales of this jam-packed little pickup are going to be just as active as the lifestyles of its buyers. . By Andrew W. Davis © AutoWire.Net - San Francisco

Byline: By Andrew W. Davis © AutoWire.Net - San Francisco
Column Name: A Truck for the "Active Lifestylers" out there
Topic: 2001 Chevrolet S-10 Crew Cab 4x4
Word Count: 1040
Photo Caption: 2001 Chevrolet S-10 Crew Cab 4x4
Photo Credits: Chevy Internet Media
Series #: 2001 - 11
Download the Microsoft Word version here: 2001 Chevrolet S-10 Crew Cab 4x4
Download the original image file here: 2001 Chevrolet S-10 Crew Cab 4x4 38k