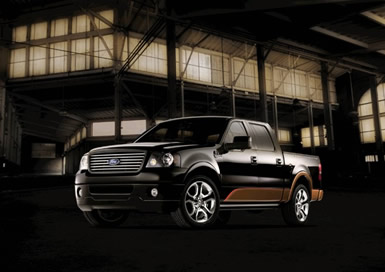 Truck Review: If you're looking for class, taste and sophistication, you've found the wrong truck. This is the 2008 Ford F-150 Harley-Davidson Edition, a shrine to all things brash and loud. It's an unholy collection of chrome, leather, Harley logos and raw power that thinks of the road as its mosh pit.
The Ford F-150 Harley-Davidson edition draws its inspiration from the chrome, black paint and leather of a classic Harley motorcycle. Harley-Davidson logos are plastered every place they'll fit in this truck's cabin.
Yes, it's a mobile death-metal concert, a celebration of overkill. And some people absolutely love it.
Now, I'll be the first to admit I'm not a fan of big pickup trucks in the first place, and nerdy newspaper editors are far outside the target demographic for a Hell's Angels truck. But I do see how this truck draws a crowd for how raucous it is, both in its looks and its performance. It's that whole overkill thing.
One way it goes overboard is in Harley-Davidson logos, which are plastered everywhere. They're on the seat backs, center console, interior trim, wheels, dash, and tailgate. As if that's not enough, "HARLEY-DAVIDSON" is written in raised chrome letters on both sides of the bed, and you know those little dots that shade the top of the windshield? Those make up the Harley logo, too.
It's also, I suspect, trying to corner the market on chrome. Aside from a huge billet grille and lots of shiny interior trim, it comes with massive, 22-inch chrome wheels that, if you melted them down, could form a puddle big enough to fill Lake Michigan.
And there's more overkill under the hood, where you'll find not only a 5.4-liter V8 engine but a belt driven supercharger that boosts its output to 450 horsepower and 500 foot-pounds of torque. That's some serious muscle plus it gulps gas at 13 mpg in town.
Like the less brash F-150s, the Harley-Davidson Edition offers a rear-view camera and parking sensors that can help when backing up. The camera is especially neat because it has a display built into the rear-view mirror. When you shift into reverse, an image of the road behind you appears like magic in the mirror.
On the downside, both the camera and the back-up sensor are located in the tailgate, so when you fold the tailgate down and shift into reverse, guess what? The camera gives you a great view of the ground and the sensor makes the truck scream at you like you're about to back into a crowd of third-graders. Not cool.
Another downside is the F-150's interior quality. When this generation was introduced, it was a step above every other pickup on the road, but now it's nearing the end of its life cycle. Newer trucks have better build quality in the cabin, so picky buyers may want to wait until the next generation F-150 comes along next model year.
The Harley-Davidson Edition only comes in black. You can pay an extra $250 to add a copper-colored stripe on bottom, but the overall color scheme is black, black and more black.
Finally, there's the price. It starts around $38,000 and can easily reach into the low $40s with options, so it's no budget truck.
Is that too much? Not if you love bright chrome, raw power and hogs.
What was tested? The 2008 Ford F-150 Harley-Davidson Edition with a base price of $34,850. Options on the truck were: Two-tone paint $250, navigation radio $1,800, trailer tow package $350, Sirius satellite radio $195, bed extender $195, power moonroof $995, power adjustable pedals $120, reverse sensing system $245, power fold side mirrors $160, reverse camera system $450. The total MSRP price as tested was $42,770.
Why avoid it? It's expensive, gets bad gas mileage and is nearing the end of the F-150's life cycle.
Why buy it? It's a cathedral of chrome, power, black leather and Harley-Davidson logos.
By Derek Price © AutoWire.Net - San Francisco
Byline: Truck Review provided by Tony Leopardo © AutoWire.Net

Column Name: Special F-150 celebrates Harley Davidson
Topic: The 2008 Ford F-150 Harley-Davidson Edition
Word Count: 724
Photo Caption: The 2008 Ford F-150 Harley-Davidson Edition
Photo Credits: Ford F-150 Internet Media
Series #: 2008 - 47
Download the Microsoft Word version here: 2008 Ford F-150 Harley-Davidson Edition
Download the Original Image File here: 2008 Ford F-150 Harley-Davidson Edition