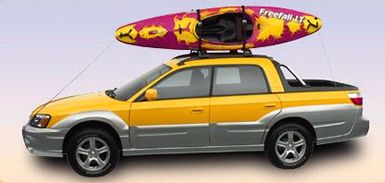 SAN FRANCISCO: Bucking conventional wisdom and a continuing trend in the major magazines to compare, at least initially, the new Subaru Baja with the late 70s-ish Brat, we are going to talk about what the Baja is for Subaru's future, not what a small strange looking vehicle was for Subaru's past. That said, the Baja is nothing short of a wonderful exercise in what a compelling vehicle can be.
The Baja is based on the highly popular Outback line, which is based on the popular Legacy wagon. Subaru seemingly took a page out of GM's playbook and chopped the back end off of said wagon, like an Avalanche. The major difference being the lack of the Avalanche's Midgate design; though there is a small pass-through that works similarly, without the whole back end opening up.
This pass-through is big enough for some skis or 2-by-4s but not much else. Our test vehicle also came with a tubular "bed extender" that flipped out of its resting position, which veritably cut the bed in half and made for a good cargo net, and onto the folded-down tailgate. While it's a really nice thoughtful touch, we found the extender to be flimsy and not capable of holding the cargo we had back there very securely (this was probably due to attached straps that limited the motion of the extender, but seemed to be fitted correctly nonetheless).
The bed is small as you might expect but the walls are quite tall, resulting in a good capacity for cargo, be it supplies, luggage or anything else you might stick back there. A tonneau cover would be nice for winter travel, something like the Explorer Sport Trac's hard tonneau would be perfect. On another front, or should we say back, we would like to see some sort of sliding rear window to help move air through the cabin. It's a nice feature on pickup trucks that was missed in the Baja.
The Baja to us looks a little better than the Outback it's based on. The screaming yellow version we drove had gray plastic trimming the wheel arches and rocker panels and had a more distinctive profile than the Outback, due of course to the cutout of the wagon roof and side glass.
From the front the only easy way to tell Baja from Outback is the large floodlights mounted to the roof. We disliked the location and working of these lights (they can only work when the parking brake is applied), and they will interfere with almost anything mounted to the standard roof rails. You'd be hard pressed to put skis, a snowboard, boogie board or even bikes up there without some aggravation from those lights, even though they look really cool.
Inside, you get most of the accoutrements of the Outback, albeit with a lesser luxury quotient. Sure, the seats are perforated-leather-covered, there was the ever present outside temperature gauge and all the switches and knobs had a certain well-engineered feel to them. But it was all at about seven-tenths of the Outback's look and feel. Which, in a lifestyle vehicle like the Baja, makes all the difference. By James E. Bryson © AutoWire.Net - San Francisco

Subaru Home Page
Byline: Syndicated content provided by Tony Leopardo © AutoWire.Net
Column Name: A New Sport-Ute / Truck Thingy from Subaru
Topic: 2003 Subaru Baja
Word Count: 933
Photo Caption: 2003 Subaru Baja
Photo Credits: Subaru Internet Media
Series #: 2003 - 2
Download the Microsoft Word version here: 2003 Subaru Baja
Download the original image file here: 2003 Subaru Baja 15k