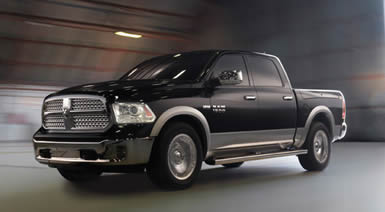 The 2013 Ram 1500 SLT Crew Cab Review: It's interesting that the Ram has gone from being one of the truckiest trucks, with big-rig styling, high fuel consumption and a rough-and-tumble ride to one of the most car-like in recent years. The makeover started two years ago when the Ram 1500 dumped its old leaf-spring rear suspension in favor of a more up-to-date design, something that gave it a smoother, more controlled ride than most pickups. But this year, Ram is taking refinement to an extreme.
I could sense the changes from the instant I pressed the gas pedal in the latest Ram 1500, which is an all-new design for 2013. It wasn't the familiar, deep-bass rumble of a HEMI V8 emanating from under the hood, but the silky-smooth tenor whirr of Chrysler's Pentastar V6, a pleasant sound, but a bit disconcerting in such a big, traditional looking truck. Pickup power trains don't usually feel this modern.
It shouldn't be such a surprise, though, considering truck makers are focusing on fuel economy more than ever. Ford created a big hit when it fitted the turbocharged EcoBoost engine into the F-150, and now Ram has a fuel-saving option with the Pentastar engine.
Compared to the old 3.7-liter V6 in last year's Ram, the new 3.6-liter Pentastar makes 42 percent more horsepower, 13 percent more torque and gets 20 percent better gas mileage, all from a smaller engine. It's a night-and-day difference.
The new engine also allows the 2013 Ram to brag about best-in-class standard V6 towing capacity at 6,500 pounds.
Adding to the car-like feel is an eight-speed automatic transmission, something that helps the Ram achieve a 25-mpg highway fuel economy rating with two-wheel drive and 23 mpg in the 4x4 model.
Driving with the V6 is a fascinating experience. The engine pitch and transmission shift points feel exactly like what you would expect in a nice sedan or crossover, very smooth, steady, refined acceleration, which is surreal in a giant truck.
It lacks the low-end, kick-in-the-pants torque of a V8, but it doesn't feel slow either. People who do lots of towing will still want the HEMI for its off-the-line burst of power, but weekend towers will likely be perfectly happy with the Pentastar.
Inside, Ram continues to lead the field in terms of cabin quality, as the Ram's dash stands out as being the most tightly constructed, technologically integrated layout in pickups. A huge digital display dominates the center stack when you opt for the UConnect infotainment system, a $970 option on my test truck.
Another unique feature: the Ram has a tiny rotary shifter that lets you put it into gear electronically. I don't know whether to like that because it's cool and matches the modern drive train or to hate it because it eliminates the big, clunky shift lever that makes trucks feel so meaty.
In fact, that electronic shift knob sums up the whole Ram. This is an old school, tough-as-weeds, Hank Williams truck, coming of age in the iPad and Taylor Swift world, and it's just fascinating to watch.
What was tested? The 2013 Ram 1500 SLT Crew Cab 4x4 with a base price of $37,040. Options on the RAM test truck: Premium cloth bench seat for $900, luxury group for $695, protection group for $150, remote start for $350, anti-spin differential rear axle for $325, heated mirrors for $100, fog lamps for $120, 32-gallon fuel tank for $75, UConnect for $970, stereo upgrade for $300, rear park assist for $250, backup camera for $200, Class IV trailer hitch for $335, trailer brake control for $230 and a spray-in bed liner for $475. The total MSRP price as tested including the $995 destination charge came to: $43,510.
Why buy it? It's surprisingly refined for a full-size pickup. A new V6 engine offers better fuel economy and class-leading towing power.
By Derek Price © AutoWire.Net - San Francisco
The 2013 Ram 1500 SLT Crew Cab Bottom Line Review provided by:
Tony Leopardo © AutoWire.Net
The Bottom Line: The redesigned Ram 1500 is available with a new Pentastar V6 engine this year that improves fuel economy and makes 305 horsepower. Plus it's rated for up to 25 mpg on the highway and still has a standard towing capacity of 6,500 pounds. Ram 1500 also leads this year's pickups in terms of interior refinement and it has a solid, well-built, car-like cabin that makes good use of technology. All great reasons why you should "Drive one, Buy one, Today ©"
Bottom Line Review provided by: Tony Leopardo © AutoWire.Net
"Tony the Car Guy" is an automotive writer, editor and publisher in the San Francisco Bay Area. If you have a question or comment for Tony send it to TonyLeo@pacbell.net or visit AutoWire.Net at www.autowire.net - And remember: " You Are What You Drive © "

Column Name: Fresh V6 powers new Ram pickup trucks
Topic: The 2013 Ram 1500 SLT Crew Cab
Word Count: 865
Photo Caption: The 2013 Ram 1500 SLT Crew Cab
Photo Credits: Ram 1500 Internet Media
Series #: 2013- 21
Download the Microsoft Word version here: 2013 RAM 1500
Download the Original Image File here: 2013 RAM 1500