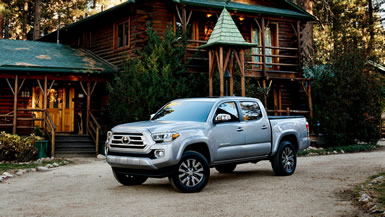 The Bottom Line: In 1964 Toyota launched its first stand alone small sized pickup truck in North America, called the Stout. The half ton 4x2 Stout was powered by an 86 horsepower 1.9L liter four cylinder engine. First year sales were dismal, to say the least.
The first generation Tacoma came out in model years 1995 through 2004, and these trucks were classified as a compact pickup. The second generation Tacoma's were in model years 2005 through 2015. Now in it's third generation, in production since 2015, Tacoma's are now classified as midsized pickups, and are built in the United States and in Baja, Mexico.
The 2021 Toyota Tacoma gains new Nightshade and Trail Special Editions, and carry over the same options that keep it as the top selling midsize pickup truck in the U.S. It's excellent at off road driving in TRD spec, has a nice size pickup bed, and is available in a double cab 4 door body.
Why is a Toyota Tacoma a good investment? High Resale Value. Thanks to the truck's popularity and high reliability scores, the resale value of the Toyota Tacoma remains very strong, making it a great investment for drivers who want to be smart about making such a large purchase.
The Toyota Tacoma is a legendary tough as nails workhorse truck, that's just as capable for weekend duty, and has ranked number one in resale value five years in a row. The Toyota Tacoma has a better than average ROI return on investment than every other midsize pickup truck that is for sale in the US, as of today.
This week Toyota sent me a 2021 Toyota Tacoma Limited 4x4 Nightshade Edition Double Cab Pickup Truck to test drive and review. The base window sticker price for this model starts at $41,980.
The options on the test truck are: the Nightshade Edition package for $1,000, the all weather liner floor mats for $248, the TRD air filter for $90, the paint protection film for $395, the retracting bed step for $300, the bed mat for $120, a set of 4 door edge guards for $140, the remote tailgate lock for $269, the spare tire lock for $75, and a set of 4 hold down cargo D rings in the corners of the bed for $55. The total MSRP manufactures suggested retail price, including the $1,175 destination charge, came to: $45,847.
The Limited Edition Package includes the 3.5L liter Atkinson Cycle 278 HP V/6 engine with 265 lb-ft of torque, bolted to a 6 speed automatic transmission. Power is then sent to a 4 wheel drive on demand part time 4x4 system with an electronically controlled 2 speed transfer case into an automatic LSD limited slip differential.
Then you add in the towing receiver and hitch, an engine oil cooler, a power steering cooler, a 130 amp alternator, a 4/7 pin trailer connector, and the trailer sway bar control package.
The Nightshade Edition adds: a set of 18" dark smoke alloy wheels with black lug nuts and black wheel locks, a black exhaust tip, black mirror caps, black fog light bezels, black ID badging, black door handles, and a carbon fiber styled black front grill.
Not only does this Tacoma have the chops to go off road, it has the black Nightshade Edition trim to make it look super cool. Plus add in the black leather trimmed power bucket seats, the premium JBL 6 speaker audio system with a subwoofer and amplifier, SiriusXM radio, Apple CarPlay, Android Auto, an 8 inch navigation touchscreen center stack, and a wireless charging pad in the center console. Now you have a truck that can go anywhere, and do everything, in style!
Gas mileage is at 22 MPG highway, 18 MPG in city driving, and the truck gets a respectable 20 MPG miles per gallon in combined driving. Not bad for a loaded Limited Edition 4x4 Double Cab pickup truck that can take you and the family just about anywhere. And with the 3.5 L liter V6 engine and the towing package you can pull up to 6,800 pounds, or haul up to 1,440 pounds.
With state sales tax and DMV registration fee's you can buy this 2021 Toyota Tacoma Limited Edition 4x4 Double Cab Nightshade Edition for around $50,000, out the door with rebates, and park it in your driveway today.
This is a lot of truck for $50K, and it has one of the highest resale values in the entire pickup truck world. So call, click, or visit your local Toyota dealer for a test drive and a bottom line price review. With a starting price of only $26,150 I'm sure you can find a Toyota Tacoma priced right within your budget.
A word to the wise is sufficient. Be Smart, Stay Safe, and Just Breathe. Remember "You Are What You Drive ©" And maybe, just for those reasons alone, you should "Drive one, Buy one, Today ©".

This Bottom Line Review is provided by: Tony Leopardo © AutoWire.Net.
"Tony the Car Guy" is an automotive writer, editor and publisher in the San Francisco Bay Area. If you have a question, or comment for Tony, send it to tonyleo@pacbell.net or visit AutoWire.Net at www.autowire.net
Column Name: The 2021 Toyota Tacoma 4x4 Double Cab Pickup Truck
Tag Line: You Are What You Drive - A Bottom Line Review
Topic: The 2021 Toyota Tacoma 4x4 Double Cab Pickup Truck
Article Word Count: 869
Photo Caption: The 2021 Toyota Tacoma 4x4 Double Cab Pickup Truck
Photo Credits: Toyota Internet Media
Series number: 2020 - 45

Download the Microsoft Word version here: 2021 Toyota Tacoma 4x4 Double Cab
Download the Original Image File here: 2021 Toyota Tacoma 4x4 Double Cab