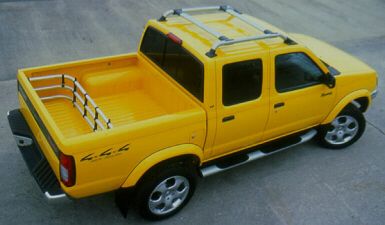 SAN FRANCISCO: Leave it to Nissan to come up with a new twist in the mid-size truck market. The company has introduced a new for 2000 Frontier Crew Cab, and it's going to be a popular, "glitch free" attraction at Nissan showrooms right on through Y2K.
First, let's deal with the crew cab creed. "Crew Cab" usually condors up images of 157 inch wheelbase Ford or Chevrolet behemoths that demand extra driver attention due to massive dimensions. Frontier Crew Cab, however, offers true mid-size proportions, something heretofore unaccomplished. Precisely, the Nissan Crew Cab has but one mid-size truck peer in Dodge Dakota Quad Cab, but Nissan's more affordable pricing and true small truck dimensions push it to the forefront. Built in Smyrna, Tennessee, Nissan's Crew Cab offers four full size doors, room for five and a powertrain that delivers both efficiency and performance. Nissan engineers can take a bow for successfully mating four doors and a shorter box to a true mid-size setup, keeping the truck "accessible" for all driver personalities. The result is a 5 passenger pickup that offers mid-size measurements and performance attributes of a tested and popular Nissan truck line. Frontier Crew Cab is thus easy to maneuver in any situation, and a joy to own because it transcends into a triple purpose vehicle. It is a family/crew transporter; a truck when needed; and a 4x4-weather beater...all done with Nissan's fine styling and excellent performance credentials. The Dodge Dakota Quad Cab, meanwhile, rests on a much larger 131 inch wheelbase, putting it in the middle of the Crew Cab pack and within two inches of Chevy's full size 1500 Silverado long-bed. So, in reality, Nissan's Frontier is the only true, mid-size crew cab, resting on the popular 116.1-inch Nissan King Cab wheelbase.
Not only does Frontier Crew Cab offer compact measurements, it also offers up a 5,000 lb. towing capacity and is motivated by a 181-inch, 3.3 liter, 170-horse V-6. Overall, Nissan's pickup line ranks right up there with all of the smaller pickups we've tested, including Ford Ranger and Chevy S-10, offering good handling, excellent trade-in values and acceptable performance. However, there is a trade-off with Nissan's Crew Cab concerning cargo bed capacity. Because Nissan did not stretch the wheelbase, the cargo box is very small when compared to the 6 to 8-foot beds that dominate the pickup segment. Nissan's Crew Cab bed looks small because it is small. The biggest drawback is probably the fact that an owner can't haul 4x8 sheets of plywood, but other than that, the bed is adequate.
Our test drive Frontier had loads of standard equipment that would otherwise be optional on lesser equipped Nissan models. Delivered in 4x4 XE trim, the V-6 comes as standard fare over less powerful 4 cylinder designs that power smaller Nissan trucks. We recommend the V-6 over the 4 cylinder, citing 27 more horsepower and acceleration to 60 mph in a tad over 11 seconds. The EPA numbers are quite good, with 15 city and 19 highway the average from Frontier's 19.4-gallon fuel tank. In the future, we hope Nissan adds more ponies to the V-6, closing the gap on the more powerful GM and Ford engines. The brakes are full four wheel ABS, allowing Crew Cab better stopping abilities than sibling King Cabs, which offer only rear ABS. Numerous other safety features are built in, including the now expected air bags, steel side door beams, front crumple zones, lots of child safety features and energy absorbing steering column.
Frontier's 4WD allows engagements up to 50 mph on the fly, and is recommended for inclement weather or off road only. (This means don't engage the 4WD system while driving on dry pavement). Frontier's suspension is good, and the truck corners well in all situations. Matter of fact, we feel Frontier is more car like in handling than truck, something family oriented consumers will like very much.
Inside, room is the name of the game, especially when the words "mid-size" are re-entered into the mix. Front bucket seats limit cabin capacity to five, something that can easily be altered if front bench seats becomes available. When seated in the three wide rear bench, leg room is a bit tight if the front seat is pushed all the way back, but it's still a world ahead of most layouts, especially jump seat styles that are common on extended cab designs. A car like dashboard, easy to read gauges, accessible controls and good driver viewing angles make driving Frontier a joy. Comfortable seats greet driver and passengers, and headroom is most generous. One old fashioned item is the hand brake, which is attached to the dashboard ala some of the 1950 cars we remember from our youth.
Now, on to the best ingredient of Nissan's new Frontier Crew Cab. You can own this truck for a delivered price, including destination, of only $22,259 off of a $20,940 base. Because of this most impressive "feature," we're recommending Nissan Frontier Crew Cab as an "Extra Mile Best Buy," which we've given out sparingly in our many years of road tests. To top off the recommendation, we'll add that our Crew Cab came with a fine shifting 4-speed automatic transmission at no extra cost. Other standard features added icing to the cake, namely air conditioning, a great stereo, sliding rear window, and a fully carpeted cabin. The only option was a "Value Pack" ($799), consisting of P265/70R15 Toyo Tires, Limited Slip differential, alloy wheels, 4x4 decal trim, tilt wheel, vanity mirror and intermittent wipers. Still, it only bottom lined at $22,259.
When considering all of the competitors, and the fact that Nissan's Crew Cab is priced so fairly, there's no doubt that this vehicle is special indeed. By Greg Zyla © AutoWire.Net - San Francisco

Byline: By Greg Zyla © AutoWire.Net - San Francisco
Column Name: "An Extra Mile Best Buy"
Topic: The 2000 Nissan Frontier Crew Cab
Word Count: 964
Photo Caption: 2000 Nissan Frontier Crew Cab
Photo Credits: Nissan PR
Series #: 1999 - 65