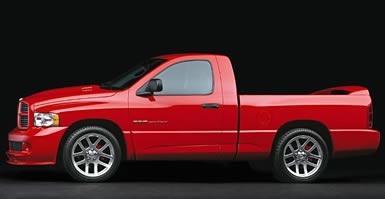 San Francisco: Dodge has always been the performance division of the Chrysler Group all the way back to the 60's. In 1999 they brought the Viper V-10 roadster out and made headlines with the fastest sports car you could buy. Today they have a new high performance vehicle called the Dodge Ram SRT-10 Quad Cab, the fastest 4-door pick up truck you can buy on planet Earth.

The SRT vehicles are being tweaked by a group call the Street and Racing Technology people, known as the SRT team. By the end of this year they will have 10 SRT models on the ground. The Dodge Ram SRT-10 Quad cab is one of only 4 models that have the 8.3-liter V10 Viper motor installed. This mill has 505 Cubic inches of displacement, makes 500 horsepower and puts out 525 foot-pounds of torque. This engine is what makes the Ram SRT-10 the World's fastest production pickup truck.

The SRT-10 Quad Cab comes basically in one configuration, a 4-full size door 2-wheel drive truck that is loaded to the teeth with performance and luxury options factory installed. The base price for the Ram Quad Cab SRT-10 is $51,610 with only a few minor options available plus an $850 destination charge. While not cheap it is a showpiece of high performance parts in a truck that can go to the Ace hardware store, pull a trailer and smoke the tires at will.

The Quad Cab SRT-10 comes with an Allison four-speed automatic transmission, power assisted everything and 22" x 10" polished Aluminum machined wheels shod with 305/40R22 BSW Performance tires. The wheels and tires are so big they look like steamrollers and the huge 4 wheel disc brake rotors are clamped together with bright red Brembo brake calipers. The tire, wheel and brake package is fantastic just to look at, so you can imagine how well they work together in real life.

Dodge also has a 2-door model of the SRT-10 pickup truck equipped with a six speed manual transmission picked right from the Viper parts bin. While this truck goes over 160 miles an hour it can't tow anything. The automatic trans Quad Cab is just what the Dodge Boys needed to tow the boat or car trailer. This SRT-10 Quad Cab truck can tow up to 7,500 pounds and has a payload of 900 pounds. Just enough pull to go drag racing with the guys in the '70 Hemi Cuda or take the Viper GTS coupe out to Laguna Seca for hot laps.

My test truck came in bright "Arrest Me" Flame Red Clear Coat paint with the Dark Slate Gray leather trim seats with preferred suede interior. The sound system was an Infinity 518 watt amplified AM/FM stereo radio with a 6-disc in-dash CD player with eight speakers and a subwoofer that was louder than the dual exhaust from the Viper motor. And both sounded sweet all the time. Add in power adjustable pedals, a body colored rear spoiler and a ram-air power budge hood scoop and your ready to go cruising in style.

As this truck is not for the timid due to the high MSRP price and the power to gas mileage ratio, it does fill a niche in the Dodge Boys list of performance vehicles available today. From the $21,195 SRT-4 Neon up to the $85,345 Viper SRT-10 convertible there is an SRT model priced for just about everyone's budget. Just remember with more cash brings more horsepower, and what all good Dodge Boys need is more power. By Tony Leopardo © AutoWire.Net - San Francisco

To see the Dodge Ram SRT-10 Quad Cab click on www.dodge.com or call 1-800-4ADODGE (1.800.423.6343) for more information.

"Tony the Car Guy" is a freelance automotive writer, editor and publisher in the San Francisco Bay Area. If you have a question or comment for Tony send it to AutoWire@pacbell.net and he will answer your automotive questions in the order received.

Dodge Home Page

Byline: Syndicated content provided by Tony Leopardo © AutoWire.Net
Column Name:

The World's fastest production pickup truck
Topic: The 2005 Dodge Ram SRT-10 Quad Cab
Word Count: 722
Photo Caption: The 2005 Dodge Ram SRT-10 Quad Cab
Photo Credits: Dodge SRT Internet Media
Series #: 2005 - 26 Download the Microsoft Word version here: 2005 Dodge Ram SRT-10

Download the Original Image File here: 2005 Dodge Ram SRT-10