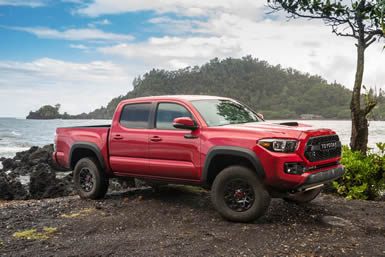 The 2017 Toyota Tacoma TRD Pro Review: After a complete redesign last year, Toyota did the one thing that could make its new midsize pickup even cooler: release a sweet looking, highly capable TRD Pro version for off-road enthusiasts. Much more than an appearance package, the TRD Pro is built for people who take off-roading seriously. Its starting price of nearly $41,000 emphasizes the point, charging a serious premium over the base Tacoma's $24,120 sticker. What you get for that price is virtually two trucks in one.
On the road, the TRD Pro doesn't beat you up much more than the standard Tacoma. It benefits from the new platform's quiet body and better refinement, making it surprisingly comfortable on the highway.
Leave the pavement and you see exactly what you're paying for in this pickup. Long suspension travel, thick skid plates and tough, grippy tires let it easily power over terrain that would leave other stock trucks limping away with damage.
The hardware goodies include:
Kevlar-reinforced Goodyear tires
FOX Internal Bypass shocks
A thick aluminum skid plate in front
LED fog lights from Rigid Industries
16-inch black alloy wheels
Specially tuned springs that give it a 1-inch lift
The difference, and the real benefit from buying it from the factory, is the engineering and tuning work that went into this truck. The TRD Pro feels so well-sorted from the factory, particular in its transition between off-road and on-road driving, that its decades of experience show through.
Toyota may be better known for its reliable Camry and Corolla cars, but it's also built a lineage of hardcore off-roaders that rival the best in the world. If you see a truck in the deserts of Africa, or in the jungles of South America, there's a good chance it's going to have a Toyota badge. Actually, make that a "TOYOTA" badge.
While most modern Toyotas use the brand's planetary-looking logo, the TRD Pro spells it out in all caps just like those old-school trucks that enthusiasts love. It's the kind of detail that shows the brand cares about the rabid 4Runner, Tacoma and Land Cruiser fans who notice that sort of thing.
Aside from the sheer capability of this machine, my favorite aspect of the TRD Pro is the way it looks. Yes, that's superficial. But when you spend over $40,000 for a midsize pickup, you want it to look spectacular, and this truck does the part. It looks like it's playing a role in a futuristic, post-apocalyptic sci-fi thriller.
And while I rarely mention the color of a vehicle, the Tacoma deserves an exception.
Gray is a hard color to get right. Try painting it on your walls and you'll see it usually ends up looking too blue or yellow or red. It's not a simple color.
But somehow, Toyota absolutely nailed the right gray in a hue they call Concrete. It's one of the best looking paint colors I've seen in years, and it's only available on the TRD Pro for 2017. Just like Toyota, you might be under the impression that Concrete gray is boring. Just like the Tacoma TRD Pro, it's not.
What was tested? The 2017 Toyota Tacoma TRD Pro with a base price of $42,760. Options on the test truck: The paint protection film for $395, a first aid kit for $30, the emergency assistance kit for $59, a bed mat for $120, a deck rail camera mount for $56, mud guards for $129, a mini tie down loop for $45, a universal tablet holder for $99, a glass breakage sensor for $299 and wheel locks for $80. The total MSRP price as tested including the $940 destination charge came to: $45,012.
By Derek Price © AutoWire.Net - San Francisco.
Wheelbase: 127.4 in.
Length: 212.3 in.
Width: 74.4 in.
Height: 70.6 in.
Engine: 3.5-liter V6 (278 hp, 265 ft. lbs.)
Transmission: Six-speed automatic
Fuel economy: 18 city, 23 highway
The 2017 Toyota Tacoma TRD Pro Bottom Line Review provided by: Tony Leopardo © AutoWire.Net
The Bottom Line: The 2017 Toyota Tacoma TRD Pro is anything but dull. It is a highly capable off-road beast with exciting new looks to match. It's surprisingly refined on the road, as it benefits from the Tacoma lineup's recent overhaul. A blacked-out hood scoop and heritage-inspired "TOYOTA" front grille are all part of the Tacoma TRD Pro's aggressive look. Black leather seats, a special shift knob and unique floor mats are the touches that help the TRD Pro stand out on the inside too. Overall it feels like the kind of truck an enthusiast would build on their own, using some of the same aftermarket suppliers that are popular with today's off road hobbyists. And maybe, just for those reasons alone, you should "Drive one, Buy one, Today ©".
This Bottom Line Review is provided by: Tony Leopardo © AutoWire.Net
"Tony the Car Guy" is an automotive writer, editor and publisher in the San Francisco Bay Area. If you have a question or comment for Tony send it to TonyLeo@pacbell.net or visit AutoWire.Net at www.autowire.net - And remember: "You Are What You Drive ©"

Column Name: TRD Pro Takes New Tacoma Platform to Extreme Places
Topic: The 2017 Toyota Tacoma TRD Pro
Word Count: 911
Photo Caption: The 2017 Toyota Tacoma TRD Pro
Photo Credits: Toyota Internet Media
Series #: 2017 - 37
Download the Microsoft Word version here: 2017 Toyota Tacoma TRD Pro
Download the Original Image File here: 2017 Toyota Tacoma TRD Pro