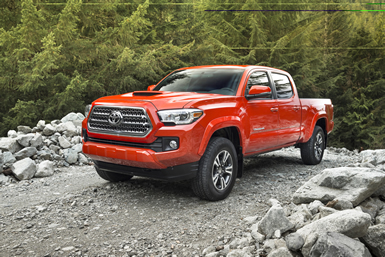 The 2016 Tacoma 4x4 TRD Double Cab Review: Until last year, mid-size trucks were the red-headed stepchildren of the automotive world. Most of them were completely neglected, going without major updates for a decade or more as their big, pricey, full-size siblings got all the attention. That changed with the introduction of the Chevy Colorado a year ago. Along with its twin from GMC, the Canyon, it was such a leap above the competition that Motor Trend named it "Truck of the Year," snubbing the ground breaking Ford F-150 that normally would have been a shoo-in for the prize. Now Toyota has gone and made that "Truck of the Year" Colorado look like ancient history.

The Toyota Tacoma pickup gets a long overdue update for 2016 that allows it to leapfrog the lauded twins from General Motors. After driving a 2016 Tacoma and Colorado back-to-back, both on road and off, the redesigned Tacoma stood out as being significantly quieter and slightly better built than the Chevy. Its cabin feels solid and refined, and I didn't notice a single squeak or rattle even when bouncing over rocky inclines.
In fact, it's not just quiet by truck standards. It's quieter than some passenger cars I've driven lately.

Given the attention to detail that Toyota's engineers poured into this truck, the lack of wind and road noise should be no surprise. Small vortex generators sculpted into critical points on the body help to route the wind flow, while sound insulation and acoustic glass keep all but the loudest highway noises out of the cabin.

This truck's weak point is its base engine, a carryover 2.7-liter four-cylinder that makes just 159 horsepower while earning a highway rating of 23 mpg. I'm a bit perplexed at why Toyota is even offering this engine.

The infinitely better choice is an all-new 3.5-liter V6 that makes tons more power, 278 horses , while also getting better fuel economy. It's rated for 19 mpg in the city and 24 on the highway, making it the obvious choice for both fuel misers and power freaks.

Toyota took a kitchen-sink approach to designing the new V6 engine, throwing every fresh technology at the project to make it as fuel-efficient as possible. It uses an Atkinson combustion cycle, advanced versions of variable valve timing and intake, along with both direct and port fuel injection.

While the quiet ride is perfect on the pavement, the new Tacoma is beefed up for off-road driving, too. It had no trouble crossing creeks, climbing muddy embankments and crawling up steep, rocky paths during my test in a TRD Off Road model.

The class-exclusive Crawl Control feature is especially nice for letting electronics do the difficult work of descending, climbing and driving across iffy surfaces like sand, rocks and gravel. You simply engage the 4x4 low range, then press a button and turn a knob to set your speed anywhere from 1-5 mph. The brakes and accelerator are controlled automatically, freeing the driver to merely turn the steering wheel when crawling over difficult terrain. It couldn't be simpler.

Styling is a nice, wonderfully aggressive upgrade over the outgoing Tacoma, both inside and out. I especially like the new body painted in stare-at-me orange or a militaristic tan color that Toyota calls "Quicksand."

Pricing starts at $23,300 for the two-wheel-drive base SR grade and tops out at $37,820 for the 4x4 Limited with leather trim and luxury content.
What was tested? The 2016 Tacoma 4x4 TRD Off Road Double Cab V6 6AT with a base price of $33,730. Options on the test truck: none. Total MSRP price as tested including the $900 destination charge came to: $34,630

Wheelbase: 127.4 in.
Length: 212.3 in.
Width: 75.2 in.
Height: 70.6 in.
Engine: 3.5-liter V6 (278 hp, 265 lb.-ft.)
Transmission: Six-speed automatic
Estimated Mileage: 19 city, 24 highway

Why buy it? It's a major improvement over the outgoing, long-in-the-tooth Tacoma. Refinement and strength are both upped in the new design, and it can be outfitted as an impressive off-road machine with Crawl Control and go-anywhere 4x4 capabilities.
By Derek Price © AutoWire.Net - San Francisco
The 2016 Tacoma 4x4 TRD Off Road Double Cab Bottom Line Review provided by: Tony Leopardo © AutoWire.Net
The Bottom Line: America's most popular mid-size truck gets a long-awaited redesign. The all-new Toyota Tacoma looks more aggressive than ever before. The 2016 redesign gives it more off-road capability, including Crawl Control, along with a lot more refinement. Even a quick drive in the freshly redesigned Tacoma makes one thing obvious: its cabin is dramatically quieter now. Materials and construction are the best you can buy in the mid-size truck class, too. And maybe, just for those reasons alone, you should "Drive one, Buy one, Today ©".
Bottom Line Review provided by: Tony Leopardo © AutoWire.Net
"Tony the Car Guy" is an automotive writer, editor and publisher in the San Francisco Bay Area. If you have a question or comment for Tony send it to TonyLeo@pacbell.net or visit AutoWire.Net at www.autowire.net - And remember: "You Are What You Drive ©"

Column Name: New Tacoma aims for the Top
Topic: The 2016 Toyota Tacoma 4x4 TRD Double Cab
Word Count: 903
Photo Caption: The 2016 Toyota Tacoma 4x4 TRD Double Cab
Photo Credits: Toyota Tacoma Internet Media
Series #: 2016- 01
Download the Microsoft Word version here: 2016 Toyota Tacoma 4x4 TRD Double Cab
Download the Original Image File here: 2016 Toyota Tacoma 4x4 TRD Double Cab