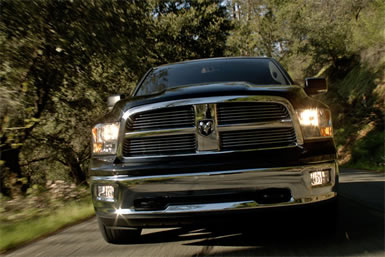 The 2012 Ram 1500 Lone Star Crew Cab 4x4 Review: Pickups are built to do the jobs that are too tough, or dirty for ordinary cars, and the big Ram 1500 is the perfect example. It's incredibly useful for making your life fuller and, in some cases, just more fun.
In my week behind the wheel of the 2012 Ram, I helped people move some furniture, hauled giant bags of mulch home from the garden store, drove around Texas listening to Hank Williams on the radio, and thought seriously about buying a vintage organ on Craigslist, and taking it home, just because I could. That's the magic of driving a truck. It makes things possible that you simply can't do with a sedan.
The Ram is about more than just doing work, though. Sure, it's got all the tough-truck numbers that prove it can do jobs far bigger than hauling mulch bags, it's got an 11,500-pound trailer rating and 3,100-pound payload capacity in the Ram Tradesman HD, for example, but it's also surprisingly comfortable at the same time.
The Ram is an odd, but serendipitous mixture of a heavy, durable, commercial-feeling truck on the one hand, and a smooth and quiet highway vehicle on the other. Much of the Ram's comfort comes from its unique rear suspension layout, a coil-spring multilink unit that's fitted to a solid rear axle. There are no old-school leaf springs on the Ram, which means the ride and handling are quite noticeably better than on the other brand trucks.
The other difference is its sound insulation. Ram's engineers did a great job keeping wind and road noise out of the cabin, which makes this truck feel downright luxurious at highway speeds. From a styling standpoint, the Ram has long been all about providing that "big rig" look, and the 2012 model is no exception. It has a grille that's big enough to have its own gravitational field. You almost need ropes and grappling hooks to climb up into the cabin.
Aside from the raw performance numbers, the Ram's biggest strong point is its number of thoughtful storage solutions. You can get it with the RamBox, a waterproof storage bin that can work as a cooler or toolbox built into the side of the bed. It also has storage bins built into the floor that are big enough to hold 10 12-ounce cans with ice, and you can get a cargo management system that comes with four rails and adjustable cleats for tying down whatever you're hauling. For storing and towing stuff, it's remarkably smart and well designed.
For people who need lots of power, the 5.7-liter Hemi V8 is a great choice. It makes 390 horsepower and 407 foot-pounds of torque, enough to make this monstrously heavy pickup feel like a rocket. It also feels and sounds like the ideal truck engine, with lots of low-end power and a deep, throaty grunt that bellows from the exhaust.
If you want it even faster, the Ram R/T can reach 60 mph in just 6.1 seconds. That's a relatively fast figure for a car, much less a heavy work truck like this one.
The biggest downside is that the Ram doesn't get great gas mileage.
The most efficient, two-wheel-drive model is rated for 14 mpg in city driving and 20 mpg on the highway. That's slightly worse than the comparable models from Ford and Chevrolet.
Like most trucks today, the Ram is available in a wide range of price points depending on whether you want a stripped-down basic truck for only $21,820, to a luxurious Laramie Longhorn 4x4 for over $46,270.
As a whole, the Ram has a lot of things going for it. The 18-wheeler styling is great for people who want a truck that looks as bold as it sounds, and the Ram's mixture of capability and refinement is hard to beat. It's amazing that a truck that's designed to do this much work can be this comfortable at the same time.
What was tested? The 2012 Ram 1500 Lone Star Crew Cab 4x4 pickup truck with a base price of $35,790. Options on the test truck are: Premium cloth seats for $25, the customer preferred package for $40, the luxury group for $545, the protection group for $150, the technology group for $495, remote start for $350, the anti-spin rear axle for $325, the Hemi V8 engine option for $1,310, chrome tubular side steps for $655, the media center with navigation for $1,200, all-season tires for $175, upgraded 20-inch wheels for $400, a rear camera for $200, trailer brake control for $230 and a spray-in bed liner for $475. The total MSRP price as tested, including the $995 destination charge, came to: $43,360.
Why avoid it? Its gas mileage is slightly worse than comparable models from Ford and Chevrolet.
Why buy it? It's powerful, durable, and is designed to do tough jobs hauling and towing cargo. It has bold body styling, a remarkably refined ride and a quiet cabin at highway speeds.
By Derek Price © AutoWire.Net - San Francisco
The 2012 Ram 1500 Lone Star Crew Cab 4x4 Bottom Line Review provided by: Tony Leopardo © AutoWire.Net
The Bottom Line: The 2012 Ram 1500 Lone Star Crew Cab 4x4 mixes capability, quietness and comfort. The new Ram 1500 Tradesman HD, a new model for 2012, has an 11,500-pound trailer rating and V8 power at a very affordable price. Plus the Ram 1500 Mossy Oak Edition comes with camouflage trim that would make any hunter or outdoorsman feel at home.
These new models, plus the RamBox option, put Ram at the top of every pickup truck buyer's list, and with good reason. Ram is the best looking, best driving, and the best value today in the full size truck market, and that's why you should "Drive one, Buy one, Today ©"
Bottom Line Review provided by: Tony Leopardo © AutoWire.Net
"Tony the Car Guy" is an automotive writer, editor and publisher in the San Francisco Bay Area. If you have a question or comment for Tony send it to TonyLeo@pacbell.net or visit AutoWire.Net at www.autowire.net - And remember: " You Are What You Drive © "

Column Name: This Ram full-size truck is remarkably refined
Topic: The 2012 Ram 1500 Lone Star Crew Cab 4x4
Word Count: 1,096
Photo Caption: The 2012 Ram 1500 Lone Star Crew Cab 4x4
Photo Credits: Ram Truck Internet Media
Series #: 2012- 11
Download the Microsoft Word version here: 2012 RAM 1500
Download the Original Image File here: 2012 RAM 1500