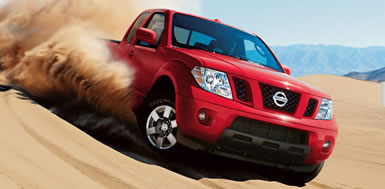 Nissan Frontier Review: In the world of trucks, it seems that bigger is always better. TV ads brag about how much stuff you can haul, how roomy the cabin is and how many horses lurk under the hood. But does bigger size always mean a better value? That's the question you have to ask before checking out the 2010 Nissan Frontier.
This isn't the biggest truck, or the most powerful truck, but it can do nearly everything the big boys can and save some cash at the same time. The Frontier is part of a frequently overlooked category of less-than-full-size pickups. While this segment was pioneered with itty-bitty trucks like the Ford Ranger, there's nothing compact about them today, that is, unless you compare them to their giant siblings.
This feels like a real truck. If you could put the big and brawny Nissan Titan into the dryer for a few cycles, a Frontier would come out at the end. It's heavy and rides way up high, almost like you'd expect in a full-size truck, but it has the added benefit of squeezing into tight parking spaces. Even on the road, it feels a little better, less like a barge, and more like a tugboat.
The only thing most truck buyers look at though is performance, and the Frontier doesn't disappoint. It's available with a 4.0-liter V6 engine that, if it wasn't written on the window sticker, I would have sworn was a V8 because it's so smooth, powerful and torquey. It makes 261 horsepower and 281 foot-pounds of torque, which is a huge amount for a truck this size.
All that power translates into good towing capacity. It can pull up to 6,500 pounds, and, let's face it, that's more than the vast majority of full-size truck buyers tow anyway. And if you need to haul a lot of long stuff, it's available with a long bed too.
Inside the Frontier has the same tough-truck styling as the Titan. It's not quite as car-like as Toyota's trucks, nor as luxurious as the cabins of full-size trucks from Chevy and Ford, but it's a fairly nice space nonetheless. Compared to other mid-size trucks, which is a much fairer way to measure it, the Frontier stacks up nicely.
The cabin is available in two configurations: King Cab or Crew Cab. The King Cab version I tested comes with little doors that open backward to let passengers in the back. They'd better be small passengers though, because the seats are tiny. They fit my 4- and 6-year-olds perfectly. If you'll be carrying adults on a regular basis, the Crew Cab is worth the extra money for its 4 full-size doors and bigger back seat.
Speaking of money, the Frontier starts at $17,540 for a King Cab with a four-cylinder engine. The Crew Cab starts at $22,290. Considering the cheapest Titan will set you back $26,320, and the Crew Cab Titan costs a cool $28,870, and that's before you add any options.
Now the Frontier starts to look like a downright bargain. Knowing that, and the fact that it can save you a little money at the gas pump, those truck commercials on TV don't sound so appealing when they brag about size.
What was tested? The 2010 Nissan Frontier 4X4 Pro4X with a base price of $27,730. Options on the test truck: The Technology package for $900, an iPod interface for $270 and floor mats for $106. The total MSRP price as tested including the $900 destination charge came to $29,830.
Why avoid it? It doesn't have the same presence and outright performance of a true full-size pickup.
Why buy it? It nearly matches the capability of a full-size truck, but it's more affordable, more fuel efficient, and more maneuverable than the big trucks. By Derek Price © AutoWire.Net - San Francisco
The Bottom Line: The 2010 Nissan Frontier looks and feels like a scaled-down Titan pickup. With the powerful V6 engine it can tow up to 6,500 pounds, while getting better gas mileage than a full-size truck. Inside, the Frontier's front seat is roomy and comfortable, and outside it mimics the styling of the bigger Titan.
Bottom Line Review provided by: Tony Leopardo © AutoWire.Net
"Tony the Car Guy" is an automotive writer, editor and publisher in the San Francisco Bay Area. If you have a question or comment for Tony send it to TonyLeo@pacbell.net or visit AutoWire.Net at www.autowire.net
And remember: " You Are what you Drive "

Column Name: Nissan Frontier has the appeal of a mini-Titan
Topic: The 2010 Nissan Frontier 4X4 Pro4X
Word Count: 806
Photo Caption: The 2010 Nissan Frontier 4X4 Pro4X
Photo Credits: Nissan Frontier Internet Media
Series #: 2010 - 43
Download the Microsoft Word version here: 2010 Nissan Frontier

Download the Original Image File here: 2010 Nissan Frontier