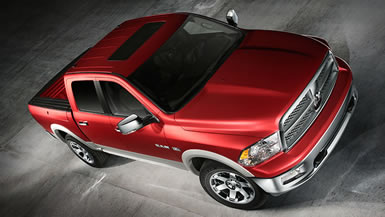 Dodge Ram Review: If you're thinking about buying a new truck, you're in luck. There's never been a better time to get one. It's not that dealers are offering better bargains, although the slow economy has helped some on that front, but that competition has improved the breed so dramatically in recent years.
Not long ago, there were only three brands that dominated the truck market: Ford, Chevy and Dodge. And, just like in the Soviet Union, a lack of competition meant a lack of innovation, as American trucks would languish for years without getting a major overhaul. There just wasn't much incentive to get better.
Today, with stout Japanese trucks like the Nissan Titan and Toyota Tundra on the market, the opposite is happening. All truck makers, both domestic and foreign brands, are in a race to offer more features, better technology and extra power with each passing year.
The product life cycle of a pickup has been shortened dramatically, as they're redesigned and replaced with better models now every few years, just like with cars. And so it is with the Dodge Ram 1500, the latest pickup to load up on ammunition for the truck wars.
This year's Ram is better than ever as it tries to stay a step ahead of its competitors. It has the most powerful lineup of engines for starters, headlined by the 5.7-liter Hemi V8 that makes 390 horsepower. Other engines include a 4.7-liter V8 that makes 310 horsepower, and a fuel-saving V6 with 215 horses. And the V8s come with special technologies to improve gas mileage, like Interactive Decel Fuel Shutoff, to improve fuel economy in the real world.
While the body has a lot of subtle differences, it's still unmistakable as a Ram. It continues this truck's famous "big rig" nose and adds a big power bump on the hood and a more modern roofline. Hemi models also get dual chrome exhaust tips that look like they're built into the bumper, for a very clean and noticeable back end.
One of the most noteworthy changes comes in an area that few people would notice unless they're actually riding in the truck. It's the rear suspension. This is one of the toughest areas to design on a modern pickup. More traditional truck suspensions are meant to haul heavy loads, so they can't use a more technically sophisticated independent rear suspension like today's cars. Those couldn't handle the load.
Then Dodge figured out a way to combine the best of both worlds. It has a solid rear axle with multiple links and fitted with coil springs and dampers. Now Ram rides better than most full-size trucks without sacrificing the ride, durability or payload.
Plus Ram continues to offer one of the best features in all new trucks, a special storage bin called, unimaginatively, the Ram Box. It's a weatherproof and lighted, lockable and drainable space built into both sides of the bed that's perfect for storing all kinds of small things. It's where you can toss the stuff that you don't want sliding around in the back of the bed, and then you can use it as a cooler with ice and drinks for tailgating.
And the storage space doesn't stop there. The new Ram truck has a total of 42 storage locations, more than twice as many as the model it replaces. Overall it's a great truck, and even more so considering how much better trucks are today than they were just a decade ago.
What was tested? The 2010 Dodge Ram 1500 4x4 Crew Cab with a base price of $31,730. Options on the test truck: Carpet for $110 and the 5.7-liter Hemi engine for $1,310. Total MSRP price as tested including the $900 destination charge: $34,050.
Why avoid it? There are many great trucks to pick from today.
Why buy it? It's powerful, handsome and versatile, with the grunt to do tough jobs and the sophistication to drive comfortably in all conditions.
By Derek Price © AutoWire.Net - San Francisco
The Bottom Line: The latest 2010 Dodge pickup truck is unmistakable as a Ram, with the continuation of its bold "big rig" styled front end. Inside, the Ram has spacious seating for six, and a surprisingly high quality cabin. And on the premium models stitching on the seats and dash emulates fine European luxury cars. Now with all these power, convenience and comfort options it's a great time to buy a new Dodge Ram pickup truck.
Bottom Line Review provided by: Tony Leopardo © AutoWire.Net
"Tony the Car Guy" is an automotive writer, editor and publisher in the San Francisco Bay Area. If you have a question or comment for Tony send it to TonyLeo@pacbell.net or visit AutoWire.Net at www.autowire.net
And remember: " You Are what you Drive "

Column Name: Dodge Ram trucks up the ante
Topic: The 2010 Dodge Ram 1500 4x4 Crew Cab
Word Count: 856
Photo Caption: The 2010 Dodge Ram 1500
Photo Credits: Dodge Ram Internet Media
Series #: 2010 - 16
Download the Microsoft Word version here: 2010 Dodge Ram 1500
Download the Original Image File here: 2010 Dodge Ram 1500