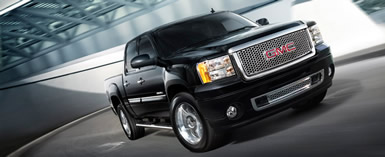 The 2013 GMC Sierra Denali 1500 Review: In the testosterone-fueled wars between pickup trucks, one thing matters above all else: raw numbers. It's interesting, then, that until this year there has been no standardized way of measuring how many pounds different pickup trucks can tow. Each brand would brag about its maximum towing capability as if it were the one and only truck that could possibly have enough gumption to haul a bass boat, but each company also set its own criteria for how to measure that magic number.
The result? Since everybody was playing by different rules, it was impossible to compare each truck apples-to-apples. All that is supposed to change this year, thanks to the Society of Automotive Engineers. A new rule with the wonderfully geeky name of "SAE J2807" was enacted to create a standard series of-real-world tests and mathematical equations so buyers can finally see how each truck stacks up in comparison.
How did this truck, the GMC Sierra, do under the new guidelines? Its top towing rating dropped ever so slightly, from 10,700 pounds to 10,500, with the special Max Towing package.
That's pretty good considering the new criteria was widely expected to drop tow ratings drastically for many models, at least compared to the make-believe numbers the manufacturers have been reporting.
When Toyota implemented the J2807 rules before anyone else back in
2011, something it ought to be applauded for by the way, the tow ratings of its Tundra pickup dropped by up to 1,000 pounds under the new way of measuring things.
Unfortunately for General Motors, its competitors at Ford and Ram have not been as forthcoming about releasing their J2807 numbers as were originally expected, presumably because they were embarrassing. And that caused GM to back track, publicly going back to its old way of measuring towing, which is why you'll still see the old number of 10,700 pounds on the GMC website.
Confused enough?
The truth of the matter is that the Sierra is a spectacularly powerful truck and, when properly equipped, can tow more than the vast majority of drivers will ever need. And really, if buyers are towing so much weight that they're worried about bumping up against the top trailer rating, they ought to be looking for a heavy-duty model instead of the half-ton Sierra 1500 anyway.
I drove a fancy version of the Sierra, called the Denali, for a week and came away impressed. Neither its ride nor its interior materials were as soft as in the similarly fancy Ram 1500 I drove earlier this year, but its immediate sense of power and V8 rumble were absolutely intoxicating.
The cabin did feel upscale, benefiting from the same "New GM" resurgence that has helped Chevrolet, Buick and Cadillac models for the past three years. Everything fit together precisely. Better yet, the heated and cooled leather seats, quiet cabin and no shortage of luxury gizmos, including easy connection to my iPhone, made it feel downright sumptuous while I drove around with enough torque to pull a continental plate.
That mixture of power and comfort is something General Motors does well in its high-end trucks, especially those of the GMC flavor. While the Sierra is a near carbon copy of the Chevy Silverado, its slightly crisper GMC body lines went well with the tuxedo-like chrome accents on the Denali trim.
It also comes from a company with the confidence to release the results from its standardized towing tests. I know one thing: If my livelihood and safety depended on how well my truck performed with a trailer, I'd want the most reliable numbers I could find. GM and Toyota both deserve kudos for showing buyers of 2013 trucks some actual apples-to-apples towing numbers for the first time ever.
What was tested? The 2013 GMC Sierra Denali 1500 AWD Crew Cab with a base price of $48,635. Options on the test truck were: The Navigation system for $2,250, power sunroof for $895, tubular steps for $689 and the trailer brake for $230. The total MSRP price as tested including the $995 delivery fee came to: $53,694.
Why avoid it? It doesn't offer as much comfort as the Ram's new rear suspension design.
Why buy it? It's monstrously powerful and can be equipped to tow up to 10,500 pounds under the new, standardized tests.
By Derek Price © AutoWire.Net - San Francisco
The 2013 GMC Sierra Denali 1500 Bottom Line Review provided by:
Tony Leopardo © AutoWire.Net
The Bottom Line: The 2013 GMC Sierra Denali, shown here in classy Denali trim, is a powerful truck no matter how you measure it. Its 6.2-liter V8 engine makes 403 horsepower and the Sierra's cabin is more car-like and well constructed than ever before. The new Sierra pickup performance shines amid towing test confusion as the best in-class ever, so you should "Drive one, Buy one, Today ©"
Bottom Line Review provided by: Tony Leopardo © AutoWire.Net
"Tony the Car Guy" is an automotive writer, editor and publisher in the San Francisco Bay Area. If you have a question or comment for Tony send it to TonyLeo@pacbell.net or visit AutoWire.Net at www.autowire.net - And remember: " You Are What You Drive ©"

Column Name: Reliably powerful GMC
Topic: The 2013 GMC Sierra Denali 1500
Word Count: 915
Photo Caption: The 2013 GMC Sierra Denali 1500
Photo Credits: GMC Sierra Internet Media
Series #: 2012- 27
Download the Microsoft Word version here: 2013 GMC Sierra Denali 1500
Download the Original Image File here: 2013 GMC Sierra Denali 1500