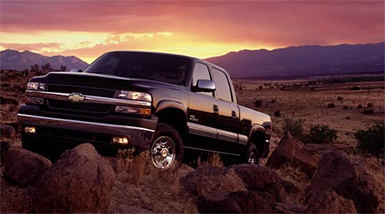 SAN FRANCISCO: There are trucks and then there are REAL TRUCKS. While the former are often referred to as "pickups", the latter are of such incredible dimensions and capabilities that they fall under the category "rigs", as in big rigs, as in tractor trailers or semis. The 2001 Silverado 2500HD 4x4 Crew Cab is definitely a rig.
Seemingly longer than a Scandinavian winter and wider than the Montana sky, this hulking powerhouse feels like it can tow a three-story building while carrying two armored cars in its bed. While this may seem like hyperbole to the uninitiated, once you've spent time high up in its cab, steering this Great White through the puny goldfish of city traffic, you quickly develop a sense of invincibility. Soon, you feel like you could just drive over the cars in front of you without scratching your skid plates.
This was especially true with my "Victory Red" Silverado LT 2500HD 4x4 Crew Cab test vehicle. The view from behind the wheel is commanding, and despite the length and width of the truck, navigating in parking lots and in rush hour traffic is far easier than it seems at first glance. This size, however, comes at a price.
My test truck wasn't equipped with running boards, but I have to say that they are a must for almost anyone who buys a truck of this size. Stepping into the cabin is no big deal if you're 6-feet-4-inches tall as I am, but when it came to putting my twin 18-month-old son and daughter in their car seats on the rear bench, and helping my pregnant wife into the passenger seat, that nearly two foot gap from the ground to the door ledge becomes almost insurmountable.
Once you've loaded everyone into the truck, no matter where they're sitting, they have plenty of room to maneuver. The Silverado Crew Cab leads its class in terms of front and rear seat passenger space. Ergonomics are excellent, especially gauge location and switchgear placement, and now that the seatbelts are integrated into the front seats, everything in the cabin is within easy reach. Of course, when in the driver's seat, only one control really matters: the gas pedal.
The optional Duramax 6.6 liter Diesel V-8 found in the tester vehicle delivers a pavement warping 520 lb. ft. of torque and 300 hp through a specially designed Allison 5-speed automatic transmission. At $4,800 for the engine and $1,200 for the transmission this package isn't cheap, but in terms of payload and trailer hauling, nothing can touch it.
As if its size wasn't enough to make you think you were driving a big rig, the diesel engine produces a perfect imitation of a tractor-trailer's clackety-clackety sound. If there were an air horn activating cord hanging from the ceiling, you'd be searching for the CB radio to give a 10-4 to your good buddies.
Even though it doesn't have 18 wheels, the Silverado 2500HD 4x4 still can carry a best-in-class 3,337 lbs. in its bed (vs. 3,063 lbs. for the Dodge Ram Quad Cab 4x4 2500 ST and 2,691 lbs. for the Ford F-250 Super Duty Crew Cab XLT 4x4). This stout Chevy also sports a class-surpassing 15,900 lbs. maximum towing capacity (vs. 12,700 lbs. for the Dodge and 13,400 lbs. for the Ford) and the highest maximum gross weight vehicle rating, 9,900 lbs. (vs. 8,050 lbs. and 8,600 lbs. for the Dodge and Ford, respectively). The lesson: If you want a truck that can carry the biggest payload and tow the heaviest load, look no further than the Silverado HD (except maybe for its big brother, the 3500HD).
On the road, the Silverado goes, steers and whoas with surprising aplomb. Though it delivers expectedly dismal fuel mileage, the big Diesel starts quickly, idles evenly and provides smooth power throughout its rev range. And despite its nearly six ton weight, the Silverado has enough oomph for easy freeway merging and panic-free passing.
When the road gets twisty, this pickup comes equipped. With multi-leaf rear springs taking care of the rear and an independent suspension up front, no matter what you're hauling (or not) this truck can handle it. Though quite stiffly sprung (it is a heavy duty hauler, after all), even when the pavement gets rough mid-turn, there's no jitteriness or jumpiness transferred through its power-assisted steering rack.
When it comes time to slow the Silverado, have no fear. Chevy engineers have equipped this Heavy Duty with heavy duty brakes: 4-wheel disc brakes with, in Chevy's words, "thick rotors and large pads" and GM's much-ballyhooed 4-wheel ABS with Dynamic Rear Proportioning. Put simply, this rig can stop, even while heavily loaded in panic braking situations, quickly and evenly.
From its chromed front bumper with integrated recovery hooks to its special heavy duty trailer hitch platform, the big red Silverado 2500HD 4x4 Crew Cab proved to be both a rugged, mean off-roading machine and a pleasant vehicle to load the family into to visit grandma. Just beware of one thing: You know the joke about if you buy a pickup, then everyone you know will start beating down your door with things for you to haul? Well, with a truck like this, don't answer the door. God only knows what kind of freebie jobs will start coming out of the woodwork.
By Andrew W. Davis © AutoWire.Net - San Francisco

Chevrolet Home Page
Byline: By Andrew W. Davis © AutoWire.Net - San Francisco
Column Name: There are trucks and then there are REAL TRUCKS
Topic: 2001 Chevrolet Silverado LT 2500HD 4WD Crew Cab
Word Count: 969
Photo Caption: 2001 Chevrolet Silverado LT 2500HD 4WD Crew Cab
Photo Credits: Chevrolet Internet Media
Series #: 2001 - 24
Download the Microsoft Word version here: 2001 Silverado LT 2500HD
Download the original image file here: 2001 Silverado LT 2500HD 24k