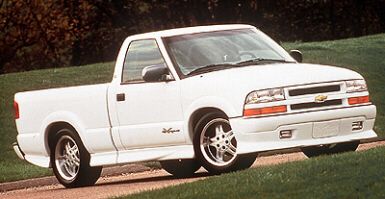 SAN FRANCISCO: Over the years, we've test driven many trucks in all shapes and sizes. However, no truck has generated more interest and positive comments than Chevy's all-new 1999 S-10 Xtreme, our test vehicle this week.
The reason for the success lies in Chevrolet's ability to tap into The popularity of two specific marketing outlets, namely the National Hot Rod Association's (NHRA) Pro Stock Truck drag racing division and the NASCAR Craftsman Truck oval racing series, both hot properties in professional motorsports. Specifically, Chevy's S-10 Xtreme looks like an NHRA Pro Stock Truck sitting right in your own driveway, yet it still passes state inspection and delivers over 20 mpg. (OK, it's not as fast, but please read on.)
The '99 S-10 Xtreme began life as a GM concept vehicle dubbed "Hugger." GM brass then measured concept popularity at car shows, resulting in a general production decision. "Hugger" did very well, receiving an "Xtreme" name change prior to official showroom delivery. The final result is impressive, with a bit of "Street Rod " complementing the NHRA and NASCAR resemblance.
Built on Chevy's ZQ8 suspension, which sits two inches lower than normal S-10s, Xtreme is the easy answer to truck lovers who intended to modify suspension systems. The good thing about Chevy's Xtreme is that the factory does all the work, adding ground effects, wheel opening flares and rocker panel additions. Next, Chevy color codes the bumpers and grille to the exterior paint (our was a bright red creation), adds front air dams with integrated foglamps, and then sets the vehicle off with beautiful 16-inch aluminum wheels and P235/55R16 blackwall tires. The end result is "the perfect solution for buyers who intended to further customize their S-10 pickups," says Ron Stanley, S-10's brand manager.
Another important aspect of the factory built Xtreme is warranty. In the past, many S-10 truck owners lowered the bodies themselves, effectively voiding warranties. Stanley says amateur conversion attempts cost many an owner extra dollars when GM dealers had to go back in and fix the errors.
"The S-10 Xtreme offers a warranty solution. You get a great-looking product, with one sticker price and a full factory warranty," Stanley stresses. "It's a blank canvas, a starting point, where people can take their truck further (cosmetically) if they want. The end result is limited only by imagination."
Available strictly as a 2WD model, Xtreme comes in base and uplevel trims, with either an in-line 2.2 Liter 4-cylinder or a powerful 4.3-liter V-6 sitting under the hood. The 55 horsepower difference between the four and the six (120 versus 175) makes a huge difference in how the truck reacts in all situations, so we highly recommend the Vortec V-6 as the main choice. Our test Xtreme came with the manual 5-speed transmission, which we liked very much, although for "non-shifters," a 4-speed electronic automatic is available. The EPA for our Xtreme came in at 17 and 23, both respectable numbers for those who seek economy with their truck purchase.
The list of standard features is long, as Xtreme offers all the amenities one expects in a 1999 model year vehicle. The dual air-bags have an "on-off" switch, which allows the driver to disengage the bag when children sit in the front seat. Xtreme's body sits on a full chassis, with side door beams and a welded double-wall pickup box adding to the security of this vehicle. Throw in things like 4-wheel anti-lock brakes, daytime running lamps and a Passlock Theft Deterrent system, along with all of the convenience features from stereo to battery rundown protection, and the S-10 Xtreme is one classy vehicle.
On the road, Xtreme rides well and is comfortable, too. Our truck arrived in optional Sportside body trim, with extended cab design. The bigger cab allows for storage behind the front seat or, by accessing two jump seats, adding two passengers in the rear. Kids especially love the jump seats, which both carry full seat belt setups. The interior receives a "thumbs up," as everything is in its right place and easy to access. Gauges are easy to read, and the extra large outside mirrors keep drivers informed of what's going on behind them. Chevy's work in reducing interior noise and vibration results in occupants receiving a car like experience, something modern trucks capitalize on nowadays. This fact bodes well with the bulk of S-10 owners, who are statistically single, 26-39 years of age, earn incomes of $45,000-plus and are college graduates.
Handling is very good, as the ZQ8's lower suspension and carbon shocks help Xtreme negotiate turns with ease. The ride is firm, yet not a nuisance, and the power from the Vortec 4.3 engine is more than acceptable. Passing is easy, and long trips are no problem thanks to Xtreme's contoured and well-built seats. The wheelbase measures in at 122.9 and the base payload is 1184 lbs. The fuel tank capacity is 19 gallons, another S-10 positive, while the GVW rating comes in at 4,400 lbs.
The bottom line came in at $22,315, delivered, off a $15,422 base. The Xtreme package costs $3,097, while the V-6 added another $1349 to the price. Other notable options include a third door, ($295); Sportside body, ($475); Reclining highback buckets ($291); Locking rear axle, ($270); and a power convenience group ($795). Cost conscious consumers can probably put together a Xtreme for less than $20,000, although some of the conveniences will disappear.
In summary, we loved the Xtreme, as did the many interested onlookers who gave the truck an A-plus. Look for this truck to be a big hit at dealer showrooms.
Now, if we can only persuade Mr. Stanley to drop in Corvette's LS1 5.7-liter V-8 attached to a six-speed, we would really be talking some Extreme Bow-tie muscle. I'll bet the order line would go on for miles, with me being one of the first to do so. By Greg Zyla © AutoWire.Net - San Francisco

Byline: By Greg Zyla © AutoWire.Net - San Francisco
Column Name: The Xtra Mile
Topic: '99 Chevy S-10 Xtreme
Word Count: 996
Photo Caption: '99 S-10 Xtreme
Photo Credits: Wieck Photo
Series #: 1999 - 46