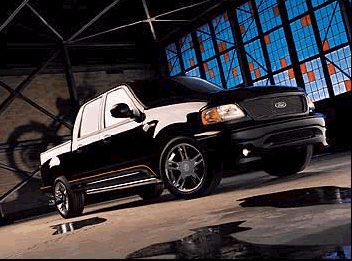 SAN FRANCISCO: "Born in Detroit, dressed in Milwaukee" is the vernacular Ford uses to promote its 2001 Harley-Davidson F-150 pickup. This limited edition model is the result of the motoring heritage of Ford's truck technicians and those of the world famous Harley-Davidson motorcycle company. The result is a Harley-Davidson badged, 260-horsepower mean looking Ford pickup that's available in one color and one color only – Black Clearcoat.
The Harley-Davidson F-150's legacy is exactly the same as the motorcycle it represents – emphasizing independence and individuality. Emulating the countless Harleys on the road, from Dresser to Chopper, this F-150 is a no-nonsense representation of both past and present Harley-Davidson philosophy.
Initial onlooker impressions center on the Harley/Ford's huge 9-inch wide by 20-inch diameter Goodyear Eagle GTII tires and stunning five-spoke cast hand polished aluminum wheels. A powerful 5.4-liter 260-horse Triton V8 and lightning-tuned, dual outlet exhaust emits a rousing rumble through a dual-outlet muffler, which happens to be finished in slash-cut chromed tips. These exhaust tips mimic the many "Easy Rider" style Harley exhaust systems seen on the Hogs that dot the nation's highways.
Based on the F-150 Super Cab chassis, the Harley-Davidson model is an attention getter from the word go. A billet style front grille accentuates a black surround chrome inset, and the black bumpers on front and rear are appropriate for the design setting. There are round driving lights, unique Ford-Harley logos on the fenders, tonneau cover and a 3mm body stripe finished off in Harley-Davidson orange.
In finishing the look, Ford and Harley decided to add chrome tube side nerf bars after lowering the truck a full inch on its 138.5-inch wheelbase chassis. Heavy-duty front stabilizer bars aid in handling aspects, while final horsepower is delivered to the rear wheels via a four-speed automatic transmission and the famous 9 ¾-inch ring gear. A 3:55 rear gear ratio assures quick acceleration, yet the truck is still able to produce acceptable 15 city and 19 highway EPA numbers. The suspension also features Ford SVT (Special Vehicle Team) Lighting Shocks, a 1,500 lb. payload and a 4,000 lb. maximum towing ratio. The final GVW comes in at 6,400 lbs.
The cabin is both Harley inspired yet quite plush. Seats are finished in a black front leather design and carry the famous Harley-Davidson logo. The leather-trimmed armrests, black leather wrapped steering wheel, unique Harley-Davidson "spun metal" gauge cluster and a Ford and Harley ornament to the right of the tachometer make for a great driving environment. Another Harley emblem embeds the leather console, and chrome door releases set off the final design. Included in the package are: air conditioning, tilt wheel, speed control, remote entry, privacy glass, power windows & locks, overhead console with compass and temperature indicators. A third door allows direct access to the full bench rear seat.
On the road the F-150 Harley-Davidson drives with authority and preciseness. Passing is a zip with the Triton V-8 power, and handling is excellent thanks to the tweaked suspension and those huge tires and wheels. We took several trips in the Harley Ford, and everywhere we went "excitement" was the creed.
Of course, all of this special attention doesn't come cheap. The base price of $32,305 is upped after adding a sliding rear window ($125) and 6-disc CD changer ($210), with the final price, including destination ($690) coming in at $33,330. This is very expensive for a 2-wheel-drive pickup, but the Harley/Ford is no "normal" truck in any manner.
Harley-Davidson and Ford should be applauded for ingenuity in presenting a limited edition F-150. The influences of both vehicles in the respective categories of owner loyalty and performance heritage are blended together in the final product. As with it's two-wheel counterparts, the F-150 Harley-Davidson is one truck that will certainly get you noticed…in a big way. By Greg Zyla © AutoWire.Net - San Francisco

Byline: By Greg Zyla © AutoWire.Net - San Francisco
Column Name: "Born in Detroit, Dressed in Milwaukee"
Topic: 2001 Harley-Davidson F-150 Pickup
Word Count: 697
Photo Caption: 2001 Harley-Davidson F-150 Pickup
Photo Credits: Ford Internet Media
Series #: 2001 - 15
Download the Microsoft Word version here: 2001 Harley-Davidson F-150
Download the original image file here: 2001 Harley-Davidson F-150 44k