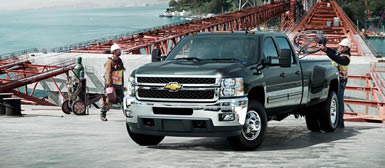 2011 Silverado HD Review: Heavy-duty trucks are all about numbers.
There's also that deep job-site rumble and chiseled cowboy styling to like, but at their heart, the biggest trucks boil down to simple arithmetic.
How much can they tow? What's the payload capacity? How much
horsepower and torque do they make?
That's why General Motors focused so much on the performance of its heavy-duty trucks when redesigning them for 2011. They look pretty much the same inside and out, but beneath the skin there are major changes to the Silverado and Sierra workhorses that give them an edge over the competition.
You can see it in the side-by-side stats for the 2010 Dodge Ram HD and 2011 Ford Super Duty. The Ram makes 350 horsepower with its biggest engine. The Ford makes 390 horses, and the Silverado? It ekes out a win with 397.
The same goes for torque. The Dodge makes 650 foot-pounds, Ford 735, and Chevy 765. Because it has the edge in power, the Silverado also wins in conventional towing, fifth wheel towing, and payload capacity in both 2500 and 3500 models. It brings home all the muscle trophies, if only by a slim margin. It may seem like a hands-down winner, but things aren't so simple.
While the Silverado excels in arithmetic, it lacks overall refinement, especially compared with the plush Ram HD. The Silverado's cabin is relatively unchanged, with the same plastics and economy-car layout that seem out of place in a truck that can easily top the $50,000 price level.
Under the hood, though, the changes are a big improvement. The Silverado HD's 6.6-liter Duramax V8 diesel has been reworked to produce more grunt. Horsepower improved from 365 to 397, while torque saw a massive boost from 660 foot-pounds to 765.
You end up with a truck that doesn't feel nearly as big as it is, at least from an acceleration standpoint. It moves from a standstill with the ease you'd expect in a much smaller truck, drawing on its deep well of torque to reach cruising speed effortlessly. In a parking lot, though, it's not easy to maneuver. You really feel the mass of this truck at low speeds, turning it in a wide arc like a barge.
Several new features should improve safety and usability. Stability control is now standard across all models; along with trailer sway control, hill start assist and an integrated trailer brake controller. Intelligent brake assist, which can help the brakes respond faster in panic situations, is also standard. An engine brake also comes on diesel models, which can help reduce maintenance costs over the long run by lowering the stress on your brake rotors and pads.
Overall, the new Silverado HD is a lot different from the old one, even though the look is familiar. It performs better, feels heftier and adds features that either keeps it competitive or flat-out beat the competition. In a work-truck market that's changing faster than most segments, with competitors rolling out drastic changes each year, that's a big accomplishment.
What was tested? The 2011 Chevy Silverado 2500 4WD LT Crew Cab with a base price of $38,860. Options on the HD test truck: Interior plus package for $745, HD trailering package for $780, on the job package for $495, the Duramax diesel engine for $7,195, Allison 6-speed automatic transmission for $1,200, 18-inch wheels for $545, and the rear window defogger for $175. The total MSRP price as tested including the $995 destination charge came to $50,990.
Why avoid it? The Silverado HD retains its interior, which was one of the weak points on the old model.
Why buy it? The 2011 model gets a big boost in horsepower and torque, which also means it leads the class in towing and payload capacity, if only by a slim margin. By Derek Price © AutoWire.Net - San Francisco
The Bottom Line: The 2011 Silverado HD may not look different on the outside, but big changes under the hood make it feel like a different truck. The new Heavy-Duty truck gets a mechanical make over for 2011 and it's available with a stout Duramax diesel that now makes 397 horsepower and
765 foot-pounds of torque. While it doesn't match the Ram HD's fit and finish, the cabin in the Silverado HD is roomy and smartly laid out. Dual glove boxes provide nearly nine liters of space, and there are locking storage bins under the seats on some models. "Drive one, Buy one, Today ©"
Bottom Line Review provided by: Tony Leopardo © AutoWire.Net
The 2011 Silverado HD Bottom Line Review provided by:
Tony Leopardo © AutoWire.Net
"Tony the Car Guy" is an automotive writer, editor and publisher in the San Francisco Bay Area. If you have a question or comment for Tony send it to TonyLeo@pacbell.net or visit AutoWire.Net at www.autowire.net - And remember: " You Are What You Drive © "

Column Name: Big power boost for Silverado HD
Topic: The 2011 Silverado HD
Word Count: 866
Photo Caption: The 2011 Silverado HD
Photo Credits: Silverado HD Internet Media
Series #: 2011- 04
Download the Microsoft Word version here: 2011 Silverado HD

Download the Original Image File here: 2011 Silverado HD