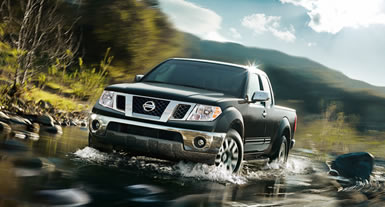 Nissan Frontier Review: I spent the past two weeks driving a couple of massive Japanese trucks, the Toyota Tundra and the Nissan Titan. And while I know some people need the capability of a Goliath truck, most of us would be perfectly happy driving David. Anything bigger is just a waste.
The Tundra, for example, came with a storage bin under the center armrest that was big enough to hold two jugs of milk. Who needs that much space? Are the folks who buy these trucks going to use it to mix a batch of concrete in between the seats?
Yes, full-size trucks are just too big and unwieldy for my taste, not to mention too expensive and thirsty. The Tundra and Titan test trucks each cost around $41,000 with options, putting them out of reach for many blue-collar buyers.
To fix this problem, the car manufacturers used to sell compact trucks, but now the only one left is the Ford Ranger. And let's face it; it's the automotive equivalent of a baby blue polyester sport jacket. It's the kind of truck you'd buy at a church rummage sale not because you actually want it, but because it's too cheap to pass up.
Now a whole new generation of mid-size trucks has replaced the Ranger-like compacts, offering performance and capability that nearly match the big 'uns. There's the Chevy Colorado, Dodge Dakota, Toyota Tacoma, and the subject of this week's review, the Nissan Frontier.
The Frontier really does aim to be a right-size truck. It's quite a bit smaller than its big brother, the Titan, but still feels hefty and relatively roomy inside. It feels like piloting a real, full-size working man's truck, despite its slightly smaller size.
Nissan gave the Frontier a new face for 2009, making it look more aggressive like the Titan. It's definitely a good-looking, masculine truck with sharp creases and an industrial feel.
Even better, it has a more refined, cushy ride than you'll find in most of its competitors. It's a good truck for driving on the highway, without too much wind and road noise.
It's also efficient, at least compared to its full-size relatives. It gets up to 23 mpg on the highway and 19 in town with rear-wheel drive.
You can choose between a 152-horsepower four-cylinder engine and a 261 horsepower V6. I highly recommend the 4.0-liter V6 because of how smooth, refined and tested it is. It's a variation on the same engine used in the Nissan 350Z, Altima, Maxima, Murano and Quest, which has won awards as one of the world's best engines. It really is a sweet powerplant.
You can also pick between a five-speed automatic, and either six-speed or five-speed manual transmissions. And like most full-size trucks, you can choose between King Cab and Crew Cab body styles, four-wheel and two-wheel drive, and two different bed lengths. The prices range from around $22,000 for a basic model to nearly $30,000 for the fanciest truck.
Considering many full-size trucks top out over $50,000, the mid-size Frontier looks like a bargain. It can do all the work most truck drivers will ever need, but it's in a much more reasonable package that's cheaper, more fuel efficient and easier to park than its juiced-up siblings.
What was tested? The 2009 Nissan Frontier 4x2 Crew Cab SE with a base price if $24,060. Options on the test vehicle: SE value truck package at $1,000. The total MSRP Price as tested including the $745 destination charge: $25,805.
Why avoid it? The four-cylinder version is a tad anemic, and fluctuating fuel prices make it hard to guess how good, bad or indifferent the resale value might be in a couple of years.
Why buy it? It can be configured almost like a full-size truck, yet it's cheaper, easier to drive and more fuel efficient. It offers a great V6 engine.
THE BOTTOM LINE: The Nissan Frontier is a mid-size pickup that offers better efficiency and a lower price than a full-size truck, but it still looks and feels like a tough, hard-working pickup. The Frontier is roomy in front and even relatively comfortable for adults in the back seat when you choose the biggest cabin.
By Derek Price © AutoWire.Net - San Francisco
Byline: Nissan Review provided by Tony Leopardo © AutoWire.Net

Column Name: Mid-size pickup is more efficient than its big brother
Topic: The 2009 Nissan Frontier SE
Word Count: 775
Photo Caption: The 2009 Nissan Frontier SE
Photo Credits: Nissan Frontier Internet Media
Series #: 2009 - 33
Download the Microsoft Word version here: 2009 Nissan Frontier
Download the Original Image File here: 2009 Nissan Frontier