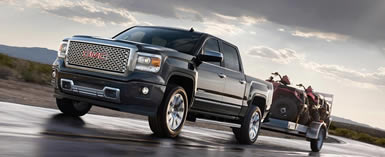 The 2014 GMC Sierra Denali Review: Pickup trucks are a big profit center for General Motors, so when they redesigned the GMC Sierra, they were careful not to change it too much. The 2014 model really is all brand new, but you will still recognize it, at the job site, and in your neighbor's driveway, as a GMC pickup truck. And you can choose from Standard Cab, Double Cab or Crew Cab.
The Double Cab, a compromise between the single front row and the capacious Crew Cab, now uses front-hinged doors, which aid entry and exit in the inevitable tight parking situations. The spacious Crew Cab is the choice of more than 60 percent of buyers, and now offers a standard 5-foot-8-inch and a new 6-foot-6-inch bed.
The Sierra stands more than six feet tall and weighs nearly three tons. It's a real challenge driving one around town, maneuvering through parking lots and fitting it into increasingly slim parking spaces.
Upgrading to the Denali level brings a unique grille, 20-inch chrome wheels, chrome exhaust tip and body-color mirrors outside, and projector-style headlamps. Inside, you enjoy leather seating, bright doorsills, and real aluminum trim. "Denali" is embossed into the front seats and appears on the steering wheel as well. You also get a customizable driver display, where you can decide what you want shown on your instrument panel.
You can pick from the standard 4.3-liter V6 or two mighty V8s; all are members of the redesigned Ecotec 3 family. The 4.3-liter V6 provides 285 horsepower and 305 lb.-ft. of torque, the latter number a segment high, per GM. Step up to the 5.3-liter V8, with 355 horsepower and 383 lb.-ft. of torque available.
For $1,995, you can upgrade to the mighty 6.2-liter V8 with 420 horsepower and 460 lb.-ft. of torque. Set up with the trailering Equipment Package, a Sierra with the 6.2-liter engine can tow up to 12,000 pounds.
The fuel economy numbers for the big V8 with four-wheel drive are 14 City, 20 Highway, and 17 Combined. I averaged 13.7 miles per gallon, making it one of my least efficient commuter vehicles. But that's not what it's made to do. The EPA gives the truck a 6 for Smog and just a 3 for Greenhouse Gas.
Driving a GMC Sierra such as my Iridium Metallic test Crew Cab is a lot like being a 7-foot-2 NBA basketball player. You have to be careful, but you also get the best view. In town, the world is not designed for you, but on the open road, it's the best seat in the house.
Freeway cruising is fine, especially with the quietness in the cabin. That comes from special efforts at aerodynamics, including new mirror shapes and extra care with the gaps between the cab and the bed. The doors are triple sealed.
You can order two- or four-wheel drive. My tester had the latter, controlled by a small knob on the left of the dash. I had no opportunity to use the all-wheel traction, but the system has a two-speed transfer case and automatically locking rear differential.
Cars today are full of safety devices to prevent collisions, but the Sierra Denali offered something I had never seen (or felt) before. It's called Driver Alert Seat, and it actually vibrates the lower cushion of the driver's seat to warn of impending danger. Paired up with Forward Collision Alert and the Lane Departure Warning systems, you can get a real massage if you're in tight quarters or the guy in front stops suddenly. GM's research found that drivers might respond more quickly to this kind of feedback. It certainly gets your attention!
The Standard cab with the base 4.3-liter engine and two-wheel drive starts at $28,265. The Crew Cab model begins at $36,690. My Sierra Denali 1500 4WD Crew Cab, with the 6.2-liter V8, power sunroof, off-road suspension package, trailer brake control, all-terrain tires, and the cushion-buzzing Driver Alert Package, came to a MSRP price of $55,185. All prices include nearly $1,100 in shipping costs.
Big GMC pickups are about as American as you can get, and with Ford and Ram in their sights, this Sierra, along with its Chevrolet cousin, are GM's finest entry's. By Steve Schaefer © AutoWire.Net - San Francisco
The Bottom Line: The 2014 GMC Sierra Denali is still a pickup truck, with an upright, straightforward dashboard and large rubber-over-mold knobs that are easy to grip, even with gloves on. Now the details and materials are more car-like, and exude a more luxurious feeling. Customers can take their Sierra Denali on a Saturday night date, or to the lumber yard during the week. The new GMC trucks are impressive, even if they look a lot like the old ones. The sheer number of possible configurations, entertainment options, and safety features are mind boggling. And maybe, just for that reason alone, you should "Drive one, and Buy one, Today ©"
Bottom Line Review provided by: Tony Leopardo © AutoWire.Net
The 2014 GMC Sierra Denali Bottom Line Review provided by: Tony Leopardo © AutoWire.Net - "Tony the Car Guy" is an automotive writer, editor and publisher in the San Francisco Bay Area. If you have a question or comment for Tony send it to TonyLeo@pacbell.net or visit AutoWire.Net at www.autowire.net - And remember: " You Are What You Drive©"

Column Name: GMC pickups are about as American as you can get
Topic: The 2014 GMC Sierra Denali
Word Count: 950
Photo Caption: The 2014 GMC Sierra Denali
Photo Credits: The GMC Sierra Internet Media
Series #: 2014 - 12
Download the Microsoft Word version here: 2014 GMC Sierra Denali
Download the Original Image File here: 2014 GMC Sierra Denali