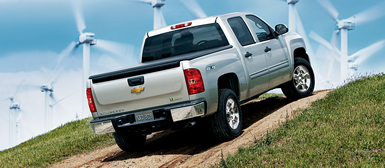 Chevrolet Silverado Review: If you're looking for a new truck, I've got good news and bad news. The good news is that nobody makes a bad truck any more. The competition has become so intense, especially since Toyota and Nissan entered the picture with their Tundra and Titan, that Ford, Chevy and Dodge have all redesigned their truck lines in a frenzy of oneupmanship.
If you haven't driven a new truck in a few years, you'll be blown away by the differences. What used to be a noisy, bumpy work vehicle has transformed into a rolling living room. Now for the bad news: That oneupmanship has also led to a whole slew of gimmicks.
The Ford F-150 and Dodge Ram, the two most recently redesigned
Pickups, also happen to offer the most, shall we say, frivolous feature set. Between the two of them, they offer heated rear seats, a cooler built into the bed, a fold-down step, a heated steering wheel, an Internet connection and a defroster in the rear sliding window.
They're all nice features, but they're not the kind of things you equate with the core purpose of driving a pickup.
That's why when a 2010 Chevy Silverado showed up in my driveway, it seemed like a purist's truck. It's a truck that hasn't strayed from its mission, eschewing bells and whistles in favor of perfecting three simple things that make a truck great, a powerful engine, a stout chassis and a tough suspension.
The Silverado excels in all those areas. Its engines, a 4.3-liter V6, 4.8-liter V8 and 6.2-liter V8, all offer the kind of power and confident acceleration you expect in a truck of this caliber. It can tow up to 10,600 pounds when equipped properly, which is plenty for anyone other than hardcore owners who shouldn't consider a light-duty truck anyway.
The Silverado's smooth ride comes via a nicely tuned suspension and a chassis that shows very little flex. It's a refined and comfortable feeling, even if you never forget you're driving a tough truck.
Keeping with its back-to-basics theme, Chevy doesn't offer any luxury packages with fancy chrome badges on the Silverado. That's what GMC's
Denali line is for. Instead, Chevy offers some options that can make long trips a lot more comfortable, without breaking the bank.
There's a USB connection on the radio that lets you play music from an
MP3 player, a rear-view camera that helps when backing up, satellite radio and a navigation system. Check the right boxes, and you'll end up with a luxurious truck even without the GMC branding.
Chevy also doesn't want you to forget about being "green." All three of its engines can burn E85 ethanol. And if that's not enough, it's available in a hybrid model too, to impress the Copenhagen climate conference people.
Overall, the Silverado is simply an honest, straightforward truck. It doesn't offer a lot of gimmicks because it just doesn't need them.
What was tested? The 2010 Silverado 1500 4WD Extended Cab LT with a base price of $32,275. The options on the test truck: Interior plus package for $470, the exterior plus package for $410, the power plus package for $1,780, the off-road suspension package for $275, the Z71 appearance package for $995 and leather seats for $1,075. The total MSRP price as tested including the $995 destination charge came to $37,775.
Why avoid it? The off-road suspension can be bouncy, and it's the least fresh of all the American-brand trucks.
Why buy it? It has all the makings of a great truck, with a choice of three strong engines, a stout chassis and a tough suspension.
By Derek Price © AutoWire.Net - San Francisco
The Bottom Line: The Chevy Silverado's cabin is spacious and comfortable, with plenty of well-placed storage bins throughout the truck. With a tall stance and uncluttered body style, the Chevy Silverado has a classic look that emphasizes its strength and durability. The bottom line is that it's a strong, reliable, pickup that puts it focus on where it really matters.
Bottom Line Review provided by: Tony Leopardo © AutoWire.Net
"Tony the Car Guy" is an automotive writer, editor and publisher in the San Francisco Bay Area. If you have a question or comment for Tony send it to TonyLeo@pacbell.net or visit AutoWire.Net at www.autowire.net
And remember: " You Are what you Drive "

Column Name: The Silverado is true to its roots
Topic: The 2010 Chevrolet Silverado 1500
Word Count: 780
Photo Caption: The 2010 Chevrolet Silverado 1500
Photo Credits: Chevrolet Silverado Internet Media
Series #: 2010 - 09
Download the Microsoft Word version here: 2010 Chevy Silverado
Download the Original Image File here: 2010 Chevy Silverado