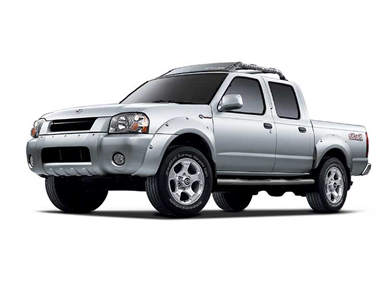 SAN FRANCISCO: A pickup truck is a handy thing to have around. You never know when you might need to move an appliance, pick up a Christmas tree, or haul a load of pea gravel for the front yard. But hauling people is important, too. To have it both ways, the Nissan Frontier Crew Cab is a fine choice. It has room for five adults in front and a pickup bed in back.
The original Frontier Crew Cab, introduced for 2000, had a 56.3-inch long bed. That size works great for many loads, but had some limitations, for example, when attempting to haul a seven-foot-long sofa. Now, you can order up a 74.6-inch bed on your Frontier Crew Cab, making it more useful than ever. My test truck had the smaller bed, but it came with the optional bed extender ($239), a fold-down cage that lets you haul solid, bulky items with the tailgate down.
Nissan sells twenty different permutations of the four-door Crew Cab models. In addition, a two-door King Cab version, with a slightly extended cab with spare seating for adults in the rear, is the entry point for Frontiers. A Desert Runner model puts a larger engine under the hood (see below for details).
Styled at Nissan Design America (NDA) in Southern California, the Frontier wears a bulldog face, with distinctive multi-lens headlamp clusters and a modern industrial style. The prominent fender flares are attached with visible divot holes and rivet-type caps, for a custom, aftermarket look. The chunky shape, with an upright cab and boxy bed behind, looks strong and athletic, not just pretty.
Inside, my Aztec Red test vehicle wore sober black and gray, as no-nonsense as the truck's macho body contours. Flat door and dash panels, with minimal texture, don't produce a feeling of luxury, and the lack of a vanity mirror for the driver adds to that impression. But, everything feels well screwed together, and the seating is comfortable, if a little upright in the rear compartment.
All the controls are easy to reach. Nissan uses unique knobs, which look like miniatures of the heavy plastic handles off an old stove. The projecting dash center flows into a complete console that provides storage and cup holding functions.
The base King Cab Frontier makes do with a perfectly acceptable 143-horsepower four-cylinder engine. However, all the rest of the trucks feature a 3.3-liter V6 that puts out a healthy 180 horsepower and 202 lb.-ft of torque. This represents a 10-horsepower increase in output from last year. However, to get more power you can order the S/C model with a supercharged version, which bumps power up to 210 horsepower and 246 lb.-ft of torque with the automatic and 231 lb.-ft of torque with the manual five-speed.
My 180-horsepower tester felt strong during its mostly freeway week, but I didn't try to haul any pea gravel in it either. Government tests say the Frontier with the standard V6 gets mileage of 17 city, 20 highway.
Nissan has upgraded the Frontier Crew Cab with two important new features this year. One of them is Vehicle Dynamic Control (VDC). This system monitors the car, using sensors for the steering wheel speed, brake pressure, and more to tell how the Frontier is doing as it travels down the road. If the truck misbehaves on a slippery pavement surface, the VDC system can control individual wheel brake pressure and rear wheel power to pull it back into line.
The other worthwhile new feature is a system that monitors the air pressure in all four of the Frontier's tires. If any of them slips below the recommended air pressure, a warning light glows on the instrument panel to inform you.
One of the numerous choices you can make with a Frontier is whether to have four-wheel-drive or two. All models look like they have four-wheel drive, with a tall stance, even if they don't. My two-wheel drive tester wouldn't be able to pull another car out of the mud, but otherwise, who would know?
Prices for a Crew Cab begin at $18,439, which gives you a two-wheel-drive XE model with the V6 and a five-speed manual transmission. Stepping up through the SE, SVE, and the supercharged S/C models, you can just about touch $27,000. A long bed adds $550, an automatic transmission increases the tab by $1,050, and leather seating adds to the cost as well.
Several option packages are available that add power features, style enhancements, upgraded sound systems, or the VDC and tire pressure systems. With the number of permutations available, you had best consult your friendly dealer for the details.
Despite its rugged appearance and tall posture over its wheels, the Frontier isn't a bad freeway commuter. My tester made the daily 21-mile jaunt to work easy and pleasant enough. If you like driving a truck, the Frontier Crew Cab could be the perfect do-everything vehicle for you and your family. . By Steve Schaefer © AutoWire.Net - San Francisco

Nissan Home Page
Byline: Syndicated content provided by Tony Leopardo © AutoWire.Net
Column Name: A perfect do-everything vehicle
Topic: 2003 Nissan Frontier Crew Cab
Word Count: 887
Photo Caption: 2003 Nissan Frontier Crew Cab
Photo Credits: Nissan Internet Media
Series #: 2003 - 1
Download the Microsoft Word version here: 2003 Nissan Frontier
Download the original image file here: 2003 Nissan Frontier side view 29k
Download the original image file here: 2003 Nissan Frontier top view 93k