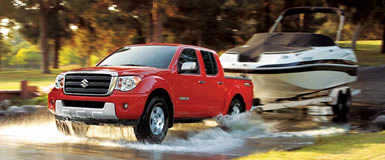 Suzuki Equator Review: Suzuki, long a purveyor of motorcycles, rugged, compact SUVs over the past twenty-three years, and recently, nice but often overlooked, compact cars, introduced its first real pickup truck this year, the 2009 Suzuki Equator, a very nice mid-size pickup.
It is not telling tales out of school to say that the Suzuki Equator is a Nissan Frontier built to Suzuki specs. I like the Frontier trucks, so I was sure I would like the Equator too.
It is ironic but when my girlfriend first climbed into the Equator, she commented on how big it was. Ironic that a truck close in size to what was once considered full-size is now mid-size. For the vast majority of pickup owners the mid-size trucks are actually sensibly sized. But that is another topic.
The Equator is available in Extended or Crew Cab, short bed (Crew Cab only) or long bed (standard on the Extended Cab), 2WD or 4WD, manual or automatic transmission, and base, Comfort, Premium, Sport and RMZ trim.
Two engines are available, the base 2.5-liter, DOHC four-cylinder that produces 152 hp and 171 lb.-ft. of torque, which is the only engine available with the 5-speed manual transmission, or a 4-liter, DOHC V6 that adds 109 hp (261) and 110 lb.-ft. of torque (281). The V6 is only available with the 5-speed automatic transmission. Unless you absolutely need to eke out the last drop for fuel economy and have no plans to tow anything over 3,500 lbs., I would stick with the V6.
Fuel economy for the V6 is 17-city and 22-highway with 2WD, the four is rated at 19/23. I drove a V6 Crew Cab RMZ with 4WD and it returned a tad over the 20-mpg highway rating on a trip.
For once, I had the loan of a truck when I needed one. Usually I get a truck and only open the tailgate so I can see how easy it is to operate. This time I had to make a dump run, so I got to fill the bed up with construction debris. I did not really tax the Equator, which has just over a half-ton load capacity, but it felt good to use a truck as a truck.
The RMZ Equator I used was very nicely equipped, which a good thing for me as I spend a lot of time behind the wheel and I like my creature comforts. The only gripe I have is that the driverís door window is power down but not up. Included, as either part of the RMZ and / or Sport package is a great Rockford Fosgate sound system with AM/FM / Satellite Radio / 6 CD changer / Bluetooth / Auxiliary input (for your MP3 player), navigation system, cruise, and power this and that.
I personally would have preferred a manual transmission with the V6 and no 4WD but automatics seem to be the way to go. Maybe I will have to change my ways.
At first, the suspension on the Equator seemed a little soft, then as I got a few more miles under my belt I started to notice that it seemed to have a dual personality. It was soft when it needed to be yet firm enough when it had to be. Not sure how they accomplished that.
One reason I like the mid-size pickups is the ease of loading and unloading. Full-size pickup trucks have just gotten too high over the past few years. Is Paul Bunyan buying them? I have driven some half-ton pickups with beds that had to be five feet from the ground! Suzuki does not give the lift over height for the bed and I did not measure it but I am pretty sure the open tailgate was at about my waist, which would make it about four feet from the ground, a perfect height to slide in sheets of plywood.
Of course, one problem with a 4X8 sheet of plywood is that a foot and a half of it will extend past the end of the lowered tailgate. You might want to use one of those little red flags to hang off the end, just in case.
Not only can you tote a good size load, you can tow one too. From the base 3,500 lb. trailer allowed with the 4-cylinder and manual transmission, the Equator goes up to a 6,500 lb. capacity with the Extended Cab V6, 2WD with automatic transmission.
I like the mid-size trucks; they are the right size for the majority of people. Suzuki offers a pickup for a wide variety of people at prices ranging from a low of $17,220 up to $30,600.
Suzuki also offers what they say is Americaís #1 Warranty: a 100,000-mile / seven-year, fully transferable, zero-deductible powertrain limited warranty. Suzuki builds fine SUVs and cars, now they have partnered with one of the best small truck makers. If you are in the market for a mid-size pickup, you need to check out the Suzuki Equator line of pickup trucks this weekend.
By Bruce Hotchkiss © AutoWire.Net - San Francisco
Byline: Suzuki Review provided by Tony Leopardo © AutoWire.Net

Column Name: Suzuki introduces its first real pickup truck
Topic: The 2009 Suzuki Equator
Word Count: 907
Photo Caption: The 2009 Suzuki Equator
Photo Credits: Suzuki Equator Internet Media
Series #: 2009 - 27
Download the Microsoft Word version here: 2009 Suzuki Equator
Download the Original Image File here: 2009 Suzuki Equator