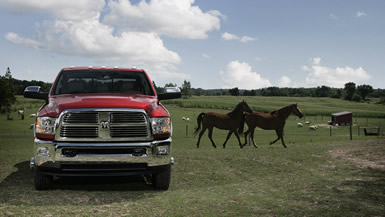 RAM 3500 Review: Today's automotive landscape is a weird place. Just look at the most popular kind of vehicles being introduced as 2011 models. They're all crazy combinations of things that aren't meant to go together: crossover vehicles that try to be sports cars, four-door sedans that look like two-door coupes, and hybrid cars that can't decide whether they want to run on gasoline or electricity. But the weirdest of all? Heavy-duty trucks that try to be luxury cars.
It's hard to think of any more polar-opposite types of transportation than luxury cruisers and work trucks. Maybe a sports bus or a flying dump truck could top it.
Somehow all the companies that make heavy-duty trucks are trying to do the same thing. Each year they introduce versions of their giant pickups with fancier cabins and more gadgets, like trying to cross-breed a Lexus and a U-Haul. And it works.
This week I drove the RAM 3500 Laramie, a truck that can tow up to 17,600 pounds and comes with a DVD player, navigation system and leather seats that will blow cold air to keep your tushie cool.
It's an odd feeling having all that luxury crammed into a truck that's so obviously designed for doing dirty jobs. It has a 6.7-liter Cummins diesel engine that makes 650 pound-feet of torque, and that's enough to pull a continental plate loose.
It has a suspension that feels like it's made of cement, doors that open wide enough to let an aircraft in the cabin, and tires that look like they belong on an earth mover. But it also has wireless headphones, a satellite TV connection and a soft dash with stitching that would look at home in a Jaguar.
The 3500 is RAM's heaviest-duty pickup. It comes with dual rear wheels to give it that superhero towing capacity, and normally that would mean the manufacturer would tack on an ugly, squarish cover to protect the wide rear wheels. On this truck, though, Dodge flared the entire length of the rear fender so the ultra-wide rear tires would look more integrated with the body. It's more refined than dualies have looked in the past.
That same refinement extends to the driving feel. It still feels like a serious truck, with a super-bouncy suspension, which is the worst part of pickups like this, but it's also surprisingly quiet once you shut the door. Dodge did a great job isolating the cabin from wind and road noise, which goes a long way toward reinforcing that luxury feel.
The biggest surprise in this truck is the sound of the engine. The giant Cummins diesel idles almost as silently as a gasoline engine. You hear the clackety-clack of a diesel when you stomp on the gas pedal, but at stoplights and at cruising speed there's hardly any engine clatter at all. It's remarkable.
One thing that won't surprise you is the price, as it doesn't come cheap. After all the options were added to my test truck, it was edging uncomfortably close to $60,000, which would buy an extremely nice BMW or Mercedes.
Then again, people who buy a truck like this aren't getting it for transportation. They're using it as a tool to do a job, probably to make some serious money, and it's the kind of work truck that can tackle anything most drivers would ever need.
Think of it like an E-Class Mercedes, or a 5-Series BMW, that just happens to be able to tow eight and a half tons of your favorite stuff.
What was tested? The 2010 RAM 3500 Laramie Crew Cab with a base price of $50,145. Options on the test truck: Leather seats for $500, customer preferred package for $50, automatic transmission for $1,575, 4.10 axle ratio for $50, power sunroof for $850, chrome side steps for $655, Media Center stereo for $800, rear-view camera for $200, power adjustable pedals for $150, remote start system for $185, trailer brake control for $230, spray-in bedliner for $450 and the rear seat video system for $1,695. The total MSRP price as tested, including the $950 destination charge, came to $58,385.
Why avoid it? It's a true work truck, and it rides like one. It's rough over all but the smoothest of pavement.
Why buy it? It can tow over 17,000 pounds and has available cabin features that rival expensive luxury cars.
By Derek Price © AutoWire.Net - San Francisco
The Bottom Line: The 2010 RAM 3500 Laramie Crew Cab, Dodge's biggest work truck, can drip with luxury. The 3500 has dual rear wheels, but it's nicely integrated because the rear fenders are flared over their entire length, and it looks better than a typical dually. Inside, the heavy-duty RAM 3500 can be outfitted like a luxury car, complete with ventilated leather seats and a rear-seat entertainment system that can pick up satellite TV channels.
Bottom Line Review provided by: Tony Leopardo © AutoWire.Net
"Tony the Car Guy" is an automotive writer, editor and publisher in the San Francisco Bay Area. If you have a question or comment for Tony send it to TonyLeo@pacbell.net or visit AutoWire.Net at www.autowire.net
And remember: " You Are what you Drive "

Column Name: Conflicting priorities
Topic: The 2010 RAM 3500 Laramie Crew Cab
Word Count: 915
Photo Caption: The 2010 RAM 3500 Laramie Crew Cab
Photo Credits: RAM 3500 Internet Media
Series #: 2010 - 47
Download the Microsoft Word version here: 2010 RAM 3500

Download the Original Image File here: 2010 RAM 3500