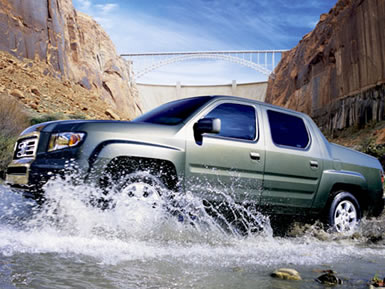 San Francisco: Honda has finally joined the truck crowd with a new entry this year. While Ford, Chevy and Dodge dominate the pickup truck field, Toyota, Nissan, and now Honda, are offering full size pickup trucks in the American market. The Ridgeline is Honda's first pickup truck.

What looks like a smaller Chevy Avalanche, with all sharp edges and some body cladding, but without the pass through midgate, is the new for 2006 Honda Ridgeline. While some of the front half of the truck came from the Honda Pilot, the back half is really all new. This is a new 4 door, all wheel drive pick up truck that is just perfect for the wine and cheese crowd.

The truck uses a closed box frame with unit-body construction and is powered by Honda's VTEC 3.5 liter V/6 engine developing 255 horsepower and 252 lbs-ft of torque. This is the same V/6 engine used in the Pilot SUV and the Odyssey Minivan. It's rated at 5,000 lbs for towing and 1,100 lbs. total payload. The EPA gas mileage digits are 16 MPG city and 21 MPG highway. Pretty good numbers overall for a nicely powered V/6 powered pickup truck.

The only transmission offered is Honda's super smooth shifting five speed automatic, a proven trans that is both reliable and trouble free. And for wet and nasty weather the truck comes with full time all wheel drive standard that can send up to 70 of the wheel torque to the front or rear axles, depending on where extra traction is needed, just like the Pilot.

While Honda has used a lot of their existing powertrain, switchgear and underpinnings to build this new pickup truck the innovations are clear in the pickups cargo bed. The Ridgeline uses a steel reinforced composite (SRC) cargo bed that does not need a bed liner to resist scratches, rust and damage. This is a great idea and other truck manufacturers should take a hard look at this SRC material for their pickup beds in the future.

The next cool thing is the under-the-cargo-floor, power lockable, water tight, In-Bed Trunk that can hold over 8 cubic feet of cargo, golf clubs or cold stuff. That's right, you can fill this bin with ice and load up on soft drinks and adult beverages. When your done with the weekend partying, pull the drain plug, dry out the storage area and put your power tools back in knowing there safe, locked and secure.

While this feature alone will entice a few buyers to pick a Ridgeline over other pickups that's not the last trick in the bag. Honda added a power sliding rear cabin window, quad cargo bed lamps and a super cool two-way hinged dual-action tailgate that drops down as a tailgate or swings open to the left as a door. Plus there's extra 12 volt power outlets in the cab, 4 & 7 pin towing connectors already pre-wired and cargo hold down loops in the composite bed. This is a real pickup truck ready to go to work all day, play on the weekends and still take the kids to school. Honda has built a very unique truck with the Ridgeline and it shows.

The Ridgeline comes in three basic trim levels starting with the RT model with a list price of $27,700. Next up is the RTS model with some more bells and whistles for $30,075 and then the loaded RTL model for $31,490. After that you can add a power moonroof and navigation system and the MSPR tops out at around $35,000 including the $515 handling and destination charges.

At any price point this is a pretty nice riding truck with great handling and comfort features that are at the top of the pickup truck class. While the Ridgeline does not have a V/8 option it can still hold it's own in the Home Depot / Weekend Warrior parking lot duties, tow the boat and then make an evening run to the country club for some tee shots at dusk.

My week driving the Ridgeline around the San Francisco Bay Area left me impressed with the ride, handling and overall feel of the truck. Honda wants to sell about 40,000 trucks this year and I see no reason to doubt that figure.

While the big truck three will sell over 2 million trucks this year alone, 40K sounds like a small number. But everyone started out with small numbers in the beginning, and this truck is a great truck right out of the starting gate, and will only get better with time.

Some of Honda's trick ideas will probably show up in other manufacturers trucks soon, and that's a good thing. Innovation in utility, safety and construction should be refined and shared. The Honda Ridgeline is a nice addition to the great cars, minivans, SUV's, and now trucks, that Honda builds in the US. Honda has a very unique truck in the Ridgeline and maybe best of all you should remember their old 1960's Honda motorcycle slogan,

"You meet the nicest people on a Honda". By Tony Leopardo © AutoWire.Net - San Francisco

To see the new Honda Ridgeline pickup truck click on www.honda.com or call them at 1.800.999.1099 for more information.

"Tony the Car Guy" is a freelance automotive writer, editor and publisher in the San Francisco Bay Area. If you have a question or comment for Tony send it to AutoWire@pacbell.net and he will answer your automotive questions in the order received.

Honda Home Page

Byline: Syndicated content provided by Tony Leopardo © AutoWire.Net
Column Name:

Honda's first Pickup Truck
Topic: The 2006 Honda Ridgeline
Word Count: 969
Photo Caption: The 2006 Honda Ridgeline
Photo Credits: Honda Internet Media
Series #: 2005 - 22 Download the Microsoft Word version here: 2006 Honda Ridgeline

Download the Original Image File here: 2006 Honda Ridgeline