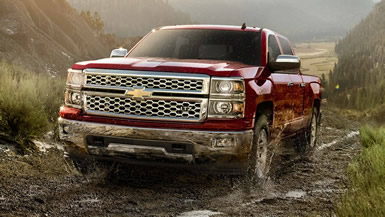 The 2014 Chevrolet Silverado 1500 Review: You would think the novelty of driving a new truck would wear off eventually, but that doesn't happen for me. Every time I drive a pickup, I'm blown away by just how far these machines have evolved. When I was a young child, my idea of pickups was molded by my grandpa's old, white, rickety truck that was barely one step removed from a bulldozer on the automotive ladder.
No A/C. No power windows. No automatic transmission. No nothin'. It did its job beautifully, though, surviving a brutal life as a logging-industry workhorse in the thick pine forests of East Texas and eventually outlasting my grandpa. It took him on hunting trips and got his grandkids to the zoo faithfully to the end. Fast-forward to today, and pickups have become so refined, comfortable and quiet that it's hard to believe they're related to pickups of the past.

The all-new Chevrolet Silverado is the perfect example. Not only is it more truck-like than ever before, with the requisite boost in towing and payload capacity that comes with each new generation of pickups, but it's also the quietest truck I've ever driven.
In fact, a few weeks ago I had the chance to drive the new Silverado back-to-back with its competitors from Ram, Ford and Toyota, and it was the Chevy that had the quietest, most refined driving feel of them all.
That should come as no surprise, since the Chevy has the newest design. It's been completely re-engineered from hood to hitch, as the Chevy reps like to say, and a big focus of the redesign was on making it as comfortable on the highway as a car.
Road and wind noise are both drastically reduced thanks to extra sound insulation, triple-sealed doors and aerodynamic refinements that make the Silverado more slippery through the air.
A lot of improvements were aimed at making it a better work truck, too, like movable cargo tie-downs, LED lighting in the cargo area and steps carved into the rear bumper corners that make it easier to climb up into the bed.
Still, what makes the Silverado stand out is its carefully refined driving feel, something even noticeable on my task-oriented test truck. The Silverado that Chevy brought me wasn't the fancy-pants High Country edition with embroidered seats and Cadillac-like gadgets, but instead it was more of a working man's truck with the Z71 off-road suspension package, four-wheel drive and rubber floor mats.
Even with that setup, it's still the quietest pickup I've ever driven. I like the fact that Chevy quieted down all the versions of this new truck, not just the high-end, super-expensive ones. It can drive as comfortably as a car, but it can still work in the pine forests if need be. And that, to me, is remarkable.
What was tested? The 2014 Chevrolet Silverado 1500 Z71 4WD LT Crew with a base price of $40,015. Options on the test truck: The LT Convenience Package for $1,385, tonneau cover for $890, heated power seats for $795, chrome side steps for $700, trailer brake controller for $230, moveable upper tie downs for $60 and LED cargo lighting for $60. The total MSRP price as tested including the $995 destination charge came to: $45,130.
Wheelbase: 143.5 in.
Length: 230 in.
Width: 80 in.
Height: 74.2 in.
Engine: EcoTec3 5.3L V-8 FlexFuel (355 hp, 383 lb.-ft.)
Transmission: Hydra-Matic six-speed automatic
EPA Mileage: 16 city / 23 highway
Why buy it? It has the quietest, most refined driving feel of any truck on the market today. Its V8 fuel economy and towing capacity lead the pickup world right now.
By Derek Price © AutoWire.Net - San Francisco
The 2014 Chevrolet Silverado 1500 Bottom Line Review provided by:
Tony Leopardo © AutoWire.Net
The Bottom Line: The 2104 Chevrolet Silverado 1500 pickup truck is more capable and refined than ever before, with a quieter cabin after a complete redesign. What's cool about the new Silverado's dash is it's dominated by a big digital display with colorful icons, much like an iPhone's home screen. Plus it has the best in class gas mileage, upgraded towing capacity and a super quite cabin of any pickup truck on the market today, so maybe you should just "Drive one, Buy one, Today ©"
Bottom Line Review provided by: Tony Leopardo © AutoWire.Net
"Tony the Car Guy" is an automotive writer, editor and publisher in the San Francisco Bay Area. If you have a question or comment for Tony send it to TonyLeo@pacbell.net or visit AutoWire.Net at www.autowire.net - And remember: " You Are What You Drive © "

Column Name: New Chevrolet pickup design adds refinement & capability
Topic: The 2014 Chevrolet Silverado 1500
Word Count: 826
Photo Caption: The 2014 Chevrolet Silverado 1500
Photo Credits: Chevrolet Silverado Internet Media
Series #: 2014- 10
Download the Microsoft Word version here: 2014 Chevrolet Silverado 1500
Download the Original Image File here: 2014 Chevrolet Silverado 1500