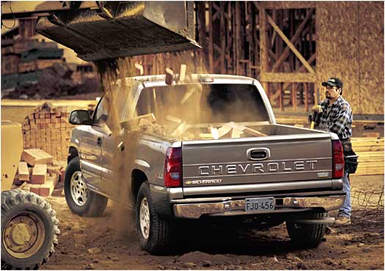 SAN FRANCISCO: I'm really not much of a truck guy. I appreciate their versatility and the "just throw it in the back" way of life, but for me trucks are better left to those that really need them. I really do not have much patience with trucks that masquerade as cars. At least give me a truck that I won't feel guilty about getting dirty.
Such a truck is the Silverado LT 2500HD 4WD Extended Cab, especially the one I drove that had the 6.6-liter, V8 Duramax diesel. Now this is a truck. It sits way up high where only real men can climb. This is not a truck for any petite soccer mom to jump in & out of. But before we climb up let's take a look around this thing.
The first thing you'll notice is how big this truck really is. It's just a touch over 20.5 feet long, 6˝ feet tall, and just a tad over 8 feet wide. Oh yeah, the step in height, the part that will make that soccer mom's skirt ride up, is just about 2 feet high. And for you guys who will use the Silverado HD on a construction site or logging trail there is a full 7.4" of ground clearance at the lowest point.
There are four doors on the Extended Cab; two regular size fronts and two "half" doors for the rear seat. Out back is a 6˝' (with the tailgate up) by 4' 2" bed. The Silverado LT 2500HD has a payload of 3,644 lbs.
OK now climb up into the cab. Whoa Nellie! This is definitely not the rough and tumble work truck the outside would have you believe. Or is it? There's thick carpeting and leather seats. Plus it has just about every power option and otherwise good thing General Motors could think of. But when you get right down to it, doesn't a hard working guy deserve a little luxury? He may be hot and sweaty or freezing cold when he climbs in, but shouldn't he be able to enjoy his CDs in climate controlled comfort? And when the going gets tough why should he have to manhandle some transfer case lever to find four-wheel-drive? Heck, just push the 4-wheel drive button and that's it.
For standard equipment, there's stuff like 4-wheel disc brakes with ABS, air bags, battery run down protection, (so if you leave something on it will still start), chrome bumpers, oil life monitor, 24-hour roadside assistance, and a host of other things. With the LT décor group you get dual zone automatic A/C, outside rearview mirrors w/driver side auto dimming/power folding and adjusting/heated and with built-in turn signal indicators, front fog lamps, a very good Delco stereo with Bose speakers, cruise control, polished aluminum wheels, and heated front seats (a little glitch here – the power window button was right under the seat heater switch and it was way too easy to turn the heaters on HIGH).
To make sure I knew this was a real truck, GM put the optional Duramax 6.6-liter, Diesel V8 in it. Yes, there's some clatter when it's cold, but with 520 lb-ft of torque I don't care what it sounds like, this baby will PULL! Coupled to the Duramax is an Allison (just like in the really big rigs) 5-speed automatic that kept the Duramax right in its power band all the time. Plus there is a manual transmission available, but for the life of me I don't know why anyone would choose it.
There is a downside to all this Heavy Duty stuff. Without a load in the bed, the ride is hella hard. Of course, the upside is it will carry one heck of a load and tow a 12,000 lbs trailer – and up to 16,000 lbs with a gooseneck or 5TH wheel trailer. Automakers do not list fuel economy numbers for trucks, so there's no way of knowing what General Motors expects from the Silverado LT 2500HD 4WD. The onboard computer said I averaged 14.9 mpg, which isn't bad for something this size.
Real work trucks like the Silverado LT 2500HD 4WD Extended Cab are not cheap. The total price including destination charge is $44,069.00. But who says you have to have a plain Jane truck these days? By Bruce Hotchkiss © AutoWire.Net - San Francisco

Chevy Home Page
Byline: Syndicated content provided by Tony Leopardo © AutoWire.Net
Column Name: Who says you have to have plain Jane truck?
Topic: 2003 Chevrolet Silverado LT 2500HD 4WD Extended Cab
Word Count: 797
Photo Caption: 2003 Chevrolet Silverado LT 2500HD 4WD Extended Cab
Photo Credits: Chevrolet Internet Media
Series #: 2003 - 4
Download the Microsoft Word version here: 2003 Chevrolet Silverado
Download the original image file here: 2003 Chevrolet Silverado 38k
Download the original image file here: 2003 Chevrolet Silverado 39k