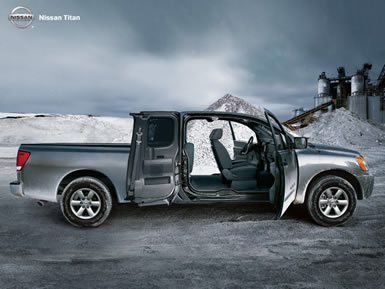 Truck Review: The 2009 Nissan Titan, now in its fifth year of production, has a handsome body to go with its work-truck capabilities. The Utili-Track system in its bed is especially useful for tying down cargo.
While not quite as spacious as the Toyota Tundra, the Nissan Titan has a big, roomy interior that's comfortable and refined. And if you're not in the business of selling pickup trucks right now, thank God for that.
The past year has seen one catastrophe after another in the truck world. First, the real estate market collapsed so people could no longer use their house like their own personal money mint for down payments. Then came a spike in gas prices that made people take out a loan every time they went to the pump.
The gas prices started to subside just in time for a stock market crash, when the normally cool heads on CNBC started talking like America was headed for a relapse of the dark ages. And, after seeing visions of bread lines and dust bowls, lenders stopped handing out money for people to buy things like, you guessed it, pickup trucks. And worst of all? There's that whole competition thing.
America has held a virtual monopoly on pickup sales over the last century, with Ford, Chevy and Dodge enjoying this high-profit niche all to themselves. But now the Japanese have joined the party with the Nissan Titan and Toyota Tundra, and Ford has just released its all-new king of the hill truck, the F-150, making this the most competitive truck market ever.
All things combined, this is a Category 5 perfect storm for pickup sellers.
That also means pickup buyers are in heaven. They can find big discounts, lots of inventory, and a better choice of trucks than ever before.
One truck they ought to take a look at is the Nissan Titan. While it's in its fifth year of production, yes, it's really been that long, the Titan is a tough, versatile, handsome truck that still feels surprisingly fresh.
Other than its drivetrain, the Titan can be configured in plenty of different ways. It's available with two- or four-wheel drive, king cab or crew cab, two different wheelbases and four different bed lengths.
It's only available with one engine and transmission combination though, a 5.6-liter V8 that makes 317 horsepower and 385 foot-pounds of torque, coupled to a 5-speed automatic tranny. That's not nearly as customizable as the buffet-style engine choices you'll find in domestic pickups, which offer everything from V6s to massive diesel V8s, but most buyers will be happy with the Nissan's ample muscle. It's also a good value, starting at $26,150 for the basic truck and topping out under $37,000, sans options, for the top-of-the-line model.
The Titan has some special features to make the bed more usable, like a spray-on bedliner and the Utili-Track tie-down system that makes it easier to secure cargo. It also has a storage compartment built into the bed, a spacious cabin with rear doors that swing almost 180 degrees for ease of entry, and a modern-looking body that seems stylish and tough at the same time.
Will that be enough to win over picky buyers? I don't know. But with the truck market in such bad shape, it's a great time to shop around.
What was tested? The 2009 Nissan Titan 4x4 Pro-4X with a base price of $36,290. Options on the test vehicle: Floor mats at $125, driver's convenience package at $2,750, Pro-4X Max Utility Package at $1,250, sliding bed extender at $280. Price as tested including the $745 destination charge: $41,440.
Why avoid it? You can't get as many engine or transmission options as in domestic-brand trucks, and the new Ford F-150 just came on the market.
Why buy it? It's got robust V8 power, a wide variety of cabin and bed layouts, innovative features for securing cargo, and a good-looking body.
By Derek Price © AutoWire.Net - San Francisco
Byline: Truck Review provided by Tony Leopardo © AutoWire.Net

Column Name: The Nissan Titan is in a tough buyer's market
Topic: The 2009 Nissan Titan 4x4 Pro-4X
Word Count: 731
Photo Caption: The 2009 Nissan Titan 4x4 Pro-4X
Photo Credits: Nissan Titan Internet Media
Series #: 2009 - 07
Download the Microsoft Word version here: 2009 Nissan Titan
Download the Original Image File here: 2009 Nissan Titan