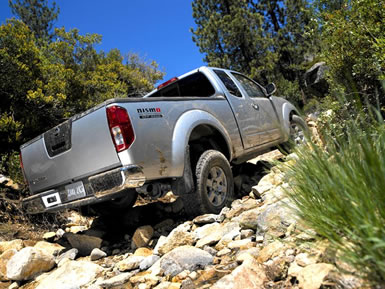 San Francisco:

The 2005 Nissan Frontier 4X4 Crew Cab LE as the "Most Powerful Mid-Size Truck" really throws down the gauntlet. I am not going to argue about it, it does make 20 hp more than the V6 Toyota Tacoma. So how can I start this article any other way than with the engine?

The 4.0-liter, DOHC V6 is based on the award-winning 3.5-liter V6 used in the Nissan car line. It has been tuned for truck use. Besides the 265 hp, it makes 284 lb-ft of torque, just what you want in a truck. A 2.5-liter, DOHC, 154 hp four-cylinder is available on the base Frontier XE.

There are three transmissions available; a 5-speed manual is standard on the base XE, a 6-speed manual or a 5-speed automatic are the other two transmissions. I drove a V6 4WD with a 5-speed automatic.

The Frontier has been redesigned to favor the highly regarded full-size Titan. In my mind the Frontier is more handsome than the Titan. Where the Titan is massive in its own right, the Frontier has the same grille style as the Titan yet it does not overpower your rear view mirror.

There are two body styles available, a King Cab and a four-door Crew Cab, and four trim levels; XE, SE, LE and NISMO. NISMO is Nissan's Motorsports group. The test vehicle was a LE Crew Cab. The Crew Cab is the way to go if you routinely have more than one full-grown passenger. Four doors and seating for five.

The King Cab, although rated with seating for four, really is a 2 + 2, with the + 2 being small people. The down side to the Crew Cab is the limited bed length. The Crew Cab has a bed that is 59.5 inches long while the King Cab's bed is 73.3 inches long. A 4x8 sheet of plywood will fit in either bed but not between the wheel wells and it will hang out the rear on both.

I really do not understand why so many people have to have 4WD. I have driven all kinds of 4WD vehicles and other than the odd time when I hunted down some muddy, rutted "road," I have never had to use 4WD. And I can tell you I have never, not once in my time in Pacifica, been faced with a time when I had to have 4WD to get out of my driveway and over the hill. There does not seem to be any difference in fuel economy but I still really cannot recommend 4WD. Speaking of fuel economy, the Frontier I drove is rated at 15-mpg city and 20-mpg highway.

Like most pickup trucks now, you can get them all gussied up. Standard interior equipment would have been nice enough but add to it leather ($1,700), a Rockford Fosgate audio package ($850), and sunroof ($700), and you have a mighty sophisticated truck.

Should you ever actually get off road there is the Traction Package ($700) that includes Hill Start Assist, which lets you take your foot off the brake without rolling backwards, and Hill Descent Control, which helps you crawl down steep hills.

One thing I really like about many of the new pickups including the Frontier are the Utili-track TM Channel System for tie downs and the factory spray on bed liner. The Channel System allows a very adjustable tie down system instead of the old fixed tie down points of yore.

When the Nissan Titan came out I really liked it. The previous generation Frontier was nice but it just did not have the stance on the road that the Titan does. For me the Titan was just a little too big for my needs. The 2005 Frontier solves the dilemma; it has the right look without the bulk.

I have chosen the Frontier should I actually buy one. It would be a SE King Cab, Super Black, V6 and 6-speed manual trans, with 16-inch aluminum wheels, limited slip diff, and a couple other options. That one is priced at $21,530.

A base XE King Cab with 4-cylinder starts at $15,500, and a NISMO Crew Cab V6 4X4 lists at $26,750. With options the Frontier 4X4 Crew Cab LE I drove hit $31,630. The thing with trucks is that there has to be something for everyone – from the person looking for no-frills, utility transportation, to someone looking for the fanciest, most luxurious 4WD pickup truck available. By Bruce Hotchkiss © AutoWire.Net - San Francisco

To see the 2005 Nissan Frontier 4X4 Crew Cab LE click on www.nissan.com or call your local Nissan dealer for more information.

Byline: Syndicated content provided by Tony Leopardo © AutoWire.Net
Column Name:

The Most Powerful Mid-Size Truck
Topic: The 2005 Nissan Frontier 4X4 Crew Cab LE
Word Count: 838
Photo Caption: The 2005 Nissan Frontier 4X4 Crew Cab LE
Photo Credits: Nissan Internet Media
Series #: 2005 - 34 Download the Microsoft Word version here: 2005 Nissan Frontier

Download the Original Image File here: 2005 Nissan Frontier