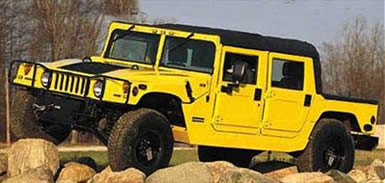 San Francisco: The bright red Hummer Wagon that showed up in my driveway looked a bit like a Brink's armored truck. I wasn't sure if I wanted to drive this monster in city traffic. Was I surprised when I actually drove it.
Once behind the steering wheel, the Hummer isn't as intimidating as its outside appearance might convey. To be sure, you have to be careful not to wipe out parked cars when driving down narrow streets and there are lots of blind spots so you have to be cautious when changing lanes.
Finding a suitable parking spot sometimes can be difficult, but you can use the drive through lanes at the bank or McDonalds. The biggest surprise was how well it handled on the twisting mountain roads I usually use for evaluating sports cars. The Hummer is fun to drive like a sports car, a very big one. Helping here is the very low center of center of gravity and extremely wide - 72-inch-track.
Of course it really shined when I took it off road. I went places I never would take a lesser 4x4. The 16-inch ground clearance is double that of most 4x4s. Unlike some SUVs, you never get the sense that the Hummer will ever roll over even on very steep side slopes.
You wouldn't think that the Hummer needed any improvement to its already renowned "go anywhere" capability. However, AM General has added a new traction control system called TorqTrac 4 or TT 4 to make the 1999 Hummer easier to drive both on- and off-road. TorqTrac 4 simplifies Hummer operation by automatically engaging when it senses a slipping wheel.
When coupled with Hummer's geared hub assembly, which provides a gear reduction of nearly 2:1 -- doubling the torque to the wheel where you need it most -- there is very little terrain that the Hummer cannot negotiate. According to AM General, most 4 x 4's off-road success is due to a combination of 50 percent machine and 50 percent driver ability. The Hummer's off-road superiority is now attributable 90 percent to the machine and 10 percent to the driver with the new TT4 system. I believe it.
AM General has also added anti-lock brakes for optimum control during braking. The 1999 Hummer employs the Meritor-WABCO hydraulic anti-lock braking system (ABS). This is the four-channel add-on unit with an electronic wheel speed monitoring and control system that is used on medium-duty trucks, buses and motor home chassis.
Although the Hummer is often thought of as a sport utility vehicle, it is actually a Class 3 truck and meets or exceeds all Federal Motor Vehicle Safety Standards for trucks in its class. Safety features include a padded dash, an energy-absorbing steering column, a steel roof and steel doors with side impact beams. However, there are no airbags.
The General Motors 6.5L, V-8 turbo-diesel engine with 195 horsepower and 430 lb.-ft. of torque is now standard on all Hummer models. This is connected to a four speed automatic. This combination is able to push the Hummer to over 80 mph and accelerate it from 0-60 mph in 18 seconds, not exactly hot rod numbers. But how many hot rods can ford a 30-inch deep stream? The main fuel tank holds 25 gallons of diesel with an additional 17-gallons in an auxiliary fuel tank. Fuel economy is not one of the Hummer's strong points.
For such a huge vehicle, this is strictly a four passenger vehicle with the additional two seats in the rear best suited for kids. Most small station wagons can carry more people and cargo. You have to remember the Hummer is a military Humvee converted to civilian use. This is immediately evident by the ergonomics or the lack thereof -- the tiny instruments, confusing controls like the horn button on the dashboard, hard to reach glove box and the blind spots already mentioned. The diesel engine located in the very wide center tunnel is a bit noisy, but I just turned up the excellent audio system, which seemed to have speakers mounted everywhere.
Hummers come with lots creature comforts like air conditioning, power windows, high back bucket seats, power door locks with remote entry and lots of interior lights.
Everything about the Hummer is big, including the pricetag. They start at $65,732 for the two-passenger hardtop, which is really a pickup, and go up to $82,421 for the four-passenger wagon. By the time you add options like Central Tire Inflation System, Driveline Protection, heated windshield, runflat tires, Monsoon sound system, 12,000 pound winch, cruise control, power mirrors and so forth, you can get up to the $100,000 mark quite quickly.
If you need a vehicle that will go anywhere and can afford the huge pricetag, the Hummer is the ultimate off-road vehicle that can still be used for long distance highway travel. By Bill Siuru © AutoWire.Net - San Francisco

Byline: By Bill Siuru © AutoWire.Net - San Francisco
Column Name: The Ultimate SUV
Topic: '99 AM General Hummer
Word Count: 830
Photo Caption: '99 Hummer
Photo Credits: AM General PR
Series #: 1999 - 19