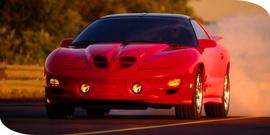 SAN FRANCISCO: By now, most everyone has seen the Pontiac Trans Am "Beast" commercial where an all black Pontiac Trans Am Ram Air comes to a stop behind an unsuspecting "other car". When the light turns green, all that's left of the other vehicle are bits and pieces, as the Trans Am speeds away to find yet another "victim." This commercial captures Firebird's muscle car heritage, which dates back to 1967, stressing excitement, power and freedom.
However, as good as Trans Am is, the "powers that be" at General Motors aren't as sold on the car as they once were. Sales figures continue to drop, and talk of both Firebird and sibling Camaro demise by the year 2002 abound. Officially, no "death knoll" date has been released, yet those on the inside insist the great GM pony car days are numbered. This move leaves the market wide open to Ford's Mustang, the originator of the pony car back in 1964.
Sales figures and demographics are at the center of the Firebird problem, dwindling from 46,499 cars sold in 1994 to a low of 30,459 in 1997. Add the fact that this rear drive sportster attracts the male younger set, where incomes are low and insurance rates are high, and a clearer picture of GM frustration surfaces. Meanwhile, Mustang's additional female sales advantage compounds the problem even more.
Still, the car itself is quite impressive. Few cars produced in the world today offer this type of performance for so few dollars spent. Pontiac's Firebird comes in three designs: the $19,235 base V-6; a $24,130 Formula; or the $26,175 Trans Am. Firebird also offers two convertibles, a V-6 at about $26,000 and a Trans Am at $31,500. The standard Trans Am V8 includes features like leather seating, 16" Z-rated tires, aluminum wheels, limited slip differential (3:42), Monsoon 10-speaker CD/AM/FM, and, unlike other cars, the automatic transmission. If you want the 6-speed, it's optional. Our test drive Trans Am came in at $30,015, thanks to the $3,000 WS6 Ram Air option.
The blueprint for Firebird Trans Am's popularity is simple. Engineers took Corvette's V8 motor, and bolted it into the Firebird, giving instant supercar performance. The new all-aluminum second-design small block LS1 5.7 liter V8 (which measures about 347.5 cubic inches) pumps out 305 standard horsepower, and escalates to 320 with the Ram Air WS6 option. New for '99 are a larger fuel tank, better brakes, and traction control. The 16.8-gallon fuel tank allows a cruising range of 386 miles, and you can actually get 28 MPG on the highway if you keep your foot out of the throttle.
The overall outward style is certainly not for the conservative. Firebird is bold, beautiful and looks like it's traveling 75-mph when it's sitting in the driveway. Others may feel the look is gaudy, overdone and too powerful, yet none of the hundreds of well wishes we encountered on a trip to Pocono, Pennsylvania's annual 500-mile NASCAR race thought so. Matter of fact, this car attracted a lot more attention than a Mustang GT we recently tested, especially since it had the rare and hard to obtain WS6 Ram Air option. "Love your car," and "light them up," were the two most common phrases from the onlookers, who knew immediately it was the same car featured in the TV commercial. In short, few cars we've test-driven have resulted in so many nice words and interested eyes. If you want people to know you're around, Trans Am gets the job done.
Behind the wheel, WS6 is fast. Really fast. With muscular, low-slung lines and that 320-horsepower LS1-V8 bellowing a throaty sound, your right foot is in complete control of fun. Transferring power to huge, 17-inch rear tires, (standard on WS6) is a slick shifting 6-speed manual transmission, now available with a Hurst shifter. This 'Bird begs to be driven, and driven hard. It accelerates to 60-MPH in five seconds, and does the quarter-mile in a little over 13 seconds at well over 100 mph. The RPM range produces gobs of torque through 5,800 revs, where horsepower is still being made.
As we've said, the Corvette engine is extremely powerful and cruising on the intestates at 65-mph makes the driver feel like the car's only going 40. Trans Am WS6 in the right hands is a dream car, capable of just about everything a world class supercar can do. It handles great, accelerates like a drag car, stops like a Corvette and, for as much high-performance there is built into the suspension, is surprisingly comfortable. In short, it has it all, at a price that is affordable.
The WS6 performance option on the Trans Am test car adds a bulging, yet impressive, Ram Air hood with a pair of dual Pontiac air intakes sitting atop each other. These fully functional intakes force-feed air to the fuel injection, resulting in the 15 extra horses. The WS6 upgrade also includes larger, polished alloy wheels attached to P275/40R17-Z rated radials. The overall performance package is most impressive.
If the death of Firebird and its Trans Am comes to pass, owners who invest in the last generation models (1994-2001) will be sitting on a vehicle that will surely increase in value as the years go by. By Greg Zyla © AutoWire.Net - San Francisco

Byline: By Greg Zyla © AutoWire.Net - San Francisco
Column Name: Endangered Species
Topic: '99 Pontiac Firebird Trans Am WS6
Word Count: 870
Photo Caption: '99 Firebird Trans Am WS6
Photo Credits: Pontiac PR
Series #: 1999 - 32