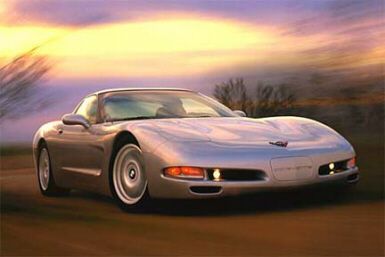 SAN FRANCISCO: The 1999 Chevrolet Corvette is yet another fine example of Corvette's excellent fifth-generation effort, which debuted in 1997 to rave reviews. Over the last two years, Corvette engineers have featured a minor tweak here and there, culminating in the addition of a new hardtop model for '99. Other than that, the fifth generation '99 Corvette is similar to '97, and considered by many auto writers as one of the world's best sports car buys. To be specific, there isn't a better two-seater in the world that offers as much as Corvette for a base price of less than $40,000.
Our test-drive Corvette arrived finished in silver with a spacious, black leather, seating area. The extra room inside over the fourth generation is most welcome, and made possible thanks to the transmission sitting between the rear wheels instead of right behind the engine. This arrangement eliminates the big bulge between driver and passenger, prevalent on previous generation 'Vettes. However, Corvette designers didn't locate the transmission at the rear solely for cockpit room. The main reason is excellent front to rear weight ratio, and subsequent better handling characteristics.
In the looks department, Corvette's new design is still all Corvette, leaving no doubt to onlookers as to its heritage. Under the hood, a second-generation small-block powers Corvette, and we emphasize "powers". With 345-horsepower coming from its 5.7-liter V-8, the LS1 aluminum block and cylinder head package produce neck wrenching times of 0 to 60 in less than 5-seconds. In the quarter mile, times in the 13.20 second area at near 110-mph are common. Our 'Vette had an automatic transmission, which, although we personally prefer the 6-speed, is still quite impressive. This automatic transmission equipped 'Vette is hands-down the fastest automatic car we've driven to date.
A compression ratio of 10.1 to 1 is most noteworthy, as Corvette utilizes a reverse flow radiator and cooling system design to allow for "no-ping" operation. Rule of thumb these days are that lower octane fuels mean lower compression ratios, unless you work in the GM development room. To produce an engine of this magnitude under today's strict emission mandates is nothing less than spectacular and a feather in Corvette's hat.
Fuel delivery comes from Corvette's now famous electronic sequential fuel injection setup. The engine also uses the so-called dated pushrod type design, which means there are no overhead camshafts operating the valves in this Chevy. However, we're quite confident in Chevy's decision to stay with the pushrod layout, although most media types immediately say "nay" to any pushrod setups, dubbing them "old-fashioned". These journalists seem to miss the fact that Mercedes came to Indy with Roger Penske less than 5-years ago, and won the Indy 500 with a pushrod based V8 engine.
The acceleration and handling characteristics of the '99 Vette are downright exhilarating (and near perfect), something Corvette proves time and again when you put the car into a corner with some throttle authority. The best factor of the new generation 'Vette, however, is the comfort component, which is most enjoyable. In past generations, Corvette "slammed" both driver and passenger with "washboard" rides whenever rough roads became the norm.
The '99 Corvette drives like a luxury cruiser, and then transforms itself into a world class racecar when the throttle deploys "floorward". We especially like this reality about the new 'Vette, because comfort today is a major demand from baby-boomer consumers, who happen to make up the bread and butter of Corvette buyers.
Other standard features that are notable include Traction Control, great 4-wheel anti-lock disc brakes, extended mobility tires with monitor system, and the spectacular 4-wheel independent Corvette suspension. One option we did not care for was the "Heads Up Display" for $375. This little feature reflects engine RPM and other mechanical functions onto the windshield just in line with the driver's view of the road. We feel it takes your mind and eyes off the road, and we turned it off when we realized it was attracting too much of our attention. Another option we'd pass on is the $3,000 magnesium wheel package, as the aluminum alloys are just fine and standard on the 17-inch (front) and 18-inch (rear) Corvette tires.
We did like the Active Handling Package for $500 more, and a Performance Handling Package for $365, both designed for enhanced traction and stability. The disc brakes, by the way, are capable of stopping this missile in about 125 feet from 60-MPH, which is a very comforting feeling.
The EPA numbers are 17 city and 25 highway, again most impressive when considering you're driving one of the world's fastest production automobiles. The roof features a removable panel, and makes for more fun on sunny days and warm nights. There's nothing like an evening in a Corvette, with its wonderful Bose CD/AM/FM at your beckon. For those who really love the sound of a 'Vette, you won't be let down as the powerful V8 beckons all with a "no nonsense", throaty sound.
Bottom line? If you are truly serious about spending some money for a great, rear-drive sports car, you'll have lot of money left over if you choose a Corvette over a Ferrari or Porsche. Don't be misled by its American heritage, either. Sure, Corvette is heavier than foreign counterparts--but you know as well as I do foreign doesn't always mean better. For the most part, foreign does equate to more expensive, something you'll find when you price a Ferrari. Drive the '99 'Vette, and you'll see what the excitement is all about. By Greg Zyla © AutoWire.Net - San Francisco

Byline: By Greg Zyla © AutoWire.Net - San Francisco
Column Name: World Class Heritage - All Corvette
Topic: '99 Corvette
Word Count: 920
Photo Caption: '99 Corvette
Photo Credits: Chevrolet PR
Series #: 1999 - 36