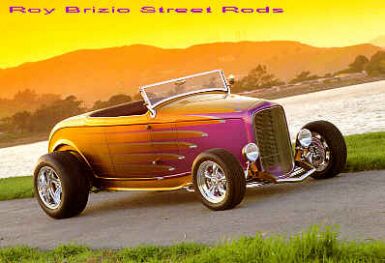 SAN FRANCISCO: Roy Brizio, 42, is the son of Andy Brizio, a true hot-rodding legend. Young Roy grew up working on top fuel dragster engines with his Dad at an age when most of us were collecting Matchbox cars. For more than 20 years, Brizio has turned out top-quality street rods, specializing in Fords of the 1930s and 1940s.
In an unassuming, low-rise industrial area, Brizio and his crew produce real, driveable street rods for those who can afford them. "An average street rod runs from $75,000 to $125,000," said Brizio. "But that red roadster over there would cost more like $275,000." Brizio points to an eye-popping '32 Ford roadster with a humongous 365 GTB Ferrari V-12 engine practically bursting out of the uncovered engine compartment. This car won the "America's Most Beautiful Roadster (AMBR)" title at the 1987 Grand National. Its grille sits barely an inch off the ground, and its huge rear tires crouch like a sumo wrestler's legs. Like all Brizio creations, it has put many miles of road behind it.
Brizio's shop, which is neater than my living room, displays around a dozen works in progress. A breathtaking white 1955 Thunderbird greets us as we arrive. "That's about the newest car I have done," said Brizio, who favors the earlier Fords. "I am going to be doing a 1965 Pontiac GTO for someone," he admits, almost apologetically.
A black 1932 Ford coupe sits inside to the left, its paint so thick and rich you feel you can reach into it and its engine a festival of steel and chrome. A silver-haired gentleman in glasses stands with his wife looking it over. It turns out it's his car. Brizio has had it a year, but it's all worth it today. Its owner loved '32 Fords when he tinkered with them a half-century ago, and he just wanted one and could afford it. Oh, he has another '32 roadster at home.
Who buys these magnificent toys? "It's usually car guys, from about 50 to 70 years old, who remember these cars and have the money now to fulfill their dream," said Brizio. But, younger collectors, like guitarist Jeff Beck, are Brizio's customers, as is baseball legend Reggie Jackson. Sometimes, someone with the means will pass through hot rods almost on a whim. "These buyers will have a car built, enjoy it for a while, and then move on to something else" said Brizio. But most customers know and appreciate what they are getting.
Brizio shows us a silvery set of naked metal frame rails, which his shop has welded together with stout tubes. "This frame is much stronger than many other street rods, and is stronger than the original car," explains Brizio. "We order these from a company that specializes in them, and weld in the cross rails ourselves."
Brizio doesn't hesitate to use subcontractors when it makes sense for things such as paint, upholstery, fenders, and tops. Cars are often pieced out all over the place and they coalesce at Brizio's shop just in time for a show. "I have a guy in Southern California who can chop a top in a week," said Brizio. "It would take us a month!" Many parts, such as wiring harnesses and frames, are in such demand that there are companies dedicated to producing them exclusively.
Brizio is concerned that his cars be safe to operate and environmentally sound. Although his creations are registered as classics and do not need to pass smog tests, the small and big block Chevy and Ford engines he carefully installs are handsome and healthy. He prefers these engines to the original Ford Flathead for their reliability. He has also sampled modern computer-controlled engines.
"Most street rod customers today want to turn the key and go," said Brizio. Standing by the side of the road working on an unreliable car is no longer in fashion. Buyers sometimes supply Brizio with an elderly Ford body shell or parts, but old cars are increasingly difficult to obtain. "It used to be you could choose from two or three bodies, "said Brizio. " But now, you have to take what you can get."
New fiberglass bodies are available for those who don't mind starting from scratch. Brizio can build a street rod using a new fiberglass body, and then install exactly the engine and transmission the client desires. Paint color and wheels are always custom. No two cars are exactly alike. "Some guys won't use a fiberglass body," said Brizio", but some will." It depends on how nostalgic the buyer is. It's just like transmissions, where some clients demand an automatic and others insist on a manual five-speed. Manual transmissions are becoming increasingly popular, since these street rods are pleasure craft, not grocery getters. "A guy is not likely to be stuck in commute traffic in one of these," said Brizio.
Brizio street rods are designed to be driven. "I've had guys pick up their cars and then drive them back to New York with their wives as a vacation," said Brizio. His own personal car racked up well over 10,000 miles last year. It wears an iridescent paint job by the legendary Art Himsl that changes color depending on where you're standing. Brizio has driven it all over the country, and even lends it out on occasion to curious journalists. Brizio's cars are not as much restorations as creations, although much labor is often required to bring a rusty old body shell back to life.
Brizio shows us an English '32 Ford that, stripped down, exhibited some serious imperfections. They will be gone when the car is complete, in around six months. That's the standard time frame for the shop to complete a project. It takes serious money to buy a street rod, but sometimes a car can actually help raise money for a worthy cause. Brizio built a fire engine red '32 roadster for the Children's Burn Center in Colorado, which was raffled off as a fundraiser by the Colorado Firefighters Association.
On this quiet evening, the shop is still, and more cars lurk in different stages of assembly. But all are heading for a beautiful future. By Steve Schaefer © AutoWire.Net - San Francisco

Roy Brizio's Hot Rods Home Page
Byline: By Steve Schaefer © AutoWire.Net - San Francisco
Column Name: A Visit to Roy Brizio's Street Rod Works
Topic: Brizio's Hot Rods
Word Count: 1040
Photo Caption: Roy Brizio's Street Rods
Photo Credits: Roy Brizio
Series #: 1999 - 41