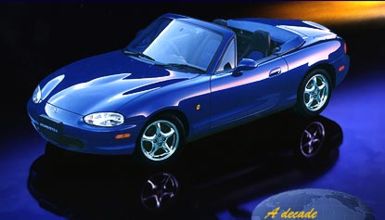 SAN FRANCISCO: While the Miata was redesigned significantly for 1999, Madza did not change the car's winning character, just made it better. The most noticeable change is the eye-type headlights that replace the pop-up ones. The grille, really an air intake, is a bit larger and door handles are now body color. And while the styling is a bit rounder, the overall dimensions are retained. It is still less than 13 feet long.
The new Miata gets a bit more performance with the 1.8 liter, double-overhead-camshaft (DOHC), 16-valve, four-cylinder engine rated at 140-horsepower at 6500 rpm and 119 foot-pounds of torque at 5500. (California buyers get a couple less horses and foot-pounds). Wisely, Miata did not tinker with the looks of the twin-cam engine under the hood. It still looks like a sport car engine of the '50s or '60s -- Alfa-Romeo or Lotus immediately comes to mind. A five-speed manual is standard with a four-speed automatic optional. Only about 10 percent of Miata buyers opt for the un-sports car-like automatic. Madza also offers a limited edition 10th Anniversary model that features a close-ratio, six-speed manual transmission. The new Miata retains rear-wheel-drive.
The interior has been reworked significantly with more conveniently located controls and a more modern look. The top is very easy to put up and down and now features a glass rear window with an electric defroster/defogger. Trunk capacity has been almost doubled, actually upped by 42-percent to 5.1 cubic feet, so you carry real luggage now.
Madza kept the price of the Miata affordable, unless you don't go wild with the options list. The base price is still under $20,000 with factory rebate. However, anti-lock brakes adds $550, air conditioning costs $900, power steering is $300 and a removable hardtop goes for $1,500. If you go all out and order the Leather Package it will cost you $3,900, but you get a tan convertible top and handsome alloy wheels with the package. Power windows come with a Touring Package costing $1,000 and the $1,900 Sports Package includes a stiffer suspension, wider high-performance tires, a neat 3-spoke Nardi leather-wrapped steering wheel and a really unnecessary trunk-mounted spoiler.
I test drove a 10th Anniversary Edition that only comes in Sapphire Blue Mica. Listing at over $28,000 it had virtually every option in the Miata catalog plus a few unique features like a matching blue top and tonneau cover, special upholstery and floor mats, front air dam, rear mud guards, fog lights and a few other goodies. To put the price in perspective, its current nearest competitor, the BMW Z3, roadster starts at $32,000, but does come with a larger six-cylinder engine.
Driving the Miata can be summed up in a single word -- FUN. The steering is tight and precise; handling is outstanding, shifting slick, and braking very good.
If you owned or drove a MG, Austin-Healey, Triumph, or other true two-seat sports car back then, the Miata will immediately bring back some great memories. By Bill Siuru © AutoWire.Net - San Francisco

Byline: By Bill Siuru © AutoWire.Net - San Francisco
Column Name: Celebrating Its 10th Birthday
Topic: '99 Mazda MX-5 Miata 10th Anniversary Edition
Word Count: 551
Photo Caption: '99 Mazda MX-5 Miata 10th Anniversary Edition
Photo Credits: Mazda PR
Series #: 1999 - 42