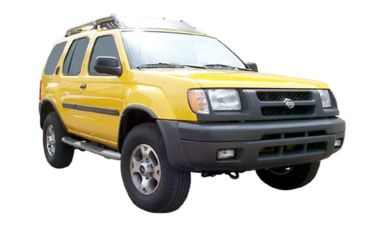 SAN FRANCISCO: Nissan thinks sport utilities have gotten too soft and too darn expensive, so they have introduced the new Xterra, named after the XTERRA Championship off-road triathlon event. The 2000 Xterra offers rugged, functional, off-road access and hauling with no frills and no apologies.
The Xterra was developed especially for the predominantly young, active hikers, runners, canoers, surfers, kayakers, and mountain bikers who don't need or want leather upholstery, wood trim on the dash, or a $30,000 price tag.
To prepare for designing the new product, Nissan Design International, Inc. (NDI) sent its designers out to watch these active lifestylers. They found people using wagons, trucks, vans and cars with clever racks, compartments and bungee cords rigged up to hold their stuff. That's why the Xterra has ten tie-down hooks, and can be outfitted to hold two mountain bikes inside its spacious cargo hold.
Nissan wants Xterra buyers to see the new SUV as a toolbox for their gear. It certainly feels like something from a North Face catalogue - rugged design, high quality fittings, eminently practical and reliable. Even this driver, with no thought of repelling off a cliff or kayaking through any rapids, felt somehow invigorated driving the Xterra around.
Just because it looks tough doesn't mean the Xterra is a beast on the highway. Cruising the interstate was pleasantly smooth and quiet, with just a touch of wind noise off the lofty pipes of the roof rack.
The Xterra is based on Nissan's Frontier pickup, a thoroughly tough truck in its own right. The Xterra distinguishes itself with a blacked out grille, unique bulging fenders, tail lamps with a rakish "chip" in the lens, deeply tinted rear windows, a pushed up rear roof section and custom designed tubular roof rack. The requisite fat wheels and tires complete the look.
That roof rack, which will hold 125 pounds of gear, resembles after market products from outfitters like Yakima and Thule. The front of the rack features a basket for stashing up to 30 pounds of muddy clothes or wet boots. A fine idea, but the basket must be removed before the sunroof will open.
That kicked-up roof section isn't just for looks. Up to three rear seat passengers can sit on the stadium style rear bench, which is set higher than the front bucket seats, for a great view and spacious headroom. The rear seats fold down and the bottom cushions come out to provide a flat load floor. My test Xterra came in an unexpected Cloud White, all the better to flaunt mud from some exciting adventure. Other palette options include the outdoorsy Denim Blue, Aztec Red, Silver Ice, Alpine Green, Super Black and a retina toasting Solar Yellow.
Xterras may be ordered with or without four wheel drive, but all models stand equally tall. Two levels, XE and SE, are offered; the SE gets many standard features which are available as options on the XE, such as air conditioning and the Utility and Sport Packages. Highlights of the packages include auxiliary 12 volt power ports, a first aid kit for that asymmetrical bulge in the tailgate, the roof rack, tubular step rails, alloy wheels with wider tires, and more.
The base XE's standard 2.4-liter four cylinder engine is good for 143 horsepower. I sampled this engine in a Frontier last year, and it's a perfectly acceptable package. The 3.3-liter V-6 in my test unit, however, benefits greatly from its 170 horsepower and 200 ft.-lbs. of torque (vs. 154 ft.-lbs. for the four). Buyers may choose either transmission. Mileage figures are 19 City, 24 Highway with the 2WD four and 15 City, 19 Highway for the 4WD V6 with automatic.
Which Xterra you choose depends on how seriously you go off-roading and on how much your wallet will bear. The base car, the XE 4 x 2 with the four cylinder engine and manual transmission, starts at just $17,349. At the opposite end, my test car, an SE with the works, listed at $25,549. It's really more fun with the SE's extra features, but an XE can be ordered with most of the SE's equipment list to save a few bucks.
Driving up high gives a feeling of safety on the road, and the Xterra backs that up with standard four wheel anti-lock brakes and dual front airbags. If you're young and active, or just want to feel like you are, sample the new Xterra. By Steve Schaefer © AutoWire.Net - San Francisco

Byline: By Steve Schaefer © AutoWire.Net - San Francisco
Column Name: "A Toolbox for Active Lifestyles"
Topic: 2000 Nissan Xterra SUV
Word Count: 740
Photo Caption: 2000 Nissan Xterra
Photo Credits: Nissan PR
Series #: 1999 - 60