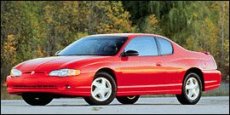 SAN FRANCISCO: Chevy's new 2000 Monte Carlo is indeed a car that will impact consumers from two camps: those who like performance, and those who enjoy sophistication. Now in its 24th year, Monte Carlo continues its time honored place in the Chevy line-up, harking a "classy - with a wild streak" expression, according to Kurt Ritter, Chevrolet General Manager.
Available in the LS and SS models, the LS touts the 3.4 liter, 180 horse V-6, while the SS is fitted with the 3.8, 200 horse V6. Don't be misled by the 3.4 performance capabilities, which was sitting under the hood of our test drive model. When we first performed a full-throttle pass, the 3.4 put us back in the seat in similar fashion to some bigger V-6s we've driven. Our increase of speed test confirmed the smaller V-6's power, accelerating to 60-mph in only 7.6 seconds. We're looking forward to driving an SS in the future, so stay tuned for what we feel will be a staunch performer.
As for fuel mileage, Monte Carlo is no gas hog, as our 3.4-liter V-6 receives a 20 City and 32 Highway stamp from the EPA; both excellent numbers for a larger car. The car is listed as a mid-size model, although it offers large car dimensions.
Monte Carlo personifies Chevy's NASCAR spirit, and offers what GM calls a "Total Performance System." This system consists of carefully engineered components like engine, suspension and a solid body structure. The race-bred NASCAR Monte Carlo inspired GM designers to include the actual race design hood, roof, and decklid on all Monte Carlos sitting in Chevy showrooms coast-to-coast.
Being competitive in major league auto racing is a major marketing factor for Monte Carlo, with wind tunnel testing one of the most crucial aspects to success on the high banked, 200-mph superspeedways. The final result for Monte Carlo lovers is a stock production LS or SS that funnels wind in a sleek manner, regardless of whether you're running at Daytona or commuting home from work. Again, another plus from the Bowtie gang.
On the road, Monte Carlo performs as expected. It is precise in the corners and smooth and comfortable on the straightaway. This improved stability comes from a wider front and rear track than Monte Carlo predecessors did not offer. The 4-wheel independent suspension adds to the performance aspects, while the larger front disc brakes on the all-disc setup helps stop Monte Carlo in a precise, ABS controlled manner. The 16-inch tires and aluminum wheels on our test car were grouped with an LS Preferred Group, and, not surprisingly, are Goodyear in nature. They come packaged with electronic speed control, remote keyless entry, illuminated visor mirrors, luggage area cargo net and dual zone climate controls for $918 more. We feel this is money well spent, especially when comparing performance characteristics of the Goodyear Eagle GA's in 16-inch form. The SS option upgrades the suspension one notch firmer, adds all-speed Traction Control and even more aggressive, performance oriented Goodyear Eagles. (Many of the LS options are standard or upgraded on SS models).
Important numbers include a 110.5-inch wheelbase, which is three-inches larger than last year's model. The result is better handling and more rear legroom, even though the car is shorter by two inches than the 1998, Lumina-based Monte Carlo. The curb weight is 3,340 pounds, transmissions are automatic only, and a 17-gallon fuel tank allows for over 500-miles of freeway driving before a stop. Final assembly takes place in Oshawa, Ontario, Canada. (The Impala 4-door is a sibling to Monte Carlo for you four-door lovers).
Inside, the most discriminating larger car buyer will be appreciative of Chevy's amenities and spacious surroundings. Monte Carlo offers a cockpit style dashboard and ergonomically designed driver's seat. The multi-layered gauges feature all information necessary and are easy on the eyes. Monte Carlo's pricing puts icing on the cake, as only $19,290 starts negotiations at the dealership.
Our car priced out at a final $21,352, which includes $560 for destination and another $305 power driver seat, a great sounding and Theftlock $123 AM/FM/CD system, and another $156 for the heated, top of the line mirror package.
In summary, Monte Carlo's 2-door, NASCAR style, sport coupe is more than fairly priced & rides and looks excellent. We'll remember our test drive in the Chevy Monte Carlo for a long time to come, and give the car a "Recommended" seal in the mid-size category. By Greg Zyla © AutoWire.Net - San Francisco

Byline: By Tony Leo © AutoWire.Net - San Francisco
Column Name: "Classy - with a Wild Streak"
Topic: 2000 Chevy Monte Carlo
Word Count: 860
Photo Caption: 2000 Chevy Monte Carlo
Photo Credits: Chevy PR
Series #: 1999 - 68