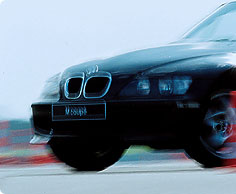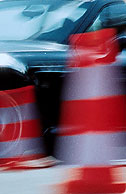 SAN FRANCISCO: I grabbed second gear just as I turned into the first corner, a right-hander of my "personal hill climb", Sharp Park Road. The pavement had just a hint of dampness. As I turned into the corner, hard on the throttle, the little traction control light began to flutter as the anti-lock brakes try to stop me from sliding the black M Coupe into the concrete barrier on one side and the guard rail on the other. The engine wails up to 6,500 rpm and I shift into third, all the while the traction control is working to keep me from making a fool of myself. Sometimes it's nice to have a Guardian Angel. Especially an electronic one.
Actually, it isn't my hill climb, Sharp Park is a four lane, divided road that snakes to the top of the ridge that separates the Pacific Ocean from San Francisco Bay. It's a great road to drive on if you hit it with little or no traffic. Amazingly, today is just such a day.
When I reached the top, I realized just how good this car is. I don't time these runs, but a couple of glances at the speedo & I know that I've just covered the distance quicker than ever before. And to think that when I first saw the M Coupe I thought I wouldn't like it.
Funny how the things you can't see, like a marvelous engine, a perfect gearbox, and a superb suspension can make a car look beautiful. Even when your eyes tell you it isn't. Except from inside. At least not at first.
No, even after a week, I just could not aspire to love the M Coupe's face. But I did like its oddness. From a rear three quarters view the M Coupe looked muscularly sinister, with its flared fenders, massive tires, 225/45ZR17 on 17"x7.5" rims in the front and 245/40ZR17 on 17"x9" rims in the rear, and four chrome tailpipes sticking out the rear. The overall styling reminds me of an old race car from the sixties, the Cheetah.
Technically the M Coupe is a blend of old and new. Old, as in the traditional BMW inline six cylinder (boy does it ever make a sweet sound), this time a DOHC 3.2 liter version with four valves per cylinder. New, as in something BMW calls VANOS which is a variable valve timing on the intake camshaft, dual resonance intake system, Digital Motor Electronics with fail safe mode and on-board diagnostics, and direct ignition (no distributor) with cylinder specific knock control (adjusts the timing for each cylinder). Then there are the traction control and anti-lock brakes. The engine makes 240 hp @ 6,000 rpm and 236 lb-ft at 3,800 rpm. More than enough to make the traction control system work for it's supper.
Inside there are two, just about perfect, seats. Even though they were a tad tight for me, they were not fatiguing even after a 200-mile trip. Behind the seats is what is a deceptively large luggage compartment. I'm sure you could get the proverbial two golf bags in there, although golf seems a little sedate for the M Coupe. From a luggage perspective, think of the M Coupe as a small, two-seat station wagon. A very quick station wagon.
How quick? According to BMW, the M Coupe will hit 60 mph in 5.1 seconds and will top out at an electronically limited top speed of 137 mph. Just as impressive is the fuel economy of 19-mpg city and 26 highways. I can attest to its relative frugalness. While on a highway trip with speeds in the range of 75-80 mph I averaged 24 mpg.
My blue-collar roots have always kept me skeptical of high dollar German cars. I've always thought they were too snooty, even though the "Sporty" magazines told me they were great cars. Then BMW picked up a reputation of being forposeurs during the eighties. I'm going to tell you, if you buy an M Coupe just so people will know how important you are, then you've missed the most important part of BMW ownership – the experience of driving a really fine car quickly.
So how much does all this fun cost? Surprisingly not really all that much - $42,370. Oh, all right, forty grand is a fair chunk o'change but come on, throw caution to the wind and enjoy life. . By Bruce Hotchkiss © AutoWire.Net - San Francisco

Byline: By Bruce Hotchkiss © AutoWire.Net - San Francisco
Column Name: "A Blend of the Old & The New"
Topic: 2000 BMW M Coupe
Word Count: 788
Photo Caption: 2000 BMW M Coupe
Photo Credits: BMW PR
Series #: 1999 - 72
Download the Microsoft Word version here: 2000 BMW M Coupe