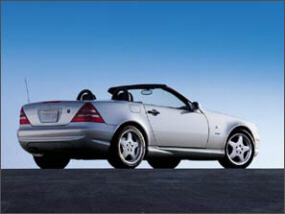 SAN FRANCISCO: Fits like a glove & It's Irresistible. Two expressions I heard myself saying every day, as I belted myself in for a ride of sheer pleasure. Once you slip behind the wheel of the new Mercedes SLK, there is harmony. I will address the sound system later, but I am talking about harmony of woman, machine and nature. And with the color being Imperial Red, I was dressed to kill. This is what addictions are made of.
This week as I experienced the beautifully designed five-speed manual two seater, I felt my adrenaline get all fired up. The 185-horsepower, supercharged engine cranks out over 200 ft-lbs of torque, which equals a fun, fast, and fantastic ride. You do have to be careful though. As the double-wishbone front suspension and five-link rear axle give such excellent handling, it's easy to get carried away and forget occasionally to read your speedometer. The jarring ride that can often be expected with a sports car has been replaced with a smooth, tight and lightweight sensation. And despite my fast driving, I averaged 23 mpg. Not bad in regard to fuel expense, and a small price to pay for being the hottest thing on the highway.
It had been raining all week, but finally the day I planed to take a trip to the Wine Country brings gorgeous weather. Yes, this is a roadster type of day. Pushing one button in the center of the console triggers a sequence of events that transforms the SLK from a closed coupe to a fully open convertible. You can have a dual personality in just 25 seconds. It's so easy to fall in love. With the top down it creates a feeling of freedom, independence, and individuality. I really, really like it. Time to push the button again, and 25 seconds later, we have a hard top, ready to go with an optional carrier system that can accommodate anything from bicycles to sailboards. A brilliant plus to the SLK, this novel design of the roof racks. The clever folks at Mercedes have created a quick-change artist, two cars for the price of one, & it's fun to watch the top go up & down!
With the SLK hardtop there is good visibility, so no worry about blind spots. The trunk gets pretty small when housing the top, but otherwise there is a lot of room with some neat little compartments. To my surprise, I found stored away in the trunk this synthetic fabric of fine mesh that acts as a draft-stop when you're driving with the top down. It is secured to the roll bar, and makes a virtually draft-free experience for driver and passenger.
The color connoisseur has eight interesting hues to choose from. I personally would like the yellow. It fits so perfectly well in the fantasy world of this car. The soft leather that adorns a Mercedes interior naturally comes from the Swabian mountains, the Allgau region of upper Bavaria. The inside blends modern design, classic touches and functional luxury.
There's a lot of nostalgia in the styling of this car that hints of several glorious classic Mercedes models. I've even heard the word retro, and comparisons to the 1950's 190SL and 300SL models. Well, I tuned into memories from the past just listening to Janis Joplin sing about Mercedes-Benz on the superb Bose sound system. The SLK becomes a small concert hall on wheels with the integrated CD player.
One of the few buyer options is a five-speed automatic transmission for an additional $900. Other options on our test car included the highly recommended heated seats and the rather pricey sports package that adds wider wheels and tires, stiffer suspension and some subtle body cladding. Suggested retail was $40,000. With options and delivery, our tester came to $46,575. Recommendation: If you've got the blues, run out to your local Mercedes dealer and pick one up. I guarantee it will make you feel better!. By Carol Green © AutoWire.Net - San Francisco

Byline: By Carol Green © AutoWire.Net - San Francisco
Column Name: "The SLK - It's Fun to Watch!"
Topic: 2000 Mercedes Benz SLK
Word Count: 668
Photo Caption: 200 Mercedes Benz SLK
Photo Credits: Mercedes Benz Media
Series #: 2000 - 15
Download the Microsoft Word version here: 2000 Mercedes Benz SLK
Download the original image file here: Mercedes Benz SLK Roadster 10k
Download the original image file here: Mercedes Benz SLK Roadster 9k