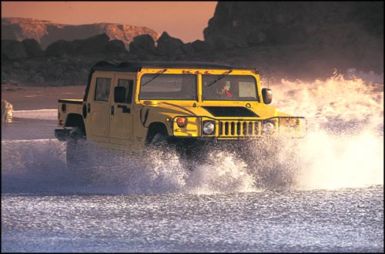 SAN FRANCISCO: Buying a Hummer is like having a baby. You can never afford one, but they're fun to look at and play with. And they're also loud, uncomfortable and by the end of the first month, the newness wears off. So, why do couples continue to have babies, and why does the AM General Hummer continue to be a hot item for the rich and famous?
I guess there's nothing like holding a baby that you helped create. And I guess there's nothing like barreling down the highway in basically the same vehicle that Arnold Schwarzenegger, Karl Malone, Andre Agassi and thousands of soldiers drive.
The Hummer is the civilian version of the Humvee, which is the vehicle of choice for the United States armed forces. I drove a four-door hardtop, one of four models available to the general public.
While the military version of this go-anywhere, do-anything monster offers just what's necessary for troops to do battle on any kind of terrain, the civilian rendition offers luxuries like a six-disc CD changer, Monsoon stereo system, cruise control, power door locks and remote keyless entry.
And when I say monster, I mean it. The Hummer is nearly 7 feet wide, weighs more than 3 tons and has a whopping 16 inches of ground clearance. It's powered by the General Motors, which recently acquired AM General, 6.5-liter turbo diesel. A V8 that puts out 190 horsepower at 3,400 rpm with a maximum torque rating of 430 pounds at a surprisingly low 1,800-rpm. Which does wonders for your 0-30 mph times. If that sounds like the Hummer shortchanges you in the power department, think again. Granted, it takes a week to get from 0-60 mph – actually, 18 seconds – but GM's diesel is a dependable workhorse.
With its slow and methodical approach to the roadway, the Hummer is not a speeding ticket waiting to happen. But with its size, you do have worry about crashing into curbs, fire hydrants and small cars. I did laugh, however, when I read on the Hummer's website that "it handles more like a sports car than a truck." I've driven a few sports cars – Porsche, NSX, Corvette – and the Hummer handles nothing like one of these super-cars.
Then, there's the exterior. You won't go unnoticed on a city street – and that's the good part about being behind the wheel of the attention getting Hummer. Although the expansive vehicle looks like it could hold a small army, most of the interior space is taken up by the enormous tunnel that houses the GM 4L80-E 4-speed automatic transmission and transfer case.
With a 16-inch ground clearance and 75-inch total vehicle height, that leaves 59 inches from top to bottom inside the cab. Compare that to a Suburban, which is about the same height, but offers just 10 inches of ground clearance.
But driving it for more than a few days is asking for a sore back and ringing eardrums. And as far as noise goes, I'm real glad AM General installs deluxe heat and sound insulation materials in its Hummers. Any more noise and I think I would have gone deaf.
But I will admit that the four-door hardtop is less noisy than the Hummer wagon, which I drove last year. With a smaller interior, the four-door hardtop has less space than the wagon for the engine and transmission noise to reverberate in.
So, does the lack of comfort make up for the prestige factor? Before I answer that, there are a few other features about the Hummer you should know about. The Central Tire Inflation System allows you inflate and deflate all four tires, making the Hummer a true off-road killer. If you decide to make a trek across the Mojave or Death Valley deserts, you can deflate the Hummer's tires and glide along effortlessly. Or if you get bogged down in a mud hole, inflate them all up again and off you go.
Another cool features is the 18-gallon auxiliary fuel tank to compliment the main 25-gallon tank. Switching from one tank to the other is as easy as flipping a switch – literally. And that's 43 gallons total. Just hope diesel fuel stays under two bucks a gallon. It costs about $75.00 to fill the dual tanks on a Hummer today. But if you're rich and famous, who cares?
As you can see, the true attraction to the Hummer should be in its off-road capabilities – not its unique appearance that will draw crowds and comments. Hummer says "most 4x4s' off-road success is 50 percent the machine's capability and 50 percent the driver's skill. The Hummer's prowess is more 90 percent machine and 10 percent driver." I can easily believe that statement because of the Hummer's solid construction and off-road features.
So, is all this enough to make up for the lack of comfort? There has got to be a thousand reasons not to buy a Hummer, just like there are a thousand reasons not to have a baby. But once you have a baby, people look at you differently. And once you have a Hummer, you can have so much fun in showing off your new toy, that I guess that answers the question. By J. Eric Eckard © AutoWire.Net - San Francisco

Byline: By J. Eric Eckard © AutoWire.Net - San Francisco
Column Name: "Buying a Hummer is like Having a Baby"
Topic: 2000 AM General Hummer
Word Count: 893
Photo Caption: 2000 AM General Hummer
Photo Credits: AM General Internet Media
Series #: 2000 - 29
Download the Microsoft Word version here: 2000 AM General Hummer
Download the original image file here: 2000 AM General Hummer 36k
Download the original image file here: 2000 AM General Hummer 42k
Download the original image file here: 2000 AM General Hummer 39k