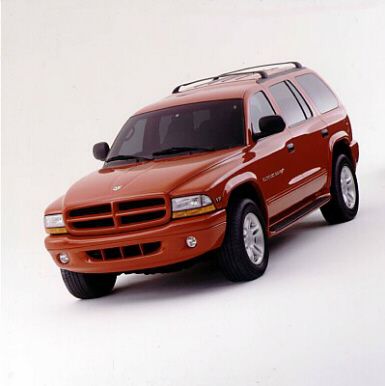 SAN FRANCISCO: For decades, dating back to the original "muscle car" era of the 1960s and early 1970s, Dodge has been Chrysler's, now DaimlerChrysler's, performance division. Therefore, it's not surprising that Dodge's entry in the mid-sized sport utility vehicle arena is available with lots of muscle. Based on the Dodge Dakota pickup, the slightly smaller brother to the very macho Dodge Ram truck series, the Durango has the muscular good looks to go along with all the muscular V8 engines under the hood.
Durangos, available in two-wheel- or four-wheel-drive form, come either as the base Sport model or the upscale SLT, the latter with several trim options. Only V8 engines are available in 2000 Durangos. First, there is an all-new single-overhead-camshaft (SOHC), 2-valves-per-cylinder 4.7 Liter Magnum V8 that is rated at 235-horsepower at 4800 rpm and 295 ft-lbs of torque at 3200 rpm. This new V8 is the standard engine on 4x4 Durangos, but not currently available on 4x2 models. The standard V8 on 2WD Durango is Chrysler's venerable overhead valve (OHV) 5.2 liter Magnum V8 that produces 230-horsepower at 4400 rpm and 300 ft-lbs of torque at 3200 rpm. Optional on both is another long living engine, the 5.9 liter Magnum V8 engine that is rated at 245 horsepower at 4000 rpm and 335 ft-lbs at 3200 rpm. Only a dual-ratio four-speed automatic transmission is offered. It has two different second-gear ratios with the one chosen to match particular load conditions. All the Durango engines are a little thirsty as witnessed by the EPA numbers:
Engine City MPG Highway MPG
4.7 liter V8 14 18
5.2 liter V8 14 19
5.9 liter V8 12 17
Fortunately, Durango's have 25-gallon fuel tanks. Full-time four-wheel-drive is available as an option. Rear wheel anti-lock braking is standard with four-wheel anti-lock braking being a $495 option.
Like most SUVs today, the Durango is based on a truck chassis, the mid-sized Dodge Dakota. This means the Durango rides, handles, steers and brakes like a truck, albeit in the context of today's, not yesterday's trucks. Today "rides like a truck" can be taken as a complement because trucks have become so civilized. The bottom line is that the Durango makes an excellent long distance cruiser and is quite at home on windy, mountain roads. Additionally, the Durango has a very solid, built-to-last-forever feel because of its body on frame design.
Where the Durango really shines is with its "best in class" interior room and cargo carrying capacity. Indeed, the Durango is the only SUV in this class that can seat eight people. Though classed as a mid-sized SUV, it is noticeably larger than its competition such as the Ford Explorer and Chevrolet Blazer. You'll notice the larger size when you go to park the Durango, as this is not one of those dinky SUV wannabee's. However, it does have a small enough turning radius making it quite at home on city streets as well as when doing serious off-roading in narrow canyons. Equipped with the proper towing package, the 2WD Durango can tow up to a very impressive 7650 pounds and 7350 pounds with 4WD.
Durangos definitely are not cheap. Prices for a base Sport are $26,705 with 2WD and add $2000 for the 4WD Sport. Actually, the term "base" is a bit of a misnomer since the Sport comes with such standard equipment as AM/FM stereo radio with cassette player and four speakers, tinted windows, cruise control, tilt steering column, power door locks and windows, air conditioning, remote keyless entry and 15x7 inch 5-spoke aluminum wheels. If you step up to the SLT, you also get fog lamps, 6-way power driver's seat, body-color bumpers and bodyside moldings. You can also get leather upholstery, a better sound system, remote audio controls mounted on a leather wrapped steering wheel and upgraded tires at the next level on the SLT Plus. The ultimate Durango is the R/T with the standard 5.9L Magnum V8 engine, 17-inch Goodyear Wrangler tires on Aluminum Wheels, body-color wheel flares, full-time 4WD, tuned suspension, limited-slip rear axle, body-color running boards, special badging and embroidered "R/T" emblems on the front bucket seats.
If you want a SUV that is bit larger than the normal mid-sized SUVs, but don't want a full-sized one like a Ford Expedition, Chevrolet Tahoe or GMC Yukon, then the Durango is worth a very serious look. It's rated an AutoWire.Net "Best in Class" Buy. By Bill Siuru © AutoWire.Net - San Francisco

Byline: By Bill Siuru © AutoWire.Net - San Francisco
Column Name: "An SUV with Muscle"
Topic: The 2000 Dodge Durango SUV
Word Count: 742
Photo Caption: The Dodge Durango SUV
Photo Credits: Dodge PR
Series #: 2000 - 3
Download the Microsoft Word version here: 2000 Dodge Durango
Download the original image file here: 2000 Dodge Durango 26k