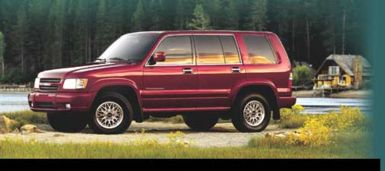 SAN FRANCISCO: The sport utility vehicle boom has produced trucklike cars and carlike trucks. The Isuzu Trooper, neither a pickup-based people mover nor a tall, all-wheel-drive station wagon, has offered genuine off road ability and a roomy, comfortable on road experience for fifteen years. The Trooper, Isuzu's flagship, resembles a Range Rover, with a tall, square roofline, upright windshield, and flat surfaces. The 2000 model receives a revised, two-slot grille, new taillights, and new paint colors and two-tone treatments.
The Limited model I tested is the nicest of three levels, including S and LS. Every Trooper comes with a tilt steering wheel, power windows and locks, cruise control, AM/FM/cassette sound system and automatic air conditioning. On the S model, a manual five-speed transmission is standard with an automatic optional.
The LS adds a standard four-speed automatic transmission, color-keyed outside mirrors, variable-speed wipers, fog lamps, leather-wrapped steering wheel, and 16-inch alloy wheels. The Limited goes further, with a unique paint scheme, chrome-look mirrors, an enormous power moonroof, leather seats and shift knob and additional woodgrain trim. For even more glitz, a Gold Package is available.
Most SUVs are used for domestic chores, but the Trooper feels like it's ready to attack the wilderness. Its Torque on Demand (TOD) four-wheel-drive system ensures secure handling in day-to-day driving, and shifts into four-wheel-drive on-the-fly with the push of a button. You use an old-fashioned floor-mounted lever to select four-wheel-drive low; some all-wheel-drive vehicles lack this gear.
The Trooper boasts lofty, comfortable seats, which are heated and electrically adjustable. Despite its high roofline, the Trooper is easy to climb into, while preserving 8.3 inches of ground clearance and 7.5 inches of suspension travel for effective offroading. If rough terrain is anticipated - the front passenger gets three grab handles.
For expedition readiness, Isuzu supplies an information multimeter above the inside rearview mirror. It displays a compass, outside temperature, barometric pressure, altitude and relative altitude. The massive outside mirrors retract against the body remotely, an advantage when traversing narrow canyons and tight parking spaces. Mud & Snow steel-belted radials on 16-inch, 12-spoke alloy wheels supply plenty of traction.
The Trooper carries five people in comfort, but with the rear seats down, it acts like a U-Haul, with 90 cubic feet of cargo space. The unique 70-30 split rear doors swing sideways; use the larger, left-hand door normally, and add the right-hand one for full-width access.
All Troopers feature a 3.5-liter, all-aluminum, dual-overhead-cam V6, which puts out 215 horsepower and 230 lbs. of torque. It's powerful, efficient and clean, thanks to multi-valve cylinders, dual-length air-intake ports (to maximize power at different engine speeds) and direct ignition with a single coil for each cylinder. Mileage figures are 15 city, 19 highway, on regular gas.
The electronic four-speed automatic transmission features intelligent grade sensing logic, which minimizes gear "hunting" while climbing or descending steep hills. Console buttons enable "power" and "winter" alternate shift programs. The power setting delays upshifts for brisker acceleration while the winter setting starts in third gear to control wheel slippage on ice and snow.
The 4,600-pound Trooper delivers a smooth, comfortable ride, thanks to an independent front suspension and four-link rear suspension, with stabilizers. Power steering assist varies with engine speed, and retains the silky feel that I noticed in the 1992 and 1995 models. As with any SUV, the tall Trooper should not be whipped around freeway entrance ramps, but it imparts a feeling of confidence in the daily shuffle.
A two-wheel-drive Trooper is new this year. Looking just like the 4WD model, it costs $2,000 less, weighs 227 pounds less, and is just fine if you aren't planning many off road adventures. It is available in all three model ranges, but is available only with an automatic transmission.
Prices range from $26,950 for the two-wheel-drive S model to $34,698 for the four-wheel-drive Limited. Including destination charges and an optional trailer hitch and rear cargo mat, my test vehicle came to $35,538.
Troopers now come with a 10 year/120,000-mile limited powertrain warranty, transferable to immediate family members. New vehicle basic coverage lasts three years or 50,000 miles, and corrosion protection is warranted for six years or 100,000 miles. So, since your totally covered, take that Trooper out and enjoy it! By Steve Schaefer © AutoWire.Net - San Francisco

Byline: By Steve Schaefer © AutoWire.Net - San Francisco
Column Name: "A Complete Sport Utility Vehicle"
Topic: 2000 Isuzu Trooper SUV
Word Count: 768
Photo Caption: 2000 Isuzu Trooper SUV
Photo Credits: Isuzu Internet Media
Series #: 2000 - 37
Download the Microsoft Word version here: 2000 Isuzu Trooper SUV
Download the original image file here: 2000 Isuzu Trooper SUV 18k