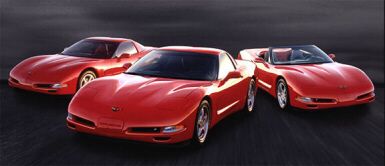 SAN FRANCISCO: The 2000 Chevrolet Corvette Convertible continues to be one of the best buys, overall, in the sports car class. It is a fine example of the Corvette All-American heritage, featuring sexy good looks, ultra-fast acceleration, road-hugging performance and, best of all, comparable affordability.
Few true sports cars in the world can compete with the 2000 Corvette. Pricing starts at a low of $38,320 for the hardtop and escalates to over $50,000 for a fully optioned convertible. With this in mind, compare Corvette's price to Porsche Carerra, Acura NSX or even an exotic like Ferrari, where similar excitement will cost twice to five times Corvette's norm. Only the Dodge Viper compares in price and excitement.
Introduced in 1997, the now well-documented fifth-generation Corvette utilizes the best in American sports car technology and, unlike older Vettes, a much appreciated comfort factor. Over the last three years, Corvette engineers have featured minor tweaks here and there to the overall design, culminating in the addition of a new hardtop model last year. Other than that, the 2000 Corvette is a mirror image of its '97 sibling, and is still the best two-seater dollar for dollar in the world today.
Our test-drive Torch Red convertible offered a well-appointed cabin, which is more spacious than one may think. The leather appointed black interior was our work area for the week, and we admit up front that it was a lot of fun "working" there. The extra room over older Vettes is most welcome, and, as we mentioned in out test drive of the '99 model, the transmission sitting between the rear wheels instead of right behind the engine allows more leg room and a wider, more open feeling. This arrangement eliminates the big bulge between driver and passenger, prevalent in the previous generations.
However, Corvette designers didn't locate the transmission at the rear solely for cockpit room. The main reason lies in distributing its 3200-pound mass in a more suitable manner. Corvette's front to rear weight ratio is a near perfect 51 front and 49 rear, resulting in world class handling. Coupled with its improved for 2000 Z51 performance handling package, which features bigger front and rear stabilizer bars, ($350 extra), the current Corvette is the best handling of the many we've test driven over the years.
By the way, the Z51 package is standard on the lower cost Hardtop, but optional on the Coupe and Convertible. We highly recommend the Z51 purchase for performance drivers, while an F45 suspension option for those who want a smoother ride allows switching from touring, sport and performance settings at the flip of a switch.
Under the hood, a second-generation small-block powers Corvette, and we emphasize "powers". With 345-horsepower coming from its 5.7-liter V-8, the LS1 aluminum block and cylinder head package produce 0 to 60 mph in less than 5-seconds, and quarter mile times of a tad over 13 seconds at 110-mph. Our test roadster came with the preferred 6-speed manual, which shifts flawlessly and produces blazing acceleration.
The acceleration and handling characteristics of the 2000 Vette were highlighted on a closed course, high-speed test that came thanks to management at Maple Grove Raceway in Mohnton, Pennsylvania. There, we put the Vette through the paces, and found how manageable and comfortable the car is at speeds over 100-mph. The cornering abilities of this car are thrilling, something Corvette proves time and again when you put the car into a corner with some throttle authority.
One of the best factors for consumers to consider is the Corvette's comfort component, which is most enjoyable. In past generations, Corvettes were noted for uncomfortable journeys for both driver and passenger, as bumpy rides on rough roads were the norm. Granted, we're not talking Town Car comfort here, but you can drive a new Vette across country and arrive refreshed and with no back pain. That's a far cry from, say, a '67 Vette 427 roadster or the rough riding '84 model. The 2000 Corvette drives like a pussycat on the freeways, and then transforms itself into a world class racecar when the throttle meets the carpet.
Standard features include Traction Control, great 4-wheel anti-lock disc brakes, extended mobility tires with monitor system, and the spectacular 4-wheel independent Corvette suspension. One option we still do not care for is the $375 "Head Up Display." This feature reflects engine RPM, speed and numerous other mechanical functions onto the windshield just in line with the driver's view of the road. We feel as we did in last year's test that the "head up" actually takes your eyes and mind off the road, so we kept it turned off. Save the money and use the excellent and fine looking analog gauges that are standard features.
We like the Active Handling Package for $500, which is designed for Enhanced traction and stability. The standard four-wheel anti-lock disc brakes, combined with 17-inch front and 18-inch rear Goodyear F1-GS tires, are capable of stopping the Corvette in 115 feet from 60-MPH. The EPA numbers are 18 city and 27 highway, again most impressive when considering you're driving one of the world's fastest production automobiles.
The easy to remove convertible top is a breeze, and features a heated, all-glass, rear window. This ease of operation makes for more fun on sunny days and warm nights. All a convertible owner need do is turn the two headliner levers, sandwich together the front and rear halves of the top, and drop it into its compartment. Elapsed time? How about 8-seconds to begin enjoying a topless evening in a Corvette roadster. Add the Bose CD/AM/FM sound system filling your night with great sounds of your choice ($100 extra), and you're off in Corvette heaven. Of course, the best sound of all is the growl from the sound of a 'Vette under full-throttle, and you won't be disappointed when the V8 fires at full-tilt.
If you are truly serious about spending some money for a great, rear-drive sports car, you'll have lot of money left over if you choose a 2000 Corvette. Our test roadster came in at $52,139 delivered, which included $2,000 for non-necessary magnesium wheels. If you trim a few other options, a convertible can be had for about $48,000.
Bottom line? Corvette is still the best available from the originators of America's most beloved sports car. Don't hesitate to test drive one if your future plans include buying a world class sports car. By Greg Zyla © AutoWire.Net - San Francisco

Byline: By Greg Zyla © AutoWire.Net - San Francisco
Column Name: "The Extra Mile"
Topic: 2000 Chevrolet Corvette Convertible
Word Count: 1074
Photo Caption: The 2000 Corvettes
Photo Credits: Chevrolet PR
Series #: 2000 - 4
Download the Microsoft Word version here: 2000 Chevrolet Corvette Convertible
Download the original image file here: 2000 Chevrolet Corvette Convertible 22k