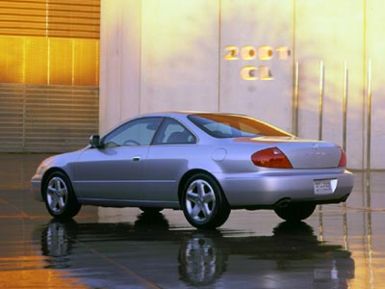 SAN FRANCISCO: What kind of color is that my wife asked upon her first sight of my Acura CL test car. "Sundance Gold," I replied, but I knew what she meant. It was bright, bold and the car demanded attention. Sure, the CL, all new for 2001, looks great in silver, black, or even white, but gold? A trio of young girls in an old Mustang zoomed past me on the freeway with thumbs up and smiles, so someone liked it.
Acura, Honda's purveyor of premium motorcars, has completely upgraded its luxury coupe. The new car is two inches longer and a half-inch wider than the 1996-vintage model, and wears a much more serious expression.
The new CL flaunts today's trendy edges, with what Acura calls its "signature pentagram grille" up front, an origami fold along each side and culminating in triangular taillights. Overall, it's handsome and clean, but it takes the super bright gold paint to truly attract attention.
Honda's famous VTEC engine technology gives the 3.2-liter V6 plenty of juice. Unlike in the original CL, a six-cylinder engine is the sole powerplant, with either 225 horsepower in the 3.2 CL or a hefty 260 hp in the Type S. Today's engines employ a bevy of clever electronic and mechanical tricks to eke out maximum power and fuel mileage, and a chance of meeting California's Low Emissions Vehicle standards. Honda's decades of racing experience and knowledge gleaned from its NSX sportscar serve the company well.
The Type S gets its extra 35 horsepower the old-fashioned way - better breathing. The Super CL uses a dual-stage induction system, low-restriction dual-outlet exhaust, larger diameter throttle body, and a higher compression ratio, along with special intake valves, camshafts, and cylinder heads. It all adds up to a jet like acceleration, with surprisingly good fuel economy ratings of 19 city & 29 highway on premium fuel. The 260-horsepower engine receives California Low Emission Vehicle status, while the standard model garners an even better Ultra Low Emission Vehicle (ULEV) rating.
Acura's electronically controlled five-speed automatic comes with both engines. The extra gear means quicker acceleration in low gear and higher fuel economy in overdrive high. However, if you want to control the shift points, you can pull the shift lever to the left and select your own gears, using Acura's Sequential SportShift system.
The CL is a luxury ride, loaded with items like a six-speaker Acura/Bose sound system with a six-disk in-dash CD player and fully automatic climate control with air filtration. Also throw in are heated front seats, a power moonroof, leather-trimmed seats with memory, a tip-down right hand mirror for curb avoidance maneuvers, steering wheel controls for audio and cruise control, and keyless remote control.
For safety, CL models get front and side airbags, Xenon High Intensity Discharge (HID) headlights, king-size four-wheel disk brakes with antilock, and a fantastic traction control system.
The Type S also receives Vehicle Stability Assist (VSA). VSA electronically monitors and controls the throttle, fuel injection and brake systems to integrate the safety systems and keep the car on track automatically in situations where traction is lost or quick accident-avoidance maneuvers become necessary.
The Type S interior features perforated leather seats and steering wheel, a metallic-faced gauge panel and a unique shift knob. My car, with the ebony interior, had a black-tinted woodgrain appliqué that looked like genuine wood.
A navigation system ($2,000) is the only option. In my test car, it worked easily and intuitively, with a matte-finish touch screen, brilliant colors, and a slightly accented female voice prompt. This was an advanced DVD (Digital Versatile Disk) system, containing data for the entire continental United States, not just a single state, and more than 3.7 million points of interest.
At 3,500 pounds, the CL feels solid and strong, but not ponderous. A four-wheel independent, double wishbone suspension with stabilizer bars and a shock tower bar put a spring in the CL's step. The Type S adds firmer springs, increased damping rates and a larger stabilizer bar for enhanced cornering. The standard CL gets 16-inch wheels and tires, but the Type S sports 215/50R17 Michelin Pilot V-rated tires on sharp, 17-inch alloys.
I was surprised to discover three interior assembly glitches, two on the driver's door and one on the center console. These were not functional defects, but took a little something away from the air of absolute perfection.
It is easy to get comfortable in the CL, even in back. The seats slide forward electrically to admit rear passengers, then slide back into position. But the best position is in the driver's seat, on the open road, under a clear sky. The bottom line for my fully loaded Type S was $32,810. The CL list prices begin at $27,980. Take a test drive at your Acura Dealer and enjoy the ride. By Steve Schaefer © AutoWire.Net - San Francisco

Byline: By Steve Schaefer © AutoWire.Net - San Francisco
Column Name: "Acura, Honda's Purveyor of Premium Motorcars"
Topic: 2001 Acura CL Coupe
Word Count: 864
Photo Caption: 2001 Acura CL Coupe
Photo Credits: Acura Internet Media
Series #: 2000 - 43
Download the Microsoft Word version here: 2001 Acura CL Coupe
Download the original image file here: 2001 Acura CL Coupe 18k