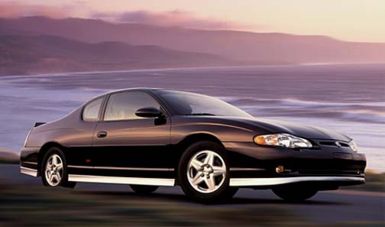 SAN FRANCISCO: This week, we test drive Chevrolet's 2001 Monte Carlo SS (Super Sport), a personal sport coupe that outwardly mimics the great Super Sport models of the past. Finished in a beautiful Torch Red exterior with Ebony leather accent interior, our SS model featured a $2,000 High Sport Appearance package that included a ground effects package finished in Galaxy Silver and special wheel treatment. The end result is a Monte Carlo SS that attracted much attention during our weeklong test.
Monte Carlo comes in two models, the LS and the SS. The availability of two V-6 engines, a base 3.4-liter (LS) and a more powerful 3.8 (standard SS/ optional LS) offer those looking for more power a choice. However, engine availability is an area where the 2001 Monte Carlo differs most from the past, as both small and big block V8's coupled to rear drive were the norm on Monte Carlos of yesteryear. Today, it's front drive all the way, although we kept wondering how well this 2001 would run with the Corvette-bred V8 and six-speed manual moving the rear wheels.
The dual personality Monte Carlo promotes what Chevy dubs a "classy with a wild streak" heritage. The 2001 model is constructed via a unified drive train and component package, offering larger stabilizer bars on the SS for more spirited driving. Chevy utilizes some of General Motors best sport suspension ideas on both the LS and SS, featuring stronger but lighter chassis ingredients.
Included as standard equipment are racing bred front suspension systems, extruded aluminum engine cradle, largest in class four-wheel disc brakes, 16-inch tires, front brake cooling technology, ABS and full functional traction control. The popular On-Star communications system is standard on the SS.
The 3800-V6 in our SS is basically the same engine that powers many sibling General Motors products. It's a bulletproof, 200-horsepower engine, but to pep things up a bit, Chevrolet should consider offering the supercharged version currently available in Buick and Pontiac models. The lone transmission availability is the 4-speed automatic transmission that offers reliability and performance.
Safety wise, Monte Carlo meets the 2003 government standards for head injury protection by offering dual front and driver side-impact air bags as standard equipment. A safety cage construction complements a long list of security features. Included are a new structural headliner, energy absorbing foam in the side pillars, and even a "glow in the dark" in the trunk release handle.
Inside, Monte Carlo's cabin is one of the better we've experienced. Comfort and amenities abound, all dashboard gauges are large and easy to read, and control knobs are within easy reach. The high-end stereo sounded great, too.
Outwardly, the short rear deck on Monte Carlo is captivating with its racy rear spoiler very evident. Huge rear tail lamps are impressive and instant eye catchers as is the long, NASCAR-bred hood and front-end arrangement. Overall, Monte Carlo's design is a marriage of style, aerodynamics and logic, with sweeping lines that culminate in excellent visibility for all passengers.
The trunk allows 15.8 cu. ft. of cargo space while reducing the likelihood of cargo damage by adding non-intrusive, gas-assisted trunk hinges. Other specifications include a 110.5 wheelbase, 17-gallon fuel tank, and a 3391-pound curb weight. EPA numbers for the 3.8 V-6 are 20/30, excellent for a car of this size
The SS base price of $22,400 is attractive but can creep up quickly with the noted options. Our model came in at $26,888 fully loaded, including heated seats ($120), leather buckets ($625), upgraded stereo CD ($223), power passenger seat ($305) and an SS Preferred Group ($615). This car appeals to both male and female drivers, especially those who love NASCAR racing, where Monte Carlo has won more Cup races than any car in history. Four door Chevy enthusiasts may want to check the 2001 Impala, which is built on the same platform and offers identical power train choices.
On the road, Monte Carlo is a good handler for a larger car. Whether merging on a freeway, passing on a two-lane road or just cruising, the SS did everything well. Bottom line? We hope a Supercharged V6 appears one day, making the SS a true "bowtie" legend performer. Other than that, it's a great car. By Greg Zyla © AutoWire.Net – San Francisco
Greg Zyla writes a weekly syndicated auto column on all things automotive. Write him at 707 Rock St., Shamokin, Pa. 17872 or email him at publisher@newsitem.com.

Byline: By Greg Zyla © AutoWire.Net - San Francisco
Column Name: "Monte Carlo - Classy with a Wild Streak"
Topic: 2001 Chevy Monte Carlo SS
Word Count: 803
Photo Caption: 2001 Chevy Monte Carlo SS
Photo Credits: Chevrolet Internet Media
Series #: 2000 - 46
Download the Microsoft Word version here: 2001 Monte Carlo SS
Download the original image file here: 2001 Monte Carlo SS 19k
Download the original image file here: 2001 Monte Carlo SS 17k