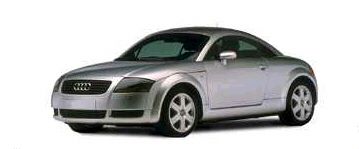 SAN FRANCISCO: The new TT Coupe is the rebirth of an Audi sports car tradition. Brilliant. Simple. Genuine. Outrageous! These are the words that come to mind at the first exterior glance. Controlling, exciting and shameful thoughts quickly follow as I peek in at the interior of this baby that I am completely Ga-Ga about.
I first laid eyes on the TT months ago. Journalists from around the states had an invitation to an unveiling of the Nieman Marcus Limited Edition, and at that instant I knew I was a true believer. Was it possible I had found my dream car?
Automotive architecture is my expression for the TT's styling. Straight out of the Bauhaus School, the rule is simple - form follows function. The TT is a mini-course in geometry. Circles and cylinders are the details, and they leave me spinning. The overall shape of the TT is an awesome sight to behold, strongly influenced by the Auto Union Type B record car of the Thirties, a streamlined racer with a small canopy on top. Visions of a fast moving torpedo, with its shell stretched so tight it might rip at the seams. The 16" alloy wheels dominate the car. The aluminum fuel-filler hatch is just one of the many details that scream ever so quietly "Look at me", and looks are what you get. People could not seem to get enough. I understand this because after a week with my TT, I still wanted more.
A very funny comment I heard at a stop light - "It looks like a Beetle that someone stepped on!" "Of course it does," I replied, "it's by the same designer, Freeman Thomas, who created the New VW." The family resemblance is striking, but the TT's identity is very much on its own.
The interior is a clean, very industrial-looking, extremely satisfying place to sit. Polished aluminum adorns beautifully crafted foot pedals, ringed air vents, various buttons and temperature controls. Window switches hide in cute, little aluminum cylinders on the door pulls. Not a sliver of wood to be seen. There is comfort to a "T" in the surprisingly roomy cockpit. The woven cloth, leather and rubber version of upholstery not only looks great, but has a function as well - it helps to hold you in the seat. Simple leather is also available. As a sports car, the TT gets double bonus points for the large trunk (13.8 cubic feet), and storage can be nearly doubled by folding down the baby-size rear seats.
The TT is named after the legendary Tourist Trophy races. Held from 1905 until 1922 on Great Britain's Isle of Man, the TT was a particularly challenging road race due to the sheer difficulty of the circuit, fashioned from narrow public thoroughfares. To avoid tragic accidents, a driver needed to have absolute confidence in his car.
The TT is perfectly suited for traveling fast down a twisty country road, a choice candidate for the Tourist Trophy. It combines complete responsibility with total entertainment. In the engine bay is a five-speed, turbocharged 1.8-liter four-cylinder engine that produces 180 horsepower and 173 ft lb of torque. The optional Quattro all-wheel drive is well worth the extra price.
This year we will be seeing the Audi TT Roadster, which I hear is love at first drive. Also new will be greater performance from a more powerful engine with 225-horsepower and producing 206 lb-ft of torque, and a 6-speed manual transmission.
Here are some interesting TT tid-bits in regards to Audi Teutonic Technology:
The TT is manufactured as a joint operation between plants in Ingolstadt, Germany and Gyor, Hungary. Painted body shells are assembled in Ingolstadt and travel overnight by railway to Hungary. The next morning in Gyor, the mechanicals are installed, then the TTs are transferred back to Ingostadt by rail overnight. Quite an operation!
Pricing is surprisingly good. The base model starts at $30,500 and even fully loaded, it won't go much higher than $35,000. Option packages include the Comfort package - with heated front seats and trip computer; an Audio package - which has a 175-watt Bose sound system with four speakers in the doors, dual two-way rear speakers, a center speaker, and a six-disc CD changer; and the Performance package - with Xenon high-intensity headlights and 17" alloy wheels.
For now I'll just dial up the volume on my Kraftwerk CD and contemplate the TT for a while. This just might be my "have-to-have" set of wheels to cruise thru the new millennium. By Carol Green © AutoWire.Net - San Francisco
P.S. I'd like to know what you think. Email me at: coolcarol7@aol.com

Byline: By Carol Green © AutoWire.Net - San Francisco
Column Name: "Carol's Corner"
Topic: 2000 Audi TT Quattro Coupe
Word Count: 784
Photo Caption: 2000 Audi TT Quattro Coupe
Photo Credits: Audi PR
Series #: 2000 - 6
Download the Microsoft Word version here: 2000 Audi TT Quattro Coupe
Download the original image file here: 2000 Audi TT Quattro Coupe 33k