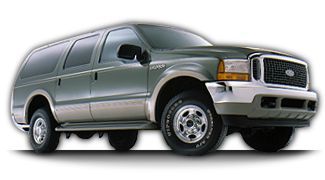 SAN FRANCISCO: I have to admit that it was with much glee that I drove around in a new Ford Excursion for a week, smiling at Chevy Suburban drivers and thinking, "Mine's bigger than yours." For years, Suburban-ites have gloated they owned the biggest sport utility vehicle on the road. But no more – now that the Ford Excursion has hit the highways, chugging along, taking up lots of space and guzzling lots of gasoline.
The Excursion is nearly 7-and-a-half inches longer than the Suburban with a wheelbase that bests the big Chevy by a full 7 inches. The Excursion is also wider and taller than the Suburban. That equates into an additional 8 cubic feet of cargo space in the Excursion, including 48 cubic feet of room behind the third seat.
But there are some drawbacks to the Excursion's size. Because it's so heavy to start with – 6,734 pounds for my two-wheel drive Limited test vehicle – the Excursion's payload is less than the Suburban's. That's 1,866 pounds for the test Excursion and 3,153 pounds for a Suburban 2500. Towing capacity is more equal though – 10,000 pounds for the Excursion and 10,500 for a Suburban 2500.
The Excursion is based on Ford's Super-Duty F-series pickups; comes in both two-wheel and four-wheel drive configurations; and is available with three different engines – a base 5.4-liter V8, 6.8-liter V10 and a diesel 7.8-liter V8. It seats up to nine, unless you have the captain's chairs that replace the standard front bench seat.
An eight-passenger vehicle with plenty of cargo space came in handy during my daughter's birthday party recently. Haylee invited several of her friends over, and the Excursion was a perfect hauler for a bunch of partying 8- and 9-year-olds. Yes, they had a little trouble climbing up into the Excursion. But kids love to climb, so they didn't complain. They didn't even have a problem scaling the second row of seats to get back to the removable third row bench.
Inside, the comfort level was high, especially with rear automatic climate control, a trip computer and power everything. The ride was a little rough – even on pavement, where it handled the best. Driving a huge truck like the Excursion wore me out because I often had to triple-check what was behind and to the side of me. Plus, the turning felt sluggish – this, despite its relatively quick acceleration.
In planning to make the world's biggest sport-ute, engineers must have struggled to balance bigger with real-world situations. Ford's "BlockerBeam" helps prevent a car from sliding underneath the front of the Excursion during a frontal collision. A standard trailer hitch helps prevent a car from sliding underneath the back of the Excursion during a rear collision.
But what they couldn't count on was fitting the gargantuan vehicle into all garages. It just won't fit in all garages. In fact, I parked my test vehicle in the road for a week because it would have taken up just about all of my driveway.
Bigger is not always better. But in the case of the Ford Excursion, bigger means more competition for General Motors, which has been the top dog in the mega-SUV field forever. And maybe that's just about to change if Ford has its way. By J. Eric Eckard © AutoWire.Net - San Francisco

Byline: By J. Eric Eckard © AutoWire.Net - San Francisco
Column Name: "Mine's Bigger than Yours"
Topic: 2000 Ford Excursion
Word Count: 549
Photo Caption: 2000 Ford Excursion
Photo Credits: Ford Truck PR
Series #: 2000 - 8
Download the Microsoft Word version here: 2000 Ford Excursion
Download the original image file here: 2000 Ford Excursion 25k