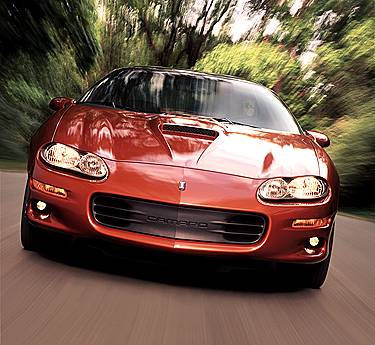 SAN FRANCISCO: I missed out on the early years of the Camaro. In the mid-60's I knew my goal was to grow up and own a Mustang convertible. By the time I was of driving age, my tastes had changed to the VW Beetle. It wasn't until 1982 that I was clued in on the spirit and personality of the Camaro.

A new friend, who had rented me a room, was the proud owner of a Silver Z28, and the guy living across the street owned a Mustang GT. Watching the rivalry between these two friends, when it came to their cars, was amazing to me. Out of sheer loyalty to my landlord, I was responsible to learn all the beefy facts about the Camaro and master driving to the corner store without getting a speeding ticket.

Two weeks ago, when the 2001 Camaro SS was delivered to me, my first reaction was fascination. Just one look, and this screaming machine's metallic paint and muscle spells out "JOY RIDE." In a matter of moments, reality came creeping in as I realized I was not spending my week at Speedway Meadows, but on the sleepy streets of Marin County. I would wear my supersonic, radar detector glasses and drive with extreme caution.

Images can often be deceiving. After driving the Camaro for a week, I found it a very high-spirited pony, but extremely well trained and eager to please. There are not many words I can put in print beyond "sexy" to describe the exterior looks of the Bright Rally Red Z28 SS. It is pure, raw, emotion.

The car's design remains true to its basic concept, sport-trained, pumped muscle. A long snout leads to mesmerizing eyes above a large, sensual mouth. It not only hugs the road, but seems ready to kiss it too, and the rear spoiler shoots upward with an aerodynamic flare. All eyes are on the Camaro, all the time. This is not a car for the self-conscious. There remain a lot of hard-core Camaro lovers in the world, and I really had some fun with the feedback.

Inside, the Ebony cloth upholstery looked a little plain to me. However, these cloth seats are the one and only soft touch to the car. Roominess has been sacrificed for style. I was a comfortable driver but really happy not to be a back-seat passenger. A Monsoon sound system is standard with eight speakers and an AM/FM stereo radio cassette. My tester came with an optional 12-disc CD changer. Typically, I notice a lot of things about the interior, but not with the Camaro. My focus was all on the driving experience.

The big thrill with the Camaro SS is the gutsy, rumbling, 5.7-liter, LS1 V8. Acceleration = Adrenaline. The Z28 SS gallops out with 320 horsepower and 345 lb ft of torque. In case of over-enthusiasm, there is a standard traction control system. ABS braking was superb, maintaining a good grip going deep into the corners. This fast, confident car has great steering and the balance of a gymnast. My one complaint is with the gear shifting. With a beefy six-speed Borg-Warner transmission to play with, the Z28 lost points for its awkward, edgy, uneven shift linkage.

The MSRP price starts at $21,615. With options like the Preferred Equipment Group and the SS Performance/Appearance package, the price revs up to $29,495. Considering it's hard to find anything over 300 hp under $39,000, this Camaro Z28 SS is a car guy's deal on wheels. Do I think this macho-mobile is a man's car? Yes. Would I buy one for myself? No. (But if my fiancé owned one, I would borrow it often!) Do I think the Camaro Z28 SS is an honest sports car in the purest form? Yes! By Carol Green © AutoWire.Net – San Francisco.

Chevrolet Home Page
Byline: By Carol Green © AutoWire.Net - San Francisco
Column Name: A Very High Spirited Pony Car
Topic: The 2001 Camaro Z28 SS
Word Count: 695
Photo Caption: The 2001 Camaro Z28 SS
Photo Credits: Chevrolet Internet Media
Series #: 2001 - 14
Download the Microsoft Word version here: 2001 Camaro Z28 SS
Download the original image file here: 2001 Camaro Z28 SS 31k