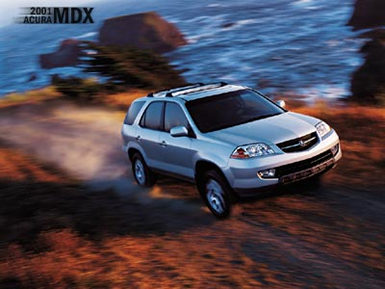 SAN FRANCISCO: The Acura MDX is more than just a new luxury sport utility vehicle. Besides providing four-wheel-drive traction and a tall view of the road, it also delivers the driving pleasure found in a touring sedan and the useful passenger and cargo capacity of a minivan.
Until the MDX came along, all Honda or Acura offered in the off road flavor was the truck like Passport, which is based on Isuzu's Rodeo, and the economical, compact CRV. Honda's product planners and engineers have labored to produce a strong competitor for the RX 300, arch rival Lexus's top seller. They must be successful, because the MDX was named Motor Trend's Sport Utility of the Year and received North American Truck of the Year honors from a group of fifty American auto journalists.
The MDX manages to infuse Acura styling cues and feature content into a traditional SUV two-box shape. A turn-of-the-21st century look means chiseled edges on rounded forms, clear headlamp covers over a cluster of lights, a polygonal grille with bright work, and distinctive wheels. The low-slung front structure is designed to prevent override if it contacts a standard car bumper.
Most SUV buyers seldom, if ever, go off road, so the MDX is meant to address real world concerns, namely, safe traction on slippery roads. Acura's VTM-4 wheel drive system distributes torque automatically to all four wheels using sophisticated electronic controls. Like most automatic all-wheel-drive systems, VTM-4 (which stands for Variable Torque Management) reacts instantly to wheel slippage and redistributes engine torque to the wheels that have traction.
In addition, VTM-4 can apportion torque to the rear wheels before slip occurs, as needed, and can be locked to deliver maximum torque to the rear wheels in case the vehicle becomes stuck. During cruising, with no wheel slip present, the system reverts to plain front-wheel-drive to save fuel.
The MDX is a ball to drive-more like a sports sedan. It employs an all-aluminum, 3.5-liter, 24-valve V6 with Honda's patented VTEC technology, known for extracting maximum performance from an engine. Mileage ratings are 17 city and 23 highway, and the MDX is a 50-state ultra low emissions vehicle (ULEV) to boot.
A five-speed electronically controlled automatic transmission quietly provides the right gear to take best advantage of the V6. Years ago, a three-speed automatic was typical, before four-speeds became the norm. Now, five-speed automatics are bringing better fuel mileage, more sprightly performance and quieter freeway cruising.
The MDX is built as a stiff unit body. This is standard practice for cars, but many SUVs are still bodies assembled on a separate frame, like a truck. Engineers added rubber-isolated front and rear sub frames to allow careful suspension tuning while keeping engine vibration and road noise from entering the cabin. A four-wheel fully independent suspension, four-wheel disc brakes with four-channel antilock, and standard 17-inch alloy wheels with specially designed all-season tires further enhance the driving pleasure.
The rigid unit body leads to increased passenger safety. The MDX is expected to earn perfect five-star ratings in official government crash tests. In addition, dual-stage front airbags adjust deployment force according to the severity of impact and whether a seatbelt is used. The front passenger side airbag uses sensors to adjust inflation based on passenger size and position.
The MDX feels like a tall luxury sedan inside, thanks to excellent workmanship, quality materials, and a high standard level of equipment. Besides the usual power windows, locks, and mirrors there is cruise control on the leather-wrapped steering wheel, a power sunroof, power-adjustable heated leather seats, the Homelink system, and a nice stereo.
A multifunction trip computer lives in a rectangle at dash center, right where the optional navigation system goes if you order it. It graphically portrays current miles per gallon and compass direction, while numbers tell the time, average miles per gallon, distance to empty, elapsed time, and trip distance.
Acura offers the world's first Synchronized Climate Control System. This development allows simultaneous or independent operation of both the front and rear air conditioning systems. An auxiliary heating and cooling unit and fan in the center console help it rival the power of home heating systems.
The MDX is virtually a minivan in its ability to transport people and cargo. I was amazed to find two fully functional third row seats neatly tucked beneath a flat rear floor. The seats pivot out easily, and fit kids and small adults with ease. Third row passengers even get their own storage bins and cup holders. Both second and third rows of seats are split, and both fold down to handle a range of cargo, including a six-foot ladder.
My silver test car arrived with the Touring Package, which includes an eight-way power driver's seat, a seat-and-mirror memory system, an upgraded BOSE stereo system with a six-disc in-dash CD changer, exclusive alloy wheels and a handy roof rack. The bottom line for my test car came to $37,450, including destination charge, which puts it right in the thick of the luxury SUV action.
If any car can claim to meet the needs and desires of practically everybody, this is the one. Yes, it's not inexpensive, but it is fun to drive, can carry seven people or tons of cargo, and offers the safety of an advanced all-wheel-drive system. The Acura MDX now sets the new standards for all luxury SUV's. By Steve Schaefer © AutoWire.Net - San Francisco

Byline: By Steve Schaefer © AutoWire.Net - San Francisco
Column Name: "More than a Luxury Sport Vehicle"
Topic: 2001 Acura MDX
Word Count: 957
Photo Caption: 2001 Acura MDX
Photo Credits: Hyundai Internet Media
Series #: 2001 - 18
Download the Microsoft Word version here: 2001 Acura MDX
Download the original image file here: 2001 Acura MDX 25k