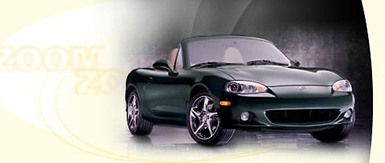 SAN FRANCISCO: Aren't anniversaries great? Nothing generates nostalgia better than reaching a historical milestone. Mazda knows this, and is taking full advantage of the tenth anniversary of the most popular special Miata: the original British Racing Green edition.
After the Miata's introduction in 1989, comparisons of the diminutive Japanese drop-top to its English forbearers were inevitable. People who fondly remembered 1960s roadsters from MG, Triumph and Austin-Healey now had their chance to buy a car that featured the small size, low weight and sprightly performance (no pun intended) of those remembered ragtops without having to suffer through iffy electrical systems, leaky engine gaskets and nonexistent creature comforts.
When it came time to create the first special edition of the Miata, Mazda had to look no further than the nostalgia that already surrounded the car. Famous for its use on English sports and racing cars from such notable manufacturers as Aston Martin, Jaguar and Bentley (and its designation as the official racing color of England), the aptly named British Racing Green was the perfect hue to imbue the Miata with its heritage as stepchild to the great British sports cars.
While the original Miata was no slouch, the past ten years have done wonders for the mini Mazda. The special edition features a 155 hp 1.8 liter DOHC 16 valve four-cylinder motor mated to a 6-speed manual transmission. Very rarely do I sing the praises of a transmission, but the Miata's 6-speed's light switch quick, short throws make shifting an intuitive exercise.
Yes, with good power and light weight the Miata wrings every bit of spunk out if its motor to provide tire chirping performance. Handling has always been the Miata's forte, and this special edition is no exception. When compared to other cars in its class the Miata can hold its own.
The Miata's cabin ranks right up there with big Mercedes sedans in terms of creature comforts, provided that creature is less than six feet tall. Though I love the feel of the special edition's sumptuous leather upholstery, it's Nardi wood rimmed steering wheel and polished wood gearshift knob, the diminutive Miata is a cramped place to spend time in if you're six-feet-four-inches tall like me. Even with the seat all the way back, my legs were bent in such a way that I could activate the turn signals and wipers with my knees.
But hey, you drop the manually operated top, crank up the Bose AM/FM/CD stereo and blast through the gears on a warm summer day and you'll forget any of the Miata's shortcomings. Feel free to take a friend along, but make sure you both pack light. And drive with an easy foot, as the Miata returns 23 mpg in the city and 28 mpg on the highway. With my heavy foot my test Miata averaged 21 mpg, and with gas prices the way they are, you would be better off cruising along a country road than you would imitating your favorite race car driver.
At $26,745, my test Miata special edition is a great deal. The only options the test car added to its fully loaded base price of $25,715 were anti-lock brakes at $550 and a $480 destination charge. The list of standard features includes air conditioning, power windows, mirrors and locks, fog lights, cruise control, a glass rear window with defroster and chromed 16" alloy wheels. Other special edition features are a British Racing Green Miata gift set, special edition floor mats, stainless steel scuff plates, tan leather upholstery and a tan convertible top.
But the best recommendation at all came from my 16-month-old daughter, Emily. Upon seeing the deep green Miata she exclaimed, "Ooooooh!" and ran to try and open the door. After being placed behind the wheel, all the controls (except the pedals, of course) fell readily to her hands and she stood on the seat making "vroom, vroom" sounds. When it came time to take her into the house, she clamped onto the wheel and screamed "No no no no! Car!" What can I say… Chicks dig Miatas.
By Andrew W. Davis © AutoWire.Net - San Francisco

Byline: By Andrew W. Davis © AutoWire.Net - San Francisco
Column Name: "Chicks dig Miatas"
Topic: 2001 Mazda Miata Special Edition
Word Count: 740
Photo Caption: 2001 Mazda Miata Special Edition
Photo Credits: Mazda Internet Media
Series #: 2001 - 18
Download the Microsoft Word version here: 2001 Mazda Miata Special Edition
Download the original image file here: 2001 Mazda Miata Special Edition 292k