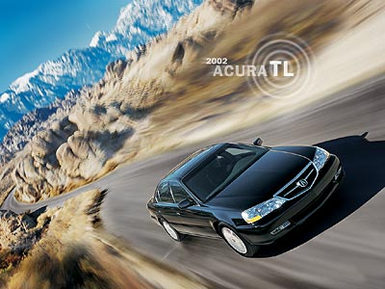 SAN FRANCISCO: Luxury in cars means different things to different people. Some like their luxury to be American-esque, a la Cadillac and Lincoln. Some like the European stylings of Jaguar, Mercedes-Benz, et al. Still others are more prone to the offerings of the burgeoning Japanese luxury marques. Welcome to the 2002 Acura 3.2 TL and 3.2 TL Type-S.
Though luxury tastes take many forms, the most enticing from an enthusiast's perspective is the teaming of luxury and sport cars. Acura has been putting more sport into the sport/luxury segment since its inception, over a decade ago, with vehicles like the NSX and Integra GS-R. For 2002, Acura ups the luxo-sport ante to better compete with the Europeans and Americans at the game they joined in mid-play.
The TL is the sedan counterpart to the CL coupe that was updated for 2001 and looks as good, if not better than the coupe (if that can actually happen!) and gives Acura a real player for the "mid-luxury" segment, in Acura's own words. Changes to the TL include, but are not limited to, freshened front and rear fascias (with integrated fog lights on all models), more insulation in the doors and improved door seals to lessen noise, vibration and harshness levels, an in-dash six-disc CD changer and engine and transmission improvements.
As a real player in the sport/luxury segment, the Type-S model is motivated by a 3.2-liter SOHC 24-valve V6 that features Honda's VTEC valve timing gadgetry, an all-new, dual-stage induction system and numerous other performance enhancements, which is good for 260 horsepower and 232 lb.-ft. of torque. The base model is packaged with a not-too-shabby 225 horsepower/216 lb-ft. motor. Both models meet Low Emission Vehicle standards, while California bound TLs are rated as Ultra Low Emission Vehicles
All that power goes through a five-speed automatic with Acura's answer to the "manumatic" craze, Sequential SportShift, along with Grade Logic Control, which enhances shifting smoothness and reduces gear "hunting" when ascending or descending steep grades. The transmission was top-notch perfect; the shifts were Cadillac smooth and power delivery was instant-on in every situation.
The only gripe about the transmission was the manual shift mode. The gear changes were not in concert with the movement of the stick and the computer brain controlled the one-two shift no matter what input was received from the driver. We found that it was more satisfying to leave it in drive (D5, each gear had its own detent) and let the computer choose the gears while driving on tight, twisty roads. It just goes to show that transmissions like this are little solace for those of us that want a real manual in such a powerful, well-handling car.
To help get the vehicle around tight corners in a stately manner, Acura has outfitted the Type-S with a sport-tuned double wishbone suspension (with front and rear stabilizer bars), V-rated, all-season rubber on 17 inch alloy wheels and Acura's Vehicle Stability Assist, all as standard equipment.
There's a lengthy list of standard features that come with the 3.2 TL Type-S too. Some features of note include remote keyless entry; DVD navigation system; automatic climate control; an Acura/Bose six-disc in-dash CD player; heated seats with six-way power for the driver and four-way power for the passenger; Driver's seat and outside mirror memory (the mirrors are also heated); automatic down and up for the driver's window; automatic day/night rearview mirror; power moonroof; xenon high intensity discharge headlights; speed-sensing intermittent wipers and the Homelink system.
We had a lot of fun with the DVD navigation system in the short time we had the car. It was quite interesting punching in a destination and then letting the system guide you there. It has a computerized female voice to command you and a host of graphical representations to assist further. Even if you turn the wrong way, the system recalculates its route and helps you get to where you want to go.
Safety features include driver and front passenger dual stage airbags, driver and front passenger side airbags; four-wheel ABS; front seatbelt pre-tensioners; a theft deterrent system with electronic immoblizer; emergency trunk release; Acura's Vehicle Stability Assist; front and rear crumple zones and side-impact door beams.
The total as-tested price, with no options to speak of, topped out at $33,710.00, including the obligatory destination charge, which is a great deal considering all the safety, comfort and convenience features this car offers. We loved driving this car. It handled well in all situations we threw at it and was more comfortable than we expected. The other luxury makes must be laying awake at night, trying to think up the next best thing that might compete with the new 2002 Acura 3.2 TL and 3.2 TL Type-S. These cars are already winners in the 2002 sport/luxury class. By James E. Bryson © AutoWire.Net - San Francisco

Byline: By James E. Bryson © AutoWire.Net - San Francisco
Column Name: The Winners in the 2002 Sport Luxury Class
Topic: 2002 Acura 3.2 TL and 3.2 TL Type-s
Word Count: 881
Photo Caption: 2002 Acura 3.2 TL
Photo Credits: Acura Internet Media
Series #: 2001 - 22
Download the Microsoft Word version here: 2002 Acura 3.2 TL
Download the original image file here: 2002 Acura 3.2 TL 31k